IC expands engineering program to offer new major
11.15.2022
Illinois College's new engineering major will prepare students with a robust foundation to Graduate READY for their first engineering job or to pursue an advanced degree to specialize in their field.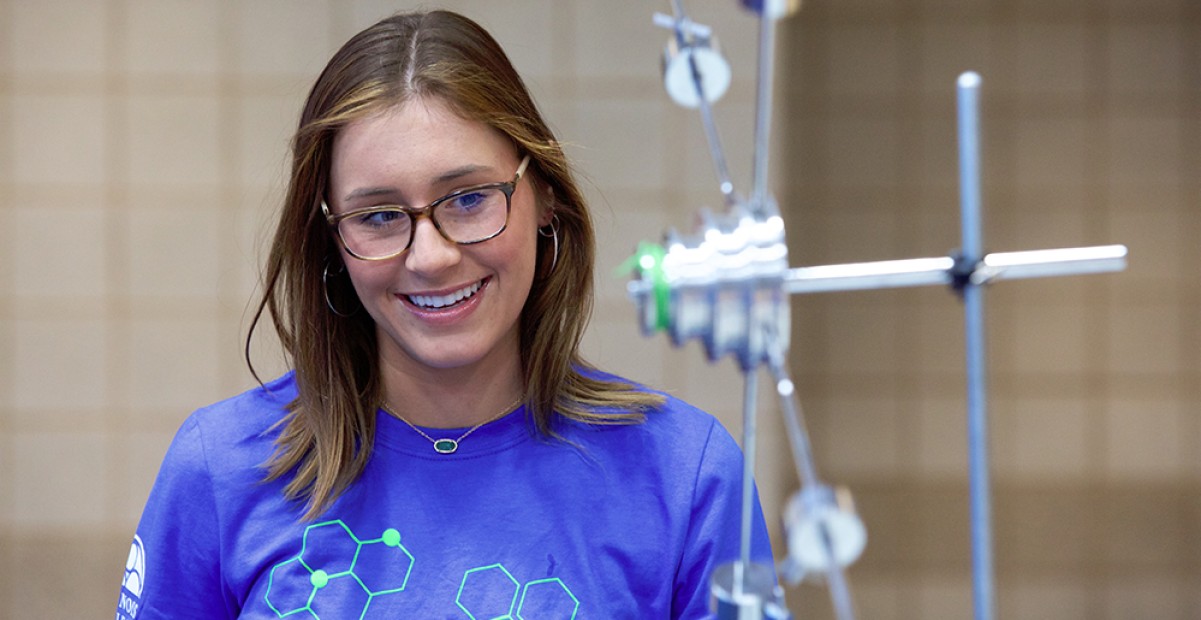 Coursework will cover foundational topics in engineering, in conjunction with interdisciplinary courses to help students build communication, problem-solving and critical-thinking skills. The breadth provided through IC's curriculum will prepare students well to solve complex problems in a global workforce. Students choose courses in environmental or biomedical engineering.
Students with an engineering degree from Illinois College will also be prepared to pass the Fundamentals of Engineering (FE) exam to begin their state licensure. The College is seeking accreditation through the Accreditation Board for Engineering and Technology (ABET). The multi-step ABET application process is anticipated to be completed by 2026.
The new major will make it possible for students interested in pursuing an engineering degree to finish their degree at IC. Previously, engineering students followed the college's Pathways to Engineering program and finished their degree at a second institution — an option that will still be available.
Josiah Kunz '12, assistant professor of physics, said IC's program has the advantage of giving students the opportunity for multiple types of hands-on learning such as internships and student-faculty research. IC's growing focus on experiential learning adds another beneficial element to the new engineering program.
"The College has seen several consecutive years of record enrollment, thanks in part to the development of innovative programs that ensure students Graduate READY," said Stephanie Chipman, vice president of external relations. "Engineering is the second most popular area of interest for prospective students. Adding the engineering major while continuing the College's partnerships with 3:2 programs will continue to strengthen enrollment and provide our students with the tools they need for successful, 21st-century careers."
Engineering careers have seen growth in the past decade, and with competitive pay and the need to attract individuals with a broad range of expertise, the demand for well-rounded engineers is increasing. With its record of nearly 200 years of academic innovation and commitment to affordability, Illinois College is well-positioned to prepare engineers who are both skilled in their field and have the soft skills to be leaders in that field.
The addition of the new major is only possible with the fundraising-powered renovation of Crispin Hall. The planned revitalization of this key campus building will return it to its history as a science building and transform its future with state-of-the-art learning spaces and technology, making it a home for the engineering program and other STEM majors, including computer science and physics.
The College's Engineering Advisory Board, made up of talented alumni and successful engineering professionals, was integral to establishing the new program. The 2022 board included Joe Calmese '07, Luiz Guimarães '91, Jamie Headen, Stephen Holt, Phillip Irace '17, Rick Meidel '85, Tom Purves '76, David P. Ringhausen '83, Mouna Soumahoro '12, Jared Thoele '10 and Kunz.
Along with Kunz, Jeffrey Chamberlain, associate professor of physics; Pat Kiihne, department chair and professor of mathematics; Prasanna Acharya, assistant professor of biology-kinesiology; and Jocelyn Lanorio, associate professor of chemistry, are among the faculty involved in the program's development. 
"What Illinois College does so well is look at the whole person," Kunz said. "When I meet a student, I ask myself two fundamental questions: Where is this student now and where are they going? Our professors are excited to be here and want to see students succeed. Their success is our success."
In addition to responding to the needs of prospective students, Illinois College strives to help meet the need for regional economic growth through the addition of academic offerings like engineering and other programs, including nursing, agribusiness, human resources management, and teaching endorsements in reading and English as a second language. The College was recently recognized by the Jacksonville Regional Economic Development Corporation for its role as an anchor institution and important regional partner.
To learn more, visit ic.edu/engineering.