We invest in you so you can feel good about investing in your future. Illinois College works with you and your family to make your education affordable because we invest in you with the Illinois College Advantage Plus program. You will find IC as affordable as other four-year institutions, both public and private — plus you have all the advantages of IC's 200 years of innovation.
+ All first-year students receive a minimum of $20,000 in scholarships, which you keep all four years.
+ Illinois residents with a 3.0 GPA will have 100% of their financial need met.
+ We promise you will graduate in four years or we cover the cost of your remaining courses.
+ Textbooks are included in tuition.
+ You get the academic excellence our nationally ranked education is known for and guaranteed access to the internships, research experiences, and international travel that will prepare you for success.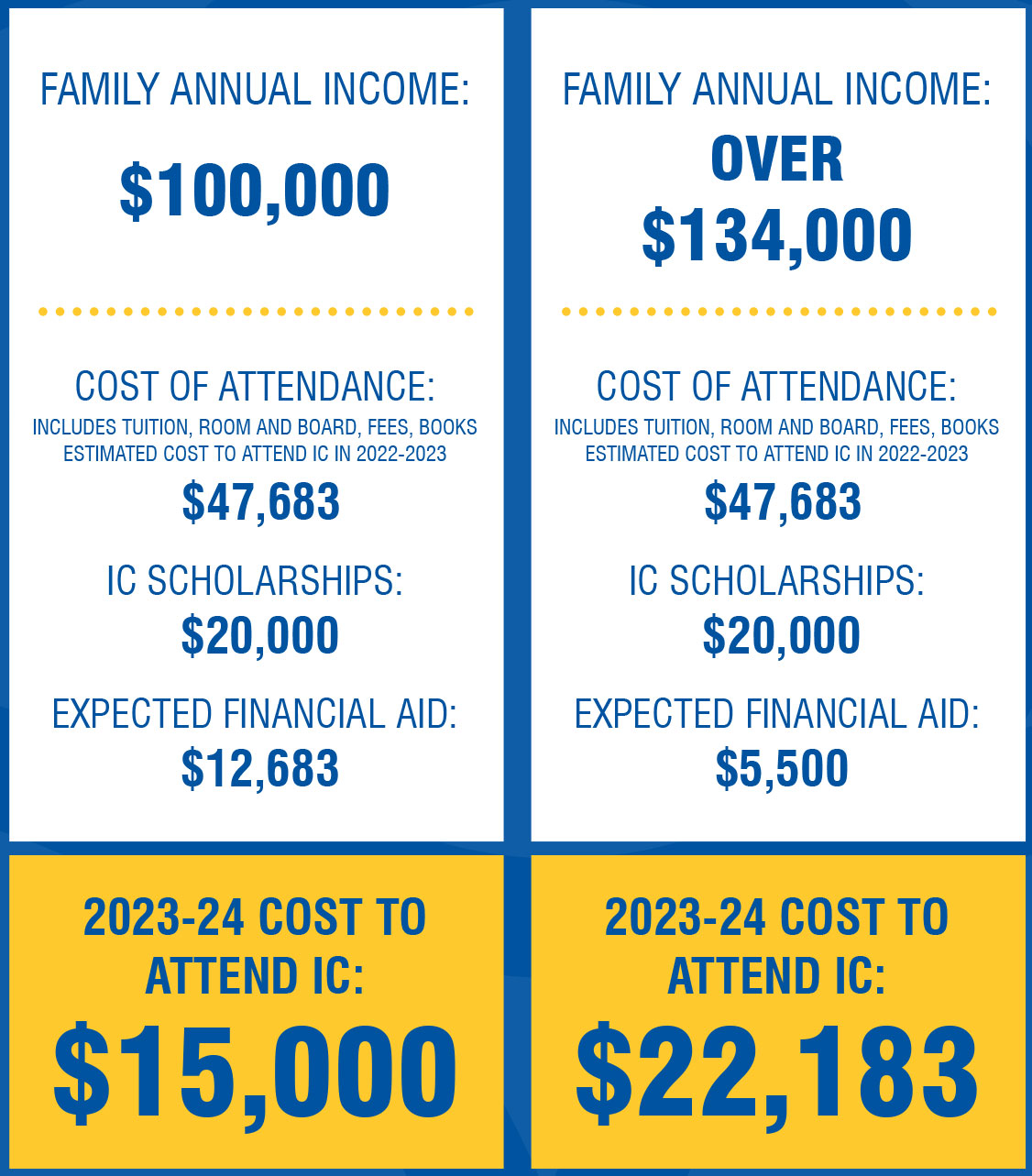 *See details below
Value
As we partner with your family to develop a financial aid package and take the guesswork out of planning for your future, you can feel confident that you are making a sound investment. Illinois College offers an innovative curriculum, life-defining experiences, hands-on preparation for your future, one-on-one mentoring and academic coaching, and access to outstanding athletics, arts, student organizations, and campus life. IC's graduation rate is well above the national average and we are consistently ranked as one of the top schools by leading college guides like U.S. News & World Report and the Princeton Review.
Affordability
As an incoming first-year student at Illinois College, you will be awarded a minimum of $20,000 in scholarships — regardless of your family's income — that will be renewed annually. Our graduates have lower debt than the national average. Additionally, IC's tuition has increased an average of 2.1% over the last five years, well below the national average of 3.3% for private colleges and universities, according to the US Department of Education.
Our pledge for Illinois students
If you are an Illinois resident, we will make sure 100% of your financial need is met. All you have to do is be admitted to the College, file the FAFSA, and have a 3.0 GPA. If scholarships and financial aid — which includes grants, loans, and work study — don't meet your financial need determined by the FAFSA, Illinois College will provide additional scholarships and resources to bridge the gap.
Big savings with Finish in 4
Our Finish in 4 program is our guarantee that you will graduate in four years or we cover the cost of your remaining courses at IC. With each additional year spent earning your degree costing you an average of nearly $70,000 in lost wages and tuition, our Finish in 4 promise will have a big impact on your future.
Textbooks included in tuition
Don't like unexpected costs? Neither do we. That's why our upfront tuition includes the cost of textbooks. Books and supplies today range from a few hundred dollars to more than $1,000 per semester, but at IC you won't have to worry about being able to afford the course materials you need for success.
Interested in learning more?
Contact our Office of Admission at admissions@ic.edu or 217.245.3030 to start the conversation!
*DETAILS :: Students must meet the following requirements for the Advantage Plus program:
Must be a legal resident of Illinois and eligible to receive Title IV funding. All GPA eligibility will be determined using a 4.0 scale. Non-Illinois residents still receive a minimum of $20,000 in Illinois College funding and may receive additional funding from IC and federal sources.
Financial need, and eligibility for need-based financial aid, is determined by filing the FAFSA. File your FAFSA at fafsa.gov.
Illinois College financial aid is renewable and some scholarships may require a student to reside in campus housing.