If you are considering IC, we invite you to explore the Illinois College campus and the surrounding Jacksonville community.
Campus Map
Click on the image below to see a larger view or download a printable version now!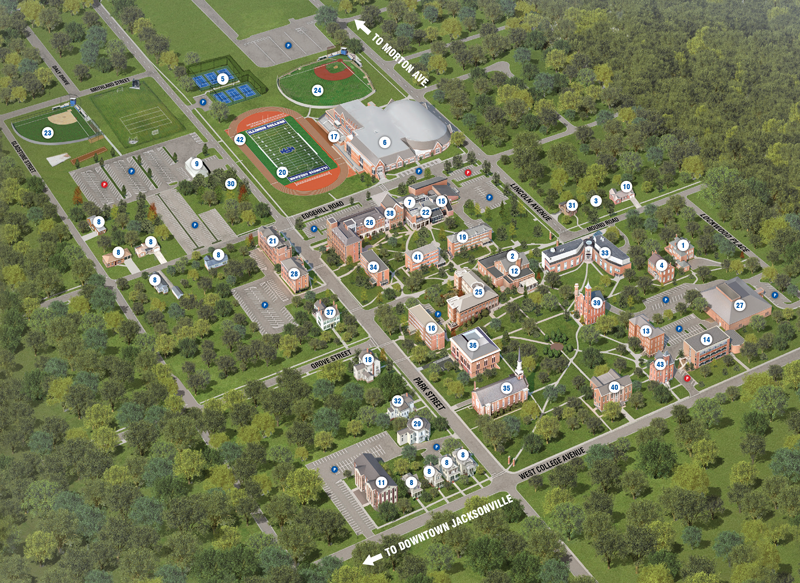 Getting to Illinois College
More than one-half of the United States population lives within a one-day drive of Jacksonville, Illinois. The Illinois State Capitol is located in Springfield, a 30-mile drive from Jacksonville along Interstate 72. St. Louis, Missouri, is only 90 miles to the south, and Chicago is a four-hour drive north.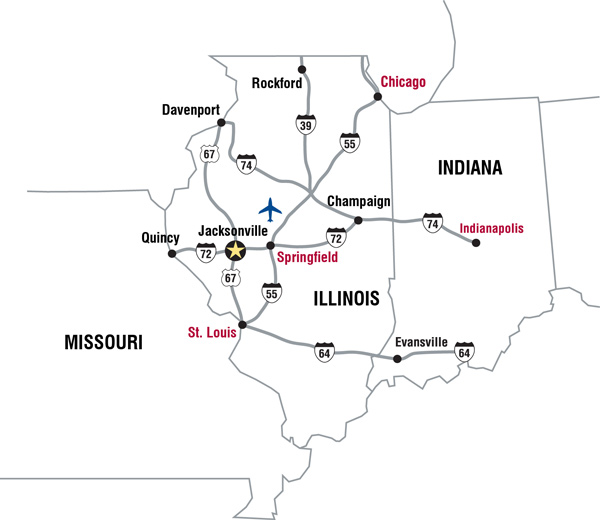 Area Accommodations
JACKSONVILLE HOTELS
Best Western | 1709 West Morton Avenue, 217.245.4500
Blessings on State Bed and Breakfast | 1109 West State Street, 217.245.1013
Villa DeWolf Bed & Breakfast | 876 West State Street, 707.349.7790
Hampton Inn Jacksonville | 1725 West Morton Avenue, 217.291.0415
Knights Inn | 1111 East Morton Avenue, 217.245.2187
Super 8 by Wyndham | 1003 West Morton Avenue, 217.479.0303
SOUTH JACKSONVILLE HOTELS
Baymont by Wyndham | 1914 Southbrooke Road, 217.271.1326
Holiday Inn Express and Suites |  2501 Holliday Lane, 217.245.6500
Quality Inn Jacksonville | 200 Comfort Drive, 217.245.8372
Sleep Inn and Suites | 2401 Holliday Lane, 217.479.3100
SPRINGFIELD ACCOMMODATIONS
Find hotels located on the southwest side of Springfield at the Springfield Convention and Visitor's Bureau site
HOTELS NOT YOUR THING?
Visit airbnb.com to book your stay at numerous Jacksonville and surrounding area listings.