Barbara A. Farley, the 14th President of Illinois College, has infused energy into initiatives that move forward boldly to ensure student success, realize strategic growth, and achieve sustainable foundations.
Farley began serving as president in June of 2013 and was inaugurated on September 21 of the same year. She led the College in a collaborative, strategic planning process that engaged the entire campus community and resulted in an inspiring vision for Illinois College's future. During her presidency, the College has celebrated new heights in donor engagement and giving, secured successful re-accreditation from the Higher Learning Commission, implemented significant improvements to family-friendly employment policies and secured important partnerships with other institutions of higher education.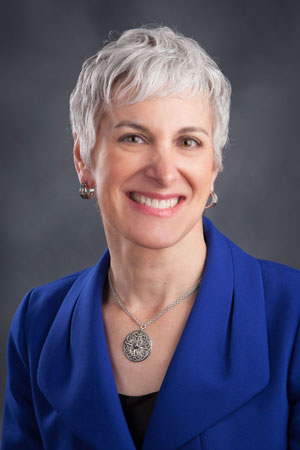 Farley believes deeply that private institutions are uniquely skilled at developing in students the qualities of mind and character needed to thrive personally and professionally in the 21st Century and has dedicated her career to building strong academic institutions that inspire students to lead lives of meaning and service. In her role as president, she engages nationally to promote independent academic institutions. She currently serves as President of the Associated Colleges of Illinois, is a member of the Executive Committee for the Federation of Illinois Colleges and Universities, and sits on the Tax Policy Committee for the National Association of Independent Colleges and Universities. She is regularly engaged with the Council of Independent Colleges, Interfaith Youth Core, the National Collegiate Athletic Association (NCAA) and Midwest Conference, and the American Council on Education. Additionally, Farley is a director for the governing boards at Passavant Area Hospital in Jacksonville and the Association of Presbyterian Colleges and Universities.
Before coming to Illinois College in 2013, Farley was vice president of academic affairs and dean of the college at Augsburg College in Minneapolis, Minnesota. She has served higher education in the classroom and through administrative roles for over 30 years in a range of liberal arts colleges and universities.
Farley graduated from the College of Saint Benedict in St. Joseph, Minnesota, with a Bachelor of Arts degree in business administration and a minor in French. She received her M.B.A and Ph.D. in business administration (with concentrations in organizational leadership and strategic management) from the Carlson School of Management at the University of Minnesota. In 2007 she participated in the Institute for Educational Management at the Harvard Graduate School of Education and in 2013 returned to Boston to join colleagues from around the world in the Harvard Seminar for New Presidents.  
Farley's scholarly interests are in organizational leadership and practice. Her doctoral dissertation focused on the role of the chief executive officer as the catalyst for strategic alignment. Her personal interests include the study of French language and culture, world travel, and contemporary dance.
Follow President Farley