New grad reflective as unprecedented semester draws to a close
6.01.2020
It wasn't the last college semester any graduating senior hoped for, but it didn't stop Abbey Keller '20 from continuing to help her fellow Illinois College students.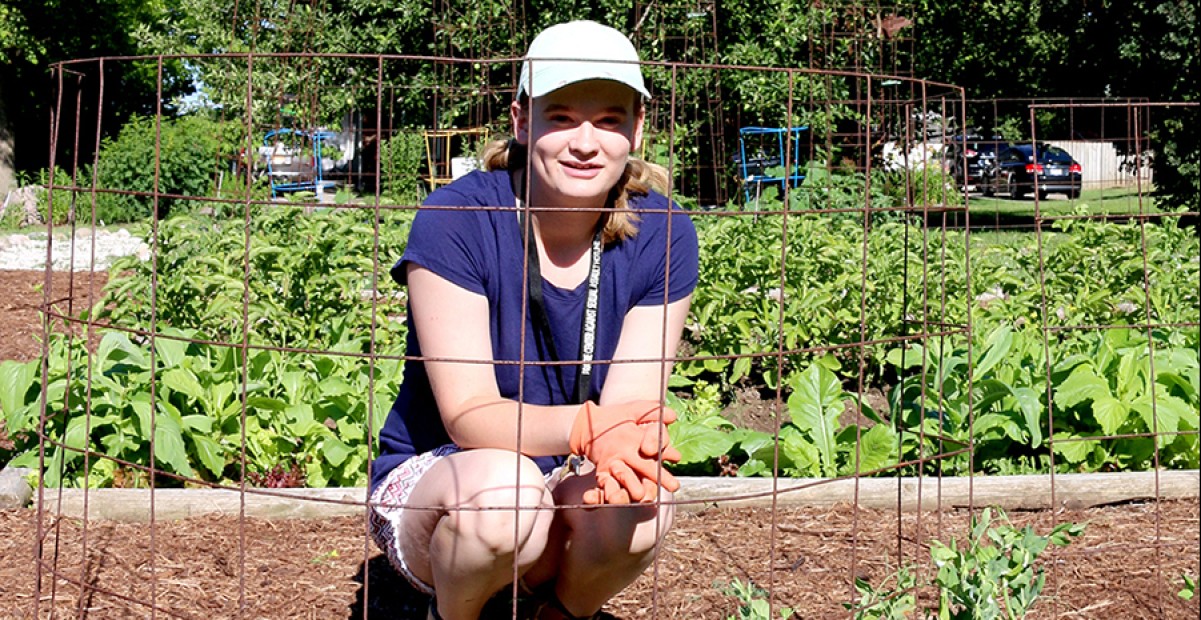 The health science and psychology major said it was an exhausting adjustment to go from an academic environment to trying to find a quiet place to learn at home — where the dog is barking, the dishwasher is running or sirens are blaring outside. But thanks to a manageable course load, she was able to give some extra attention to the algebra students she was tutoring this semester as a supplemental instructor.
"I would always tell them, 'Hey, everything is fine. It's going to be fine. Everything is going to be great. OK, next problem.' You know, next thing we can get out of the way," she said. "Because there's no point in just sitting still when you can be doing something."
As a first generation student, Keller understands how important a resource like a supplemental instructor can be. She received help during her IC career through the Yates Fellowship Program — a yearlong learning community that provides support for first-generation students — and TRIO Student Support Services — a program centered on academic, personal, social and career support. She also always found encouragement in the office of Amy Schwiderski '91, director of the Center for Academic Excellence and TRIO Student Support Services, whether she needed help or just an empathetic ear during a bad week.
Now a graduate, Keller is looking to the future and plans to become an occupational therapist, though she said it all doesn't quite feel real. The impact of the pandemic on her last semester — suddenly moving home and graduating during the College's first virtual commencement in its 191 year history — has left her feeling a little bit in limbo. She is also feeling the loss of things she had been looking forward to, from missing out on her last spring on the Hilltop — one of her favorite things at IC is when the weather gets warmer and campus comes to life — to missing out on events like the block party and President Barbara A. Farley's wine and cheese event for graduating seniors.
"All the things that are supposed to mark the end of the semester never happened and it still doesn't feel like I'm graduating," she said a few days before commencement. 
Graduating amid a pandemic is a shared experience that Keller said she has talked with friends about. She expects the Class of 2020 will be telling their grandchildren about how they began their professional lives in the middle of what feels like "an apocalypse." All in all, the unprecedented semester was "not exactly the college-ending experience that I was hoping for," she said.
"But what's worse is not being able to say 'good-bye' to people," she said. "I thought I was going to have another two months to go out and have fun with my friends in college and do all of these things and that didn't happen and I think that's the most heartbreaking part, honestly."
Keller's family also was disappointed not to have the opportunity to celebrate her accomplishment in person. She is the first person in her immediate family to have a traditional college experience, she said. Her grandfather was so excited and proud that he had called to get details about commencement a week after she returned to campus in January. Leading up to commencement weekend, she said it was strange to think that her family would have been with her if not for the coronavirus. She is looking forward to seeing them when stay-at-home orders are lifted.
"It's exciting, but it's bittersweet, I guess," she said. "I'm just really excited to see them."
"It's exciting, but it's bittersweet, I guess."