IC expands nursing education offerings
4.24.2020
Illinois College announces the addition of a traditional four-year track in the Bachelor of Science in Nursing (BSN) program. The nursing degree prepares graduates for meaningful careers in health care and helps meet the urgent needs of community and regional health care providers.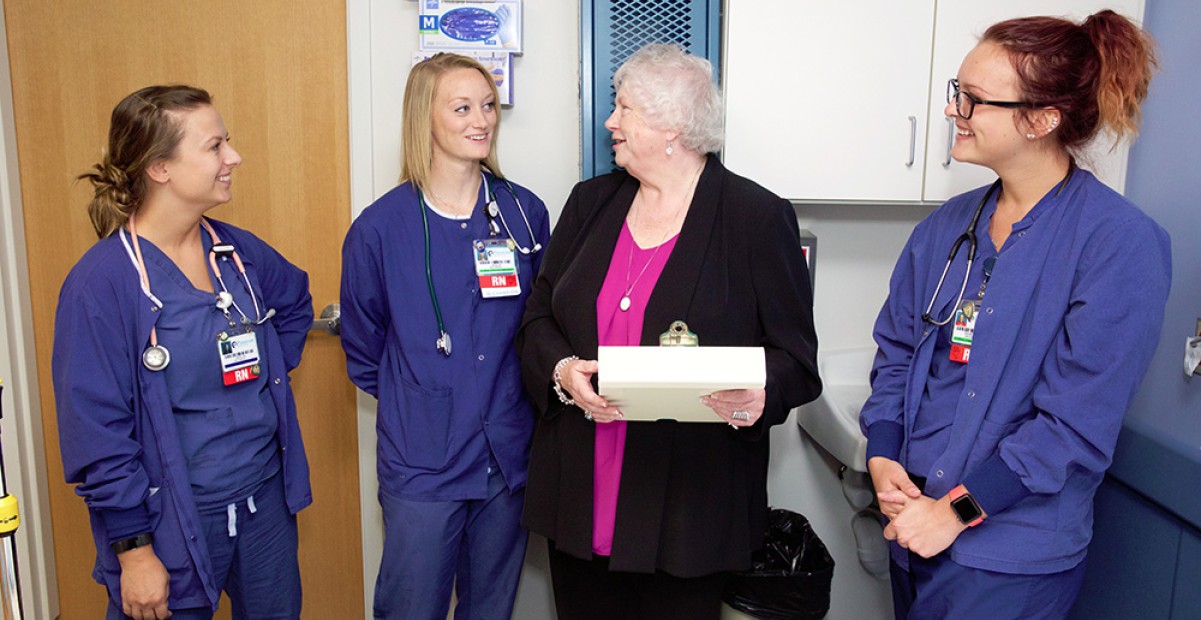 Beginning in the fall, IC will offer a four-year Bachelor of Science in Nursing degree on campus. Students will Graduate READY to take the national licensure exam to become registered nurses (RN). This track is an addition to the College's online RN-to-BSN program that launched in 2019. 
Illinois College will offer direct entry into the program to high school seniors and is still accepting applications for this fall. Transfer students may also apply. For students transferring from MacMurray College, the IC nursing program provides a seamless transition to ensure they are able to graduate on time. All MacMurray students in good academic and social standing are eligible for transfer benefits, including IC's pledge to match students' out-of-pocket cost of attendance for the upcoming academic year.
At IC, nursing students develop technical expertise along with the critical thinking, problem solving, communication and leadership skills provided to all IC students. This preparation will allow IC nursing graduates to provide excellent patient care and excel in a rapidly changing field. 
"Nursing is a critically-important field," said Catharine O'Connell, provost and dean of the College, "and we believe that excellent professional education built upon the foundation of our strong curriculum will prepare students to make tremendous contributions to their communities as leaders in nursing." 
Dr. Scott Boston, president and CEO of Passavant Area Hospital, said he is excited that Illinois College is adding this path to educate nurses in the community.
"Studies show that nurses who are educated and trained locally are more inclined to find local employment upon graduation," Boston said. "This will continue to be a benefit for Jacksonville and the communities we serve."
Passavant Area Hospital is among the health care facilities that will be clinical partners with IC, offering dynamic clinical experiences. There are many opportunities in the region for nurses in a variety of settings such as hospitals, clinics, skilled nursing facilities, insurance companies, and schools. 
IC will welcome Angela Pierson as the coordinator for the traditional BSN track. Pierson will complete her work as director of the nursing program at MacMurray College this summer. Under Pierson's leadership, the employment rate for 2019 MacMurray nursing graduates was 100%, according to data collected by the program. 
Pierson will join Pamela Brown, founding director of the IC Nursing Program, on the leadership team that will guide the new program as it pursues accreditation by the Commission on Collegiate Nursing Education, a national accreditation body for collegiate nursing programs. Currently, IC holds new candidate status with CCNE, and will host an evaluation visit in October of 2020. Brown and Pierson have many years of experience leading CCNE accredited nursing programs. Brown served as president and CEO of Blessing-Rieman College of Nursing in Quincy, Illinois, for 17 years.
To learn more about nursing at Illinois College, visit www.ic.edu/nursing. 
More information about Illinois College transfer benefits for MacMurray students is available at www.ic.edu/macmurray.