New nursing program director joins IC faculty
3.03.2023
Illinois College's growing nursing program recently welcomed a new director.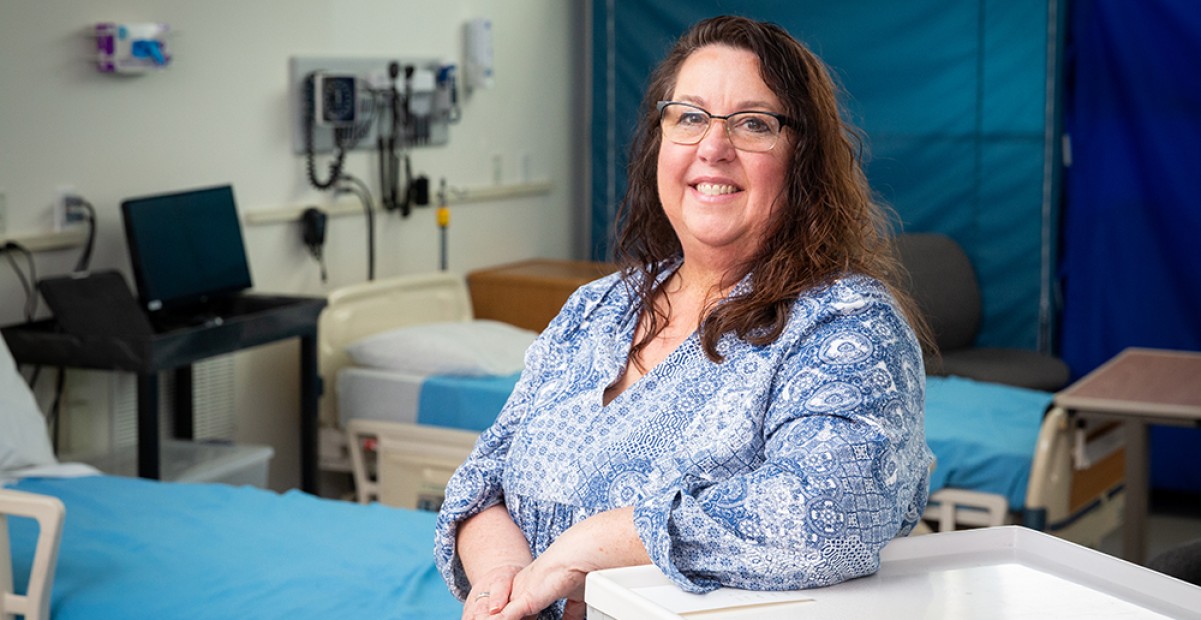 Angela Bentley brings extensive clinical and research experience to IC, and holds a doctorate degree in nursing from The Medical University of South Carolina. She holds a Bachelor of Science in nursing and Master of Science in nursing from the University of Illinois at Chicago.
Bentley shared her excitement about the future of the College's nursing program and what it provides to its students. Illinois College announced the addition of a four-year clinical nursing degree program in April 2020. The program has quickly grown to enroll more than 100 nursing majors and pre-nursing students, and is expected to continue to expand. 
"Illinois College offers the whole package — a full college experience for the students and amazing nursing professors who truly have the student's best interest at heart," she said.
The program is accredited by the Commission on Collegiate Nursing Education (CCNE) and has received a number of grants recognizing its importance to the region's health care system and economy. Grant funding supported the purchase of equipment for IC's cutting-edge equipment and simulators that, in combination with vital clinical experiences, give students the high-quality hands-on training needed to offer excellent patient care.
IC nursing students are engaging, dedicated and motivated to learn, Bentley said, and she has enjoyed seeing them practice their skills in the College's state-of-the-art nursing lab.
"I am most looking forward to helping nursing students from the first day they arrive on campus to the day they achieve that ultimate goal of being a nurse," Bentley said. "I am very proud of our current students, who all have incredibly bright futures ahead of them."
A board certified cardiac vascular nurse and emeritus certified critical care nurse, Bentley is also a Certified Nurse Educator. She has nursing experience in adult intensive care, cardiovascular intensive care, heart failure and heart transplant care, and emergency air transport. She also has experience in staff development and as a clinical nurse specialist in a cardiovascular division, which included the emergency department, cardiac cath lab, cardiovascular medical-surgical intensive care unit, cardiac open heart surgery recovery, and cardiovascular outpatient diagnostic services. 
Bentley's research interests include medication adherence among heart failure patients and technology enhanced walking programs for persons with peripheral arterial disease. She is a research grant reviewer for the American Association of Critical Care Nurses and has peer reviewed research articles for professional nursing and medical journals. She co-authored a chapter in the medical textbook, Technical Aspects of ICU-CCU Care in Primary Care Management of Heart Disease.  
Bentley is a member of a number of professional organizations that include the American College of Cardiology, American Association of Critical Care Nurses, American Heart Association and the Preventive Cardiovascular Nurses Association. In addition to being a member, she serves on the board of directors of the Society for Vascular Nursing and Sigma Theta Tau, the international nursing honor society.
In addition to the Bachelor of Science in nursing degree offered on the Jacksonville campus, Illinois College also offers fully-online RN to BSN and Master of Science in nursing degree programs.
To learn more about nursing at Illinois College, visit ic.edu/nursing.