Illinois History Day gives students hands-on learning experience
11.02.2021
Illinois College participated in a statewide program for the fifth year, giving IC students unique public history experience.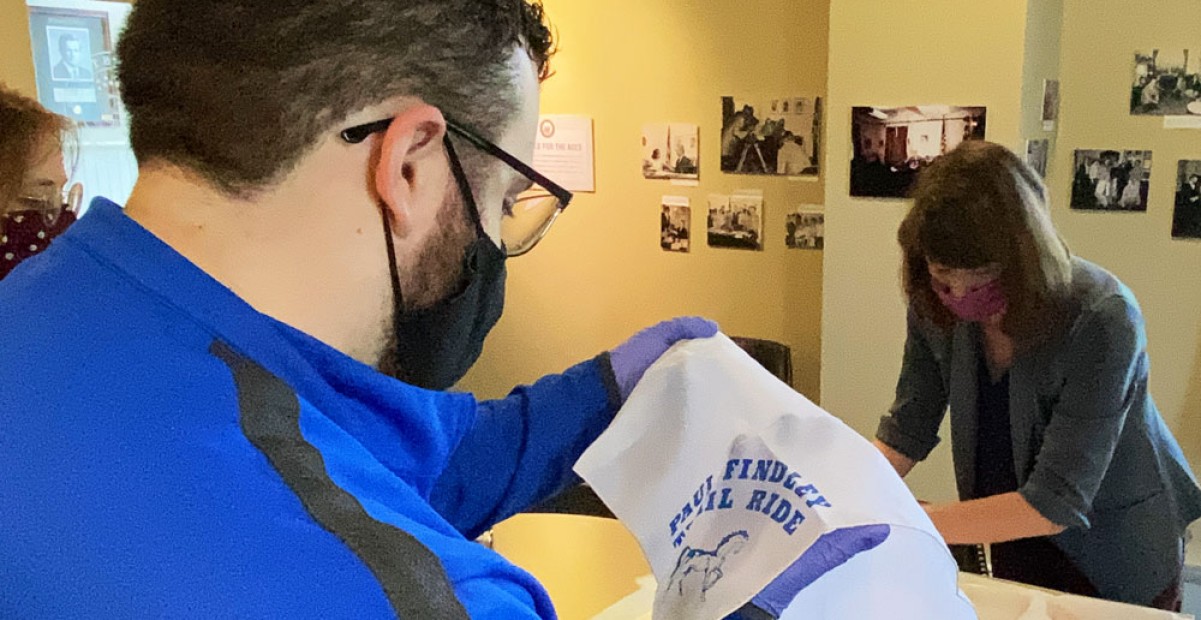 Illinois History Day is a statewide program for students in grades 6-12 interested in building research skills while learning about Illinois history. Students can create a research paper, exhibit, website, documentary or performance about Illinois' long and varied history. The event is hosted by the State of Illinois and the Abraham Lincoln Presidential Library and Museum.
In connection with History Day, Illinois College has hosted area students and classes conducting independent research related to class projects since 2016. The annual competition typically brings hundreds of students to Springfield and Illinois College students have the opportunity to volunteer in general judging categories as part of the state-wide competition.
According to Tim Blackwell '22, a rising senior studying history and public history, History Day allows young students to gain a better understanding of the past through a powerful hands-on learning experience.
"History Day provides an opportunity for students in both middle and high school to engage with the concepts of historical inquiry in order to create a product that reflects the yearly national theme."
Blackwell has gained his own hands-on experience while interning with the Lincoln presidential library's education department since summer 2020 and volunteering at Illinois History Day the past two years. As part of his ongoing internship, Blackwell worked closely with Education Coordinator Abigail Cline on several projects and initiatives, including a restructure of the Illinois History Day website and developing new content to assist students who participate in the future.
"IC is able to foster and guide Tim's journey in the field with unique hands-on experiences both on-campus with our distinctive historical collections and off-campus with community partners, such as area museums and historic sites," notes Samantha Sauer, archivist and curator of the Paul Findley Congressional Museum and assistant professor of history.
Sauer and Jenny Barker-Devine, associate professor of history and department chair, have served in the past and took part again this year in reviewing and selecting the entries. Top winners received a $10,000 scholarship to attend Illinois College.
The projects connect strongly with the hands-on history coursework Sauer and Barker-Devine teach at IC, offered as part of the popular public history program. Courses include museum studies, archival methods and digital history. 
"Students across the state create incredible projects for Illinois History Day, all based on careful research," Barker-Devine shared. "It is a pleasure to see such a strong interest in history and reward their good work with scholarships to Illinois College."
Winners of Best Exhibit in the junior division were Zoe Tuttle of New Hebron Christian School for "Carnegie Library," and Charlie Archambault of St. Giles for "1968 DNC PROTESTS: A Missed Opportunity for Social and Political Change." Winners of the Best Exhibit in the senior division were Rebecca Golde and her team from Vernon Hills High School with their project titled "The American Holocaust Museum," along with Niveditha Iyengar of Vernon Hills High School for the project "Ebony Magazine."
Julia Kwiek and Molly Chocola along with their team won Best Website in the junior division for their project "From Miscommunication to Unionization: The Formation of the Chicago Teachers Union." The project titled "Zitkala-Sa: Her Life and Legacy" won Best Website in the senior division.
IC currently offers connected coursework in public history, archives, museum studies and digital history. To learn more about the public history program, visit www.ic.edu/public-history.