Capo named to endowed professorship
10.06.2020
Professor of English and Director of the Honors Program Beth Widmaier Capo has been named the new Edward Capps Professor of Humanities.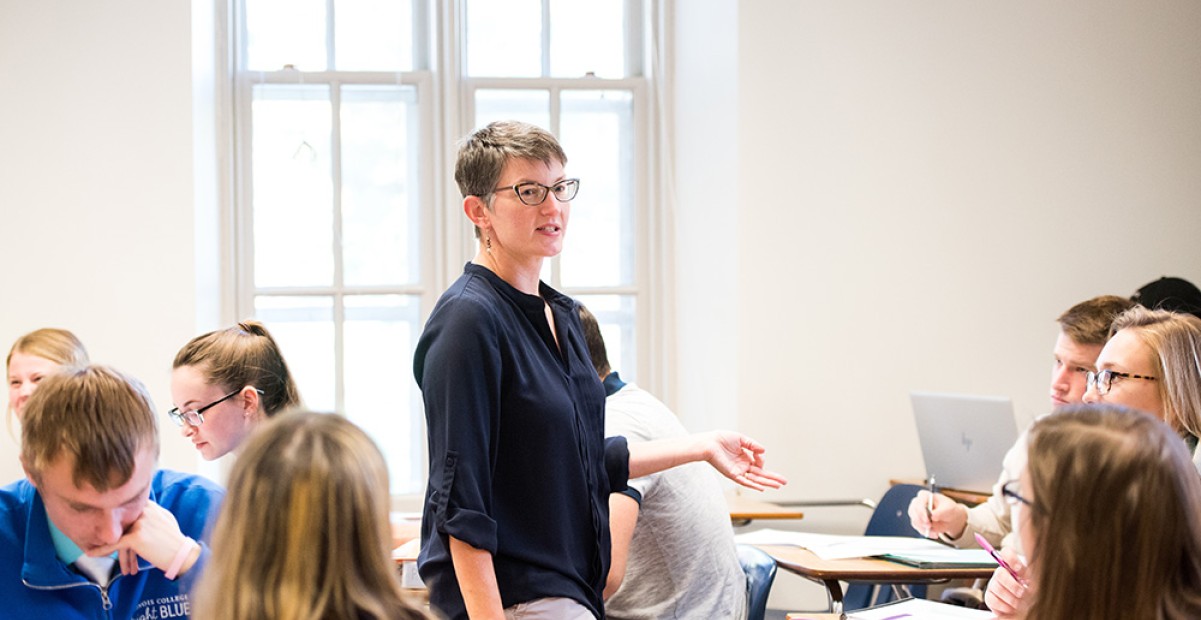 A named professorship is the highest honor the College can bestow on its faculty.
Laura Corey, dean of faculty and instructional excellence and professor of biology, praised Capo's scholarly achievements, leadership and contributions to the Illinois College community in remarks announcing the professorship. Quoting Instructor of English Matthew Schultz in her remarks, Corey said: "To document her contributions to campus life over the past decade is to 'chase after the inescapable': she has done everything from the rough and tumble of instructing basic rape aggression defense to judging the most formal, rehearsed literary or dramatic productions."
Capo joined the IC faculty in 2003 and has taught courses on writing and American literature, gender and women's studies, American studies, and first-year seminars. During a sabbatical from the College, she taught graduate- and undergraduate-level courses in Japan as a Fulbright visiting lecturer in American studies.
Capo is also the founding director of the IC Scholars honors program. Corey described the development of the honors program as "an institution-wide undertaking that has benefitted from Capo's administrative, leadership and research skills."
Capo has published one monograph, "Textual Contraception: Birth Control and Modern American Fiction," and co-edited the collection, "Reproductive Rights Issues in Popular Media: International Perspectives." In recent months, she submitted a book proposal for publication of another co-edited collection, "Reproductive Justice and Literature Handbook." She has also published numerous scholarly articles and contributions to edited collections, and regularly presents at conferences.
Capo has held leadership positions in the English and Gender and Women's Studies departments, Faculty Senate, and a number of committees and teams at the College.
Capo was awarded the professorship following the retirement this summer of her predecessor in the role, music professor Timothy Kramer. She said she is honored by the recognition of her work.
"But I also feel like it's a responsibility, then," she said. "I need to make sure that I'm going to, as long as I'm here, represent the humanities and advocate for all of my colleagues in humanities disciplines."
Capo received her bachelor's degree in English from Denison University and holds doctorate and master's degrees in English from Pennsylvania State University.
The Capps Professorship honors Jacksonville native and Illinois College Class of 1887 graduate Edward Capps. Capps was a leading classics scholar, professor and successful higher education administrator in the early 20th century. He was an advocate for Greece and served as an envoy and minister to Greece and Montenegro during the administration of President Woodrow Wilson.
To learn more about the English Department at Illinois College, visit www.ic.edu/english.