"Bradbury by Bradbury" promises a moving theatre experience, Nov. 7-10
10.16.2019
Illinois College will present "Bradbury by Bradbury," a play by acclaimed playwright, Ken Bradbury '71 H'98, on Nov. 7-8 at 7:30 p.m. and Nov. 9-10 at 2 p.m. in Sibert Theatre.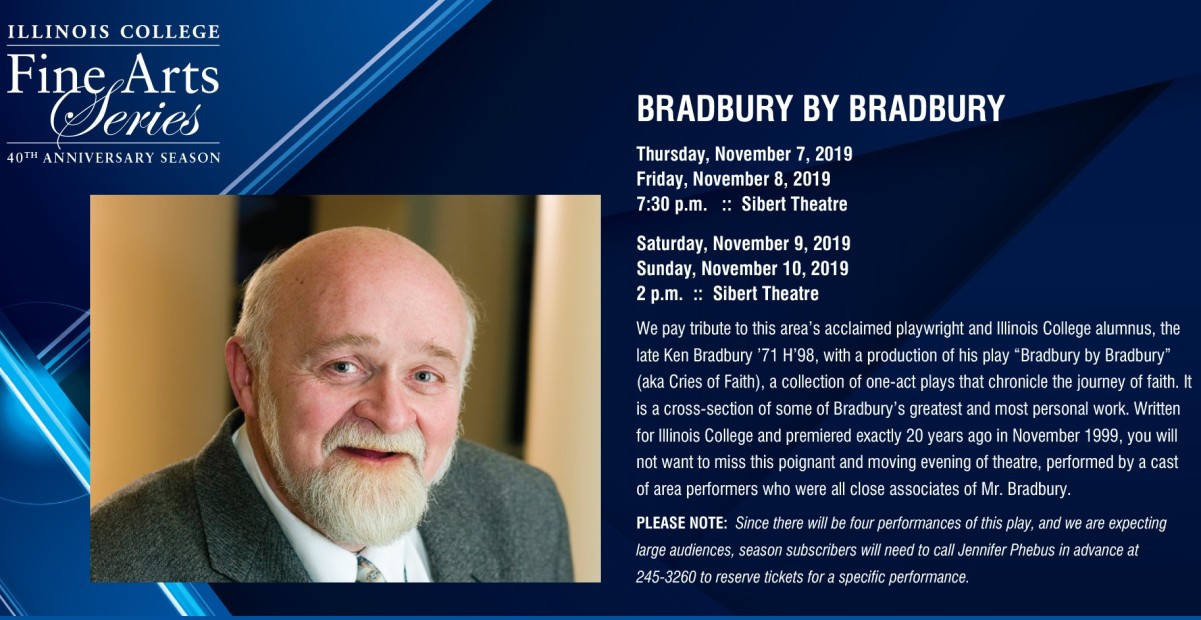 The production, a tribute to the late Bradbury who died in November 2018, is part of the Illinois College Fine Arts Series, which is in its 40th season bringing outstanding performing arts to the Jacksonville area.
Bradbury, an IC alumnus, originally wrote the play for Illinois College, where it premiered 20 years ago in November 1999. The moving production features a collection of one-act plays chronicling a journey of faith and representing a cross-section of some of Bradbury's greatest and most personal work. 
The cast features area performers who were close associates of Bradbury, including IC alumni Kristin Van Aken Jamison '99, Leah Lowes Brock '00, Luke Crawford '03, Tim Chipman '01, Squire Prince '18, Buford Stowers '03, and current student Willem Kline '20. 
Individual tickets for the Illinois College Fine Arts Series are $15, and season tickets, which include all five performances, are available for $60 each. Students of all ages receive free admission. Tickets are available for purchase in advance by phone at 217.245.3046 or at the door. For a complete listing of Fine Arts Series concerts visit www.ic.edu/fas.
*An interpreter for the deaf will be available at the show on Thursday, Nov. 7.  
 
ABOUT KEN BRADBURY
Ken Bradbury taught at Triopia Jr. Sr. High School for 35 years and was the founding director of the Green Pastures Camp for the Performing Arts, which hosted over 400 students each summer for over 30 years. Throughout this life, Bradbury was a prolific playwright. He was awarded the Studs Turkel Humanities Award by the Illinois Arts Council. His works included biographical plays about people like Abraham Lincoln, Robert Earl Hughes, and Vachel Lindsey as well as area histories, which he brought to life by working with local casts intimately acquainted with the area. Bradbury was awarded an Honorary Doctor of Arts in 1998 and the McGaw Citation for Excellence from Illinois College.