This year, Illinois College TheatreWorks celebrates small towns and civic pride. As each play's participants tell their stories - stories of tragedy and triumph, loss and love and just plain getting by - we catch glimpses of our own shared humanity.
Middletown | by Will Eno
Directed by Nancy Taylor Porter
October 28, November 2-4 at 7:30 p.m.; November 5 at 2 p.m.
Middletown is, well, a place kind of in between things—akin to our own fair city of Jacksonville. The new neighbors are trying to start a family, the librarian generously shares her wisdom, and it even has a claim to fame: an astronaut was born there. But then the cop is not exactly the insurer of safety, and the sweet guy next door is having an unexpectedly hard time. In a brilliant but also down-home examination of small-town life, Will Eno continually challenges the audience's expectations with surprising insights, revealing big hearts in unexpected places. A re-imagining of Thornton Wilder's classic Our Town and winner of The Horton Foote Prize for Promising New American Play in 2010, Middletown is a funny, unconventional, and intriguing play about us in our time.
 
Buy Tickets Online!
Or contact the Illinois College Box Office at 217.245.3471 or illinoiscollegeboxoffice@gmail.com
 
The Robber Bridegroom | book by Alfred Uhry, music by Robert Waldman
April 20, 26-28 at 7:30 p.m.; April 29 at 2 p.m.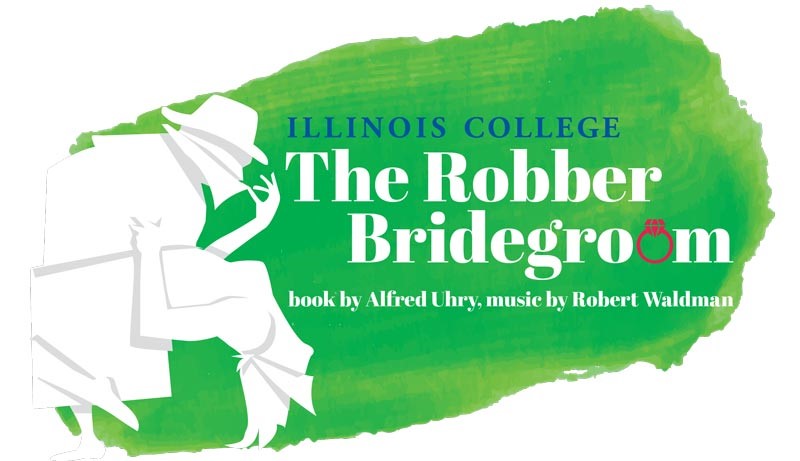 What happens when you take a trickster (think Uncle Remus' Brer Rabbit or Native American folklore's Coyote) and drop him in the middle of a Snow White story?  You might get something that looks like The Robber Bridegroom.  Based on Eudora Welty's short story (which, itself, was loosely based on the Grimm's fairy tale), Urhy and Waldman's bluegrass musical pays homage to the tall tales of the pre-Civil War South.  Jamie Lockhart prides himself on being a gentleman robber, stealing with style as he charms folks out of their treasure, but when he smears blackberry juice on his face, he becomes the "Bandit of the Woods" and takes whatever he pleases by more sinister means.  Stealing everything from jewels to kisses, he meets his match in Rosamund Musgrove, a spunky damsel in distress.  Featuring a murderous stepmother and her hare-brained henchman, a talking bird, and many other delightfully quirky characters, The Robber Bridegroom is fast-paced, folksy fun on the Natchez Trace.
 
Buy Tickets Online!
Or contact the Illinois College Box Office at 217.245.3471 or illinoiscollegeboxoffice@gmail.com