Illinois College, John Wood Community College Sign Agricultural Articulation Agreement
8.22.2023
Illinois College (IC) and John Wood Community College (JWCC) signed an agricultural articulation agreement today. Present for the signing were JWCC President Dr. Bryan Renfro, IC President Dr. Barbara Farley, faculty and staff from both institutions and JWCC students.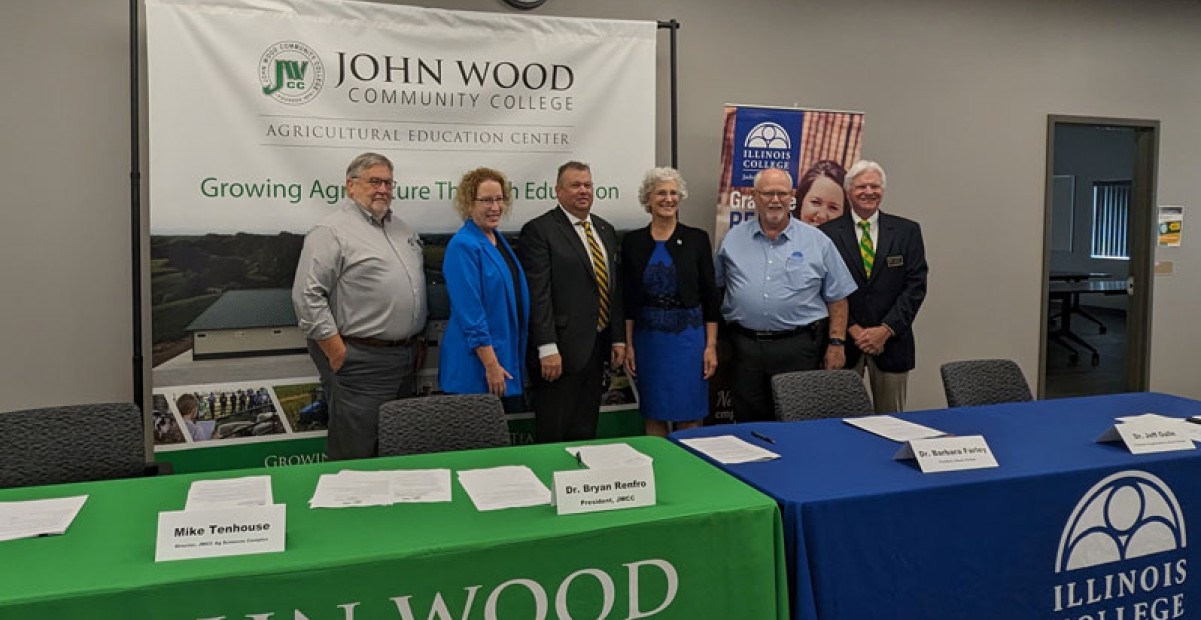 Articulation agreements document a pathway between community college academic programs and courses to four-year university bachelor's degrees.  The agreements outline courses to be taken in the first two years at a community college that will directly transfer into a specific four-year academic degree program at a university. Such agreements ensure the most efficient pathway to bachelor's degree completion, saving students time and money. 
This Articulation Agreement, referred to also as a 2+2 Agreement, is for those students and alumni who transfer from JWCC with an Associate of Applied Science degree in Agriculture or an Associate of Agricultural Science to pursue a Bachelor of Arts in Agribusiness Management at IC. 
JWCC President Bryan Renfro shared, "Our goal at John Wood Community College is to help students find their career path and successfully complete courses and experiences that help them earn degrees in the most efficient way possible both in terms of time and expense. We are proud to sign this agreement with Illinois College, especially for Agriculture students because we know the career success that awaits them."
"Illinois College is excited about this new partnership with John Woods Community College, enabling students to seamlessly transition into our agribusiness management program, and to successfully conclude their educational journey with a bachelor's degree," Farley said. "We look forward to welcoming future ag industry leaders who began their studies at John Wood Community College."
Applications for Illinois College's traditional on campus and fully online accelerated agribusiness program are still being accepted for fall 2023.
Learn more about the Illinois College agribusiness management program on campus at ic.edu/agribusiness and online at online.ic.edu. Visit John Wood Community College to learn more about JWCC's agriculture program.