State-of-the-art nursing lab completed as part of economic development grant
4.05.2022
Illinois College has completed the installation of a state-of-the-art medical simulation lab thanks to a $237,750 grant that recognized the future economic impact of the College's clinical nursing program.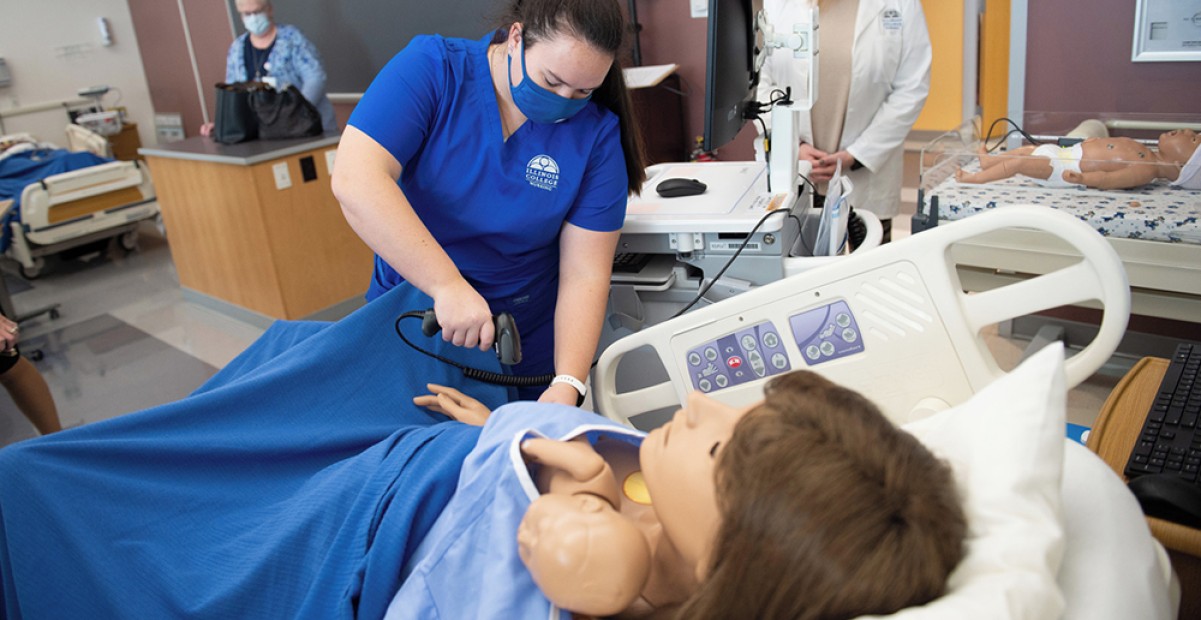 Photo Courtesy of Memorial Health Systems
The U.S. Economic Development Administration CARES grant addresses the tremendous demand for nurses at all levels, a need that has grown during the COVID-19 pandemic. The grant has supported the placement of nursing professionals into future jobs in the region by enhancing the equipment available for their training.
Illinois College used the grant during the past year to purchase innovative equipment and life-like simulators which are used in preclinical coursework to provide nursing students with hands-on experience providing patient care, assisting with births, administering injections and more.
The College's partners for the project include Lincoln Land Community College, Memorial Health System, Jacksonville Memorial Hospital, Illini Community Hospital, the Two Rivers Economic Development District and the Jacksonville Regional Economic Development Corporation. 
In addition to the education of registered nurses through Illinois College's bachelor of science in nursing program, the grant will support the training of certified nursing assistants through a partnership between the College and LLCC. 
Illinois College is encouraging its nursing students to pursue CNA certification at LLCC after their first year so they can gain valuable real-world experience. Beyond technical training, the relationship will give RN and CNA students and faculty the opportunity to work together, fostering greater collaboration and understanding of all levels of the nursing profession.
Rep. Darin LaHood, who represents Illinois's 18th Congressional District, announced the grant last year.
Altogether, the grant and the College's matching funds totaled more than $300,000 in investments that have been completed in the region. The Economic Development Administration of the U.S. Department of Commerce is supporting this project with EDA grant #06-79-06276.
Illinois College's four-year clinical nursing degree program is accredited by the Commission on Collegiate Nursing Education, an independent commission ensuring the quality and integrity of baccalaureate, graduate and residency programs in nursing. To learn more about nursing at Illinois College, visit ic.edu/nursing.