Visiting scholar shares insight on public history opportunities
3.29.2018
David Vail, assistant professor of environmental and agricultural history at the University of Nebraska at Kearney, visited the Illinois College campus on March 19-24, as part of a grant to bring humanities scholars to IC.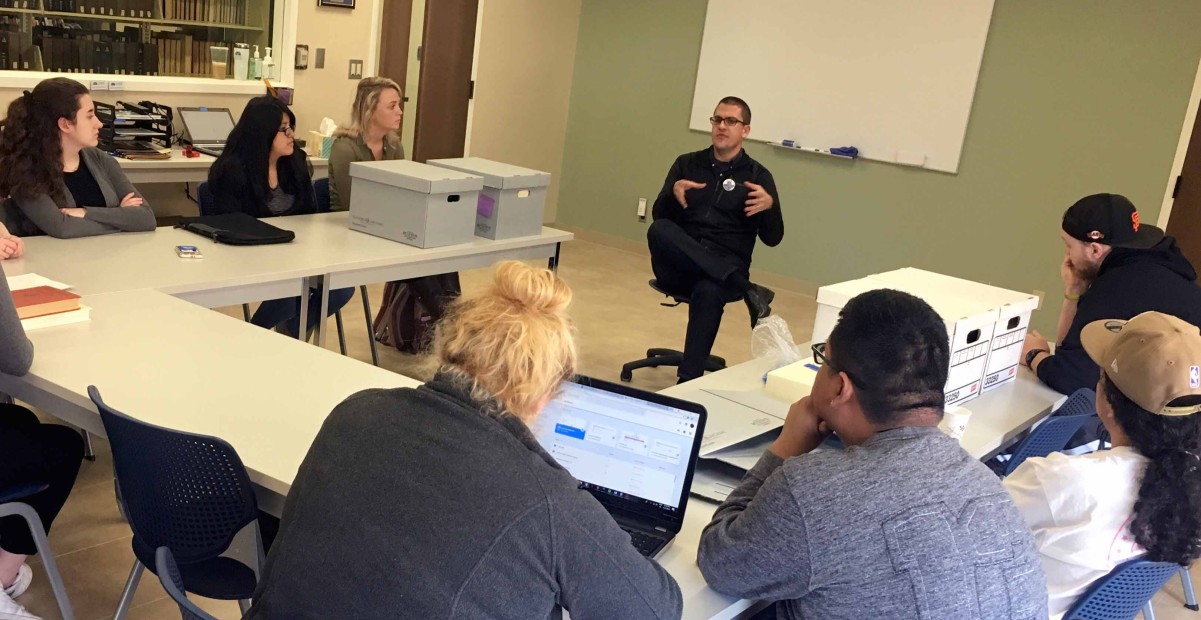 While at Illinois College, Vail conducted research on Paul Findley '43 and the former Congressman's work with agriculture in Congress during the Cold War. Vail's research utilized resources housed within the Khalaf Al Habtoor Archives, as well as the Paul Findley Congressional Office Museum. 
History and political science major Joe Ritter '18 met with Vail during his visit and interviewed him about his work and the opportunities he sees for students entering the workforce today. 
Dr. Vail told me about current trends in his field. He also shared with me insight about where to continue with my career in public history. His advice allowed me think about new ways to apply the skills I have learned in the classroom and working in the archives to my job search and future career.
Students Joe Ritter '18 (left) and Asia Watson '21 give visiting scholar, David Vail, a tour of the the Paul Findley Congressional Office Museum at Illinois College.
Vail's background made him a great resource of information for Ritter and the other students he met with on campus. The experience is one of many offered for students through IC's new public history program, which prepares students for graduate programs and career in archives, museums, historical sites, government agencies, libraries and a variety of other fields.
Vail's areas of specialization include environmental and agricultural history, science and technology, the Great Plains and public history. He has published several articles in academic journals on these topics and recently published a book on his research, "Chemical Lands: Pesticides, Aerial Spraying, and Health in North America's Grasslands since 1945."
During his visit, Vail made a special presentation as part of Illinois College's celebration of National Agriculture Month entitled, "Learning from the Noxious Ones: Agricultural Health and Aerial Spraying in the Great Plains," on March 21. He discussed the methods and challenges of studying the long relationship between pesticides and health in the Great Plains. 
Visiting humanities scholars come to the College through an endowed fund established by a $200,000 Challenge Grant from the National Endowment for the Humanities and donors' matching contributions. 
Vail is the second scholar to visit the college through this grant since May 2017. Samantha Sauer, assistant professor of history and Khalaf Al Habtoor archivist at IC, plans to document each scholar's visit. She said that having the scholars on campus presents an exciting opportunity for students to gain a deeper understanding of their studies.
For more information on the visiting scholars program, contact Samantha Sauer at samantha.sauer@mail.ic.edu.