Faculty & Staff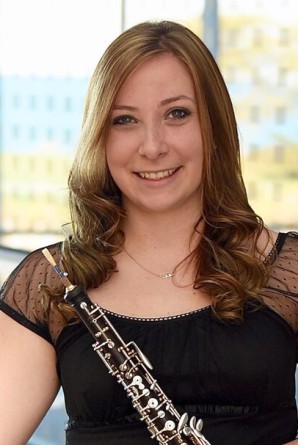 Suzanne Segredo
Music Lessons Instructor - Oboe and Bassoon
Education
University of Illinois Urbana-Champaign | B.M. | Oboe Performance
Northwestern University | M.M. | Oboe Performance and Literature
Bio
Suzanne Segredo's musical career can be surmised in one word: diverse. From working with celebrated and renown oboists, to being an active member of the Oboe Chicago Company, Suzanne's musicianship has crafted an exciting and unique career across the Midwest and Southeast.
Originally from Darien, Illinois, Suzanne has worked extensively in Chicago and the surrounding Midwest, having performed with the Urbana Pops Orchestra, Danville Symphony Orchestra, and the Sinfonia da Camera on both oboe and English horn. While in the Midwest, Suzanne received her B.M. in Oboe Performance from the University of Illinois Urbana-Champaign studying with John Dee, and her M.M. in Oboe Performance and Literature from Northwestern University studying with Michael Henoch, Robert Morgan, and Scott Hostetler.
Following her studies in Illinois, Suzanne received a Post-Graduate Certification in Performance Teaching from the Guildhall School of Music and Drama in London. While in London, Suzanne studied with Gordon Hunt and Allison Teale. As a freelancer overseas, Suzanne performed as the principal oboist with the Lewisham Concert Band, received a spot on the substitute players list for the London production of The Phantom of the Opera, and performed in historic sites such as Cadogan Hall.
As a performer, Suzanne has worked with the Austin and Round Rock Symphonies, and Universal Studios. Driven by a passion for education, Suzanne maintains a private studio throughout the Austin and Chicagoland areas. Her studio consists of beginner to advanced students of all ages. Her goal for her students is to find their voice as a performer, musician, and artist.
An advocate for new and diverse music, Suzanne has worked with and performed the music of Stephen Taylor, Paul Novak, Jose Flores, Brandon Stanley, Vinko Globokar, and Augusta Read Thomas. While in the Midwest, Suzanne's passion for Rock music led to her arranging and performing the music of Alice Cooper, Hole,Tina Turner, Suzi Quatro, and Creedence Clear Water Revival.
Suzanne is currently working on her Doctorate in Performance and Literature with Music Education as her cognate at the University of Illinois at Urbana-Champaign.