Illinois College senior receives statewide honor
11.22.2019
When Charlotte Crofton '20 found out she would be Illinois College's 2019 Student Laureate, she wanted to tell anyone she could find.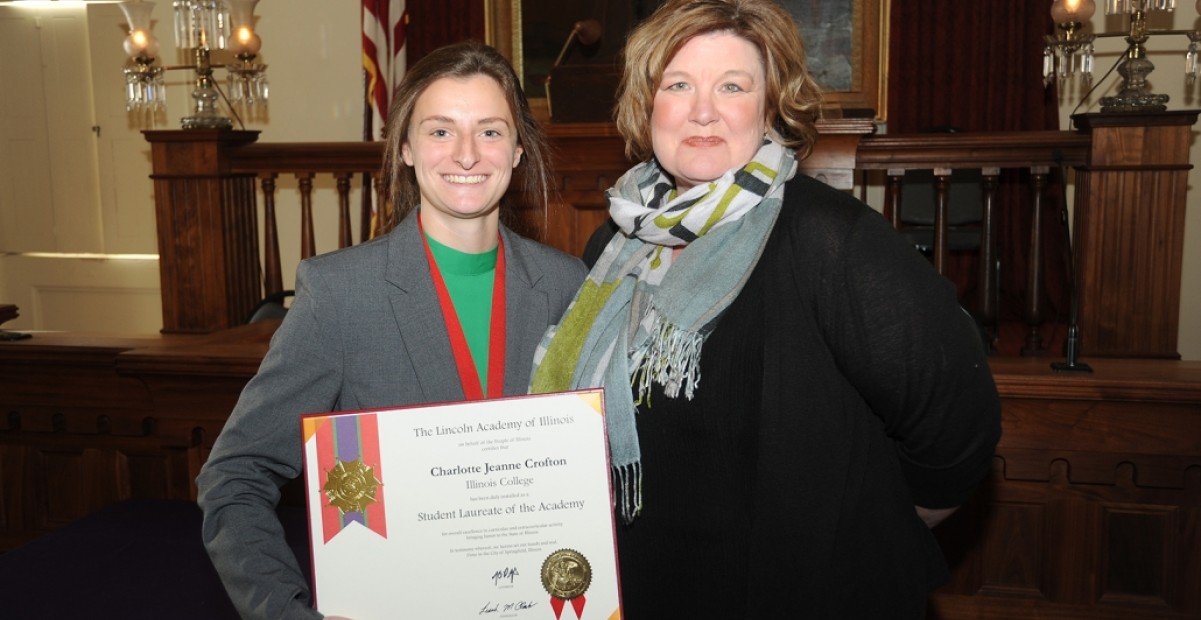 The senior represented Illinois College in the 45th cohort of Student Laureates honored at The Lincoln Academy of Illinois Student Laureate Convocation Saturday at the Old State Capitol Historic Site in Springfield.
Each year, The Lincoln Academy of Illinois recognizes seniors from each of Illinois' four-year degree-granting colleges and universities and one senior from the community colleges with Abraham Lincoln Civic Engagement Award. The Student Laureates are selected based on their leadership, service and excellence in academics and extracurricular activities.
"I don't tend to think of myself as that person."
"I don't tend to think of myself as that person," Crofton said. "I'm just living my life the way I've been sort of taught and I've come to understand how to live my life. Which is why, some days I'm still kind of like, 'Why me? Nothing I'm doing is special.'"
Crofton looked for her professors as soon as she found out about receiving the honor — she wanted to tell them all. The Springfield native credits her professors' willingness to meet with her and guide her that helped her to realize how many things she could be interested in and explore. And she did explore her interests, majoring in religion, psychology and music and minoring in German. 
"It's done nothing but enrich my overall learning experience and my time at IC," she said, "because through these different majors I've been able to work with so many different professors in so many different departments, which is not something the average student gets to do."
Crofton came to IC to join the women's soccer team and is ranked seventh nationally in Division III for saves this season. On campus, she also has been involved as president of Brothers and Sisters in Christ; a percussionist and vocalist in multiple IC ensembles and choirs; a Rammelkamp Scholar; a Student Marshall; a member of several honor societies; a first-year seminar academic mentor; a Campus Writing Center consultant; a TRIO Student; and has completed pastoral internships. She is a student in the IC Scholars honors program and is up for selection for Academic All-America honors.
Crofton plans to attend seminary school to pursue a master of divinity degree after graduating this spring with the class of 2020.
Aside from being recognition for her work in and out of the classroom, Crofton said knowing the award is inspired by President Abraham Lincoln's character and civic involvement gave the honor even more weight. At the convocation, she saw the other Student Laureates around her were all unique, but united by the "idea that we'd like to make the world a better place."
Each Student Laureate receives a certificate of merit signed by the governor, a Lincoln medallion and a $1,000 check.