Khalaf Al Habtoor Archives offers unique learning opportunities
11.02.2018
For educators seeking creative ways to bring history to life in their classrooms, a new resource through the Khalaf Al Habtoor Archives at Illinois College is now available.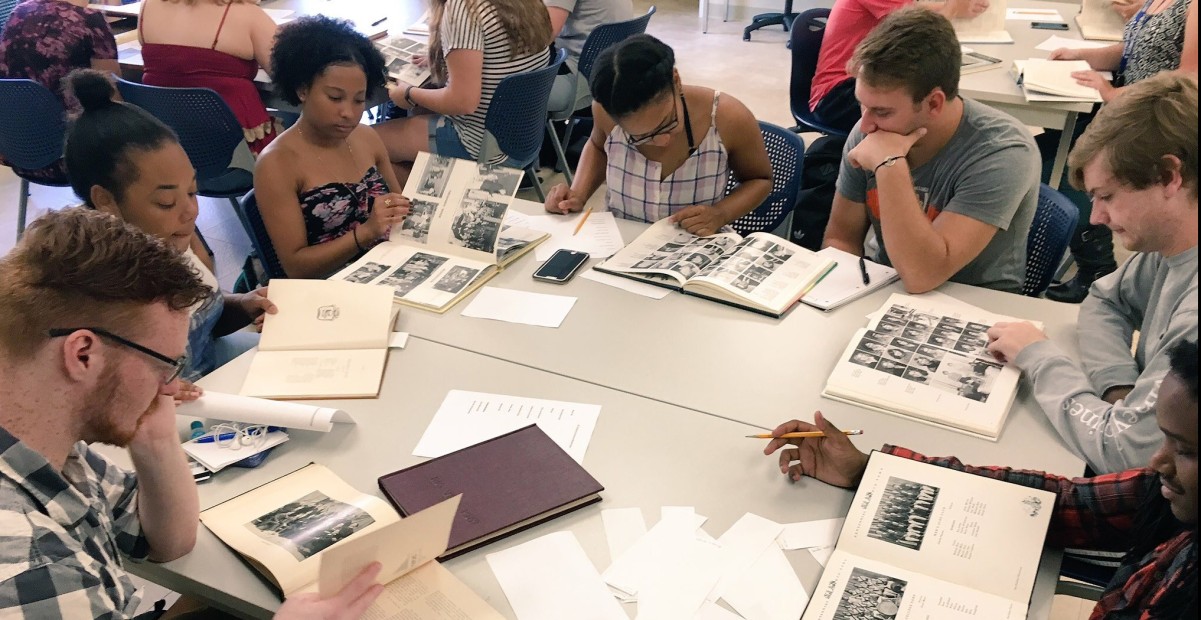 Cara Reynolds '19 collaborated with Samantha Sauer, archivist and assistant professor of history, and Dr. Jenny Barker-Devine, associate professor of history, to develop lesson plans based on a historical collection of letters written by soldiers with a connection to IC as part of a public history class. 
Reynolds, a history major pursuing secondary education, wanted to make sure her work could be adapted to any classroom. 
"This project is meant to serve as a resource for others, so it's forced me to think deeply about the teaching process and how to communicate each step so these lessons can be used by an experienced teacher or a substitute," said Reynolds. "In education, I have learned the importance of being detailed and descriptive."
Reynolds' lessons were designed with high school classrooms in mind, although she says they can be easily adjusted for younger students. The project has cultural significance, coinciding with the commemoration of the Great War during its centennial this year and with Veterans Day next month. 
Sauer says this project is an excellent illustration of how the archives can connect students to the community as they learn from unique resources.
The Khalaf Al Habtoor Archives at Illinois College is a state-of-the-art facility that was renovated in 2014 to better use the College's abundant resources. The archives offers many opportunities for students to combine hands-on skills, historical research and practical application to create useful community resources. Other recent work being completed in the archives includes:
Edwin Ramirez '19 is exploring the history of Illinois College and Jacksonville during the Mexican-American War using historical resources as an intern in the archives this semester. His work expands knowledge of local history while allowing him to apply his studies in economics, sociology and Spanish. 

Brandon Simmons '19 is conducting an independent research project in the archives to explore African-American history in Jacksonville and at Illinois College. The senior studying business administration and public history works in Schewe Library and as an archive student assistant in the Khalaf Al Habtoor Archives and the Paul Findley Congressional Office Museum.

Two classes are being hosted within the archives this semester, Public History and Digital History, each part of the public history concentration. Holding classes within the archives allows students to better understand and easily access resources on a regular basis. This type of interaction with historical materials has been shown to encourage creativity and critical thinking that leads to the development of new innovative projects.

The archive have hosted groups and visitors from campus, the local community and across the country this semester. One recent group traveled from Petersburg, Illinois,  to learn about hands-on opportunities in the archives for National History Day. 

Angie Piccolo recently joined the Khalaf Al Habtoor Archives as the public history graduate intern for the fall semester. Piccolo comes to the College from Spokane, Washington. She earned her master's in history with a certificate in archives and records management in June from Western Washington University. Piccolo is completing a project focused former Illinois College President Charles Rammelkamp, helping to manage the day-to-day operations of the archives and mentoring students. 
Educators and community members interested in accessing or learning more about the resources available through the archives should contact Samantha Sauer at 217.245.3595 or samantha.sauer@ic.edu.