Criminal justice student gains professional experience at body farm
10.01.2019
Miguel Tellez '21 was the lone undergraduate in a group of CSIs, Texas Rangers, state troopers, anthropologists and graduate students from around the country participating in a workshop held at the Forensic Anthropology Research Facility this past summer.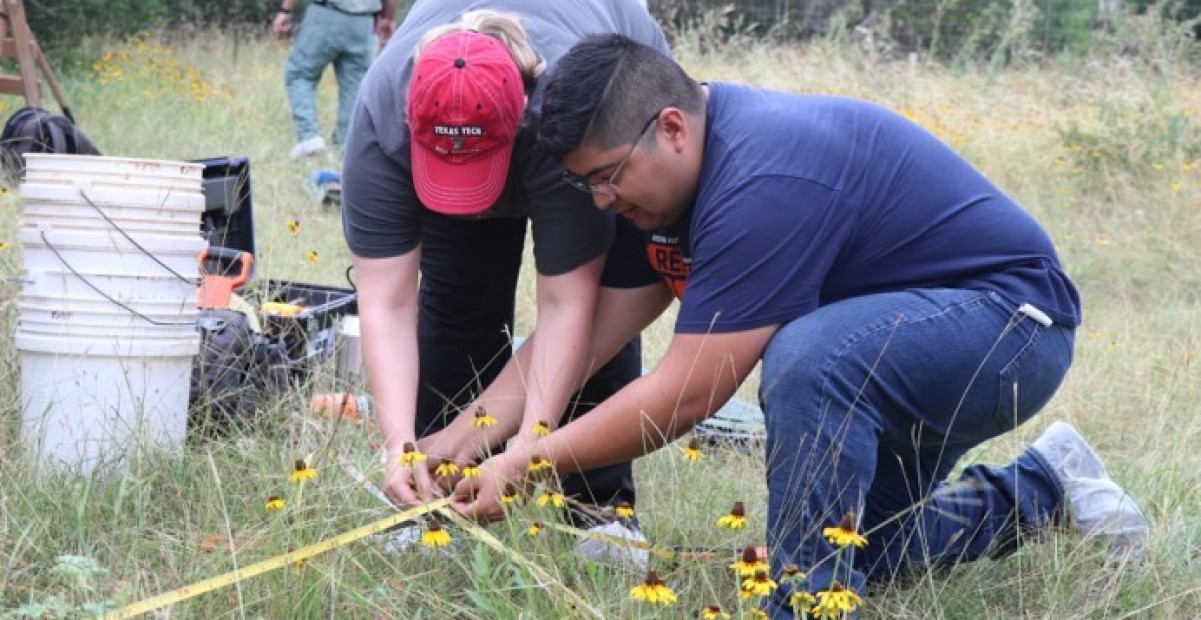 Also known as the "body farm" or simply "the ranch," the FARF is a 26-acre outdoor research laboratory used to study human decomposition. Since the facility opened in 2008, about 150 individuals have donated their remains to be used in this unique forensic laboratory. Fewer than 10 facilities like this exist nationwide.  
Although Tellez, who began his junior year this fall, was initially intimidated to work alongside seasoned professionals, he was quickly surprised at how well his Illinois College education prepared him. He says it was also a great opportunity to network and expand his professional knowledge. 
"Meeting people working in the field that I am interested in was great. We actually had a lot in common. It made me feel like this field will be a good fit for me. I learned a lot about the jobs that are available related to forensics," said Tellez.  
Participants in the human remains recovery workshop spent two days in the classroom learning science-based techniques, followed by three days in the field applying what they learned. They practiced grave location, site mapping and the archeological excavation of human skeletal remains. 
The experience built on the academic foundation that Tellez established during his first two years at the College. 
A legacy student, Tellez learned about IC as a high school student visiting his brother. Growing up in the Chicago suburb of Cicero, Tellez chose Illinois College because of the small, close-knit community and the one-on-one attention available for students. He was undecided on a major as a first-year student, but a forensic science course taught by Dr. Miranda Karban, assistant professor of biology, introduced him to the growing field. 
"I ended up enjoying that class a lot, and I started to talk more in depth with Professor Karban. My interest in the field has grown from there," he said. 
After that course, he spent three semesters collaborating on student-faculty research with Karban. Her expertise includes human anatomy, forensic anthropology and paleoanthropology. Student researchers working in Karban's lab have the opportunity to develop research questions and hypotheses, and to conduct hands-on research using human bones and x-rays. 
In his research, Tellez was able to use methods of forensic anthropology to analyze bones in the skeleton in Parker Science Building to determine various traits. He presented the work to students and scholars during the Illinois State Academy of Science annual meeting last year. 
Tellez started to think more about how he could apply the skills he learned in the lab to a future career. Ultimately, he decided to major in criminal justice. 
"I really wanted to look at the real-world applications in the field. Most of the jobs related to forensics are in criminal justice," said Tellez, who also enjoys the scientific and mathematical skills that forensic science requires.  
Karban suggested Tellez study at the Texas State University facility, where she had previously done research, to help him gain more hands-on experience in the field. Karban helped him navigate the application process and wrote a letter of recommendation. 
For Tellez, the experience was life-changing.
"It's difficult to put into words what this experience means to me," he said. "It was such an amazing opportunity. This type of work is so unique and I really want to keep learning more about how it is done."
One of Tellez's biggest takeaways is the confidence that he can handle the challenges of working with real human remains. While he has not finalized plans for after graduation, he is considering starting his professional career immediately. His time at TSU has also opened his mind to another possibility: graduate school.  
"This is the first time that I have really considered that a possibility," he said. "I am keeping my options open, and this experience really gave me better insight into what my options are."
For now, Tellez is focused on making the most of his education at Illinois College. He hopes to complete an internship with a police department before graduation.  
To learn more about hands-on learning opportunities at IC, visit www.ic.edu/activelearning. 
Miguel Tellez spent three days working in the field alongside criminal justice professionals at the body farm.
1 of 2
Among the skills that Tellez learned was grave location.
2 of 2