IC agribusiness students impress at national marketing competition
5.16.2019
Ten IC agribusiness management students participated in a national marketing competition through the National Agri-Marketing Association held in Kansas City, Missouri.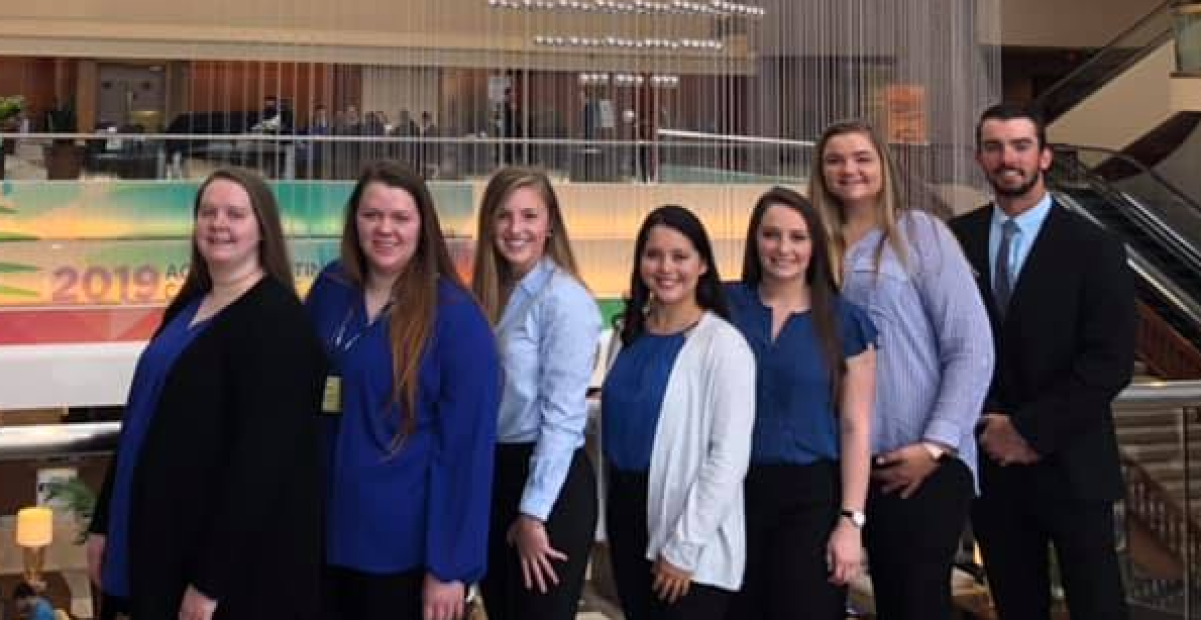 This is the first year that Illinois College has participated in the competition, which is part of an annual conference hosted by NAMA, a professional student organization at IC that provides professional connections and real-world experiences in agri-marketing and business. The Illinois College chapter of NAMA is a part of the new IC Aggies Club established in 2019.
To prepare for the competition, the students worked diligently throughout the academic year — developing a five-page executive summary, a full scale marketing plan and a campaign presentation all centered on the fictitiously named "Turner Titan," a fast growing, strong, pest and disease-resistant tree with a vibrant yellow fall canopy. The product is based on the Osage orange tree popularized by Jonathan Baldwin Turner, an influential Illinois College professor during the 1800s. 
A group made up of team leader Madie Budd '20 and members Darian Session '20, Nely Munoz '21, Scott Kasting '19, Caroline Casler '20, Sarah Scheuermann '20 and Caitlyn Jones '20 gave a 20-minute presentation of the marketing campaign. Will Boyd '22 and Sam Killday '21 competed individually in the sales competition. 
Dr. Michael Woods, agribusiness coordinator and assistant professor of business, is the faculty advisor for the IC Aggies Club and NAMA chapter. He said he was impressed with his agribusiness students who competed well against more experienced schools, with nearly 400 students in attendance representing 29 colleges and universities from around the country. 
IC's chapter of NAMA was recognized with a $200 award for having the most innovative program for its agricultural speakers series. Boyd and Killday each made it to the final round in the sales competition, and while the team who presented the marketing campaign did not advance beyond their initial heat, they placed third in their group and received high remarks from the judges who complimented them on a strong first-year showing.
Budd, a junior majoring in agribusiness management, also received the NAMA Foundation's top scholarship award, the $4,000 Successful Farming/Fergie Ferguson Scholarship. Budd said she was excited to learn that her application had been chosen for the meaningful honor. 
"In my application I talked about what I have done in the agricultural field while at IC and my short-term and long-term goals," she said. "I hope to use my public speaking skills to work in government or education as an advocate for agriculture. I want to help more people understand the importance of agriculture."
Budd, who is also an intern for Beard Implement Company, said going into the national competition for the first time was "nerve-wracking," but that guidance from Dr. Woods and the extensive work the team put into the project prepared them well for the national spotlight. She said she learned a lot by competing at the NAMA conference and looks forward to being a part of IC's team again next year.