Students visit national park to learn, give back during spring break
4.08.2022
A group of Illinois College students spent their spring break volunteering in Great Smoky Mountains National Park last month.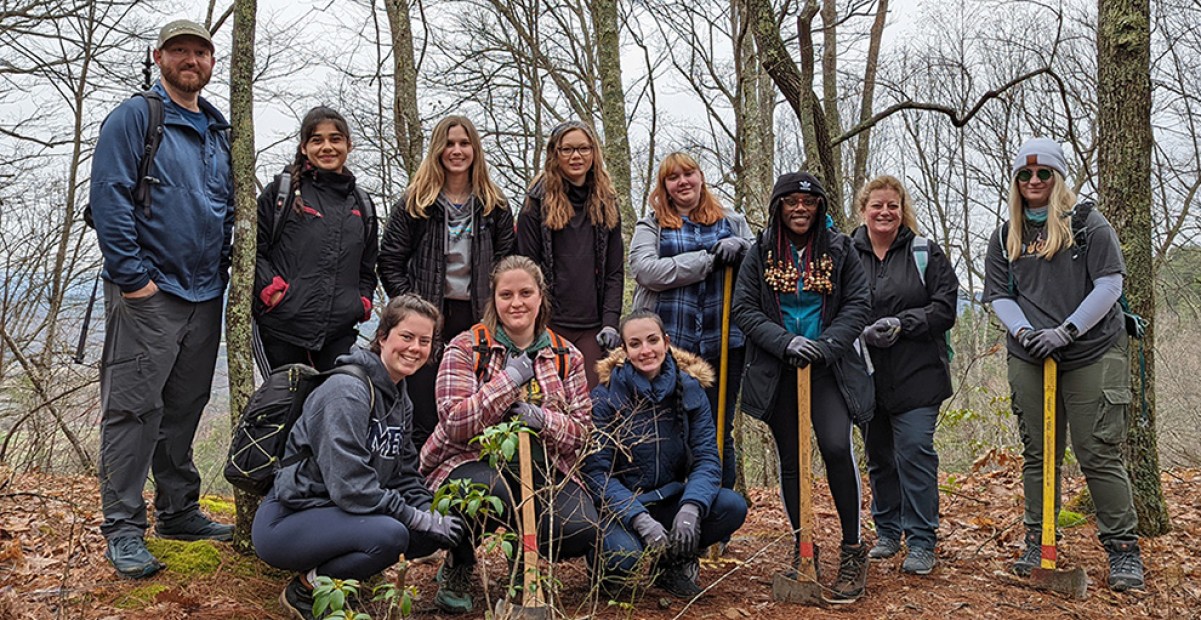 Led by faculty and staff, the 2022 Alternative Spring Break trip took nine students to Tennessee to assist the National Park Service by preparing trails and two campgrounds for the upcoming busy tourism season. Students learned about the park's history, both Native American history and European settlement of the region; visited historic sites in the park; and heard from a park analyst about how the park balances the protection of natural resources with welcoming millions of visitors each year.
"I highly recommend working with a purpose as you travel," Rebecca Ring '23 said. "Working closely with Adam, our park ranger, to get campgrounds and trails ready will provide travelers the ability to see as much beauty as we did. This trip has been one for the books and I'm extremely grateful for the opportunity that I was given."
In total, each student volunteered 20 hours of their time in the park. In the campgrounds, they cleared branches and piles of leaves from the fall and winter. They also helped with trail maintenance, using tools to dig water exits for drainage on a three-mile section of trail.
Several students, including Kaylee Coop '22, also worked to prepare fallen trees for trail construction projects. The logs will be used in the construction of steps for one of the trails.
"On our last day of volunteer work, I had the most fun peeling logs. This was definitely one of my favorite parts of the trip because finishing a log was just so rewarding. I think we ended up doing around 20 logs altogether and I felt like I was really helping," Coop said.
 
In addition to service and learning activities, the students hiked the park's mountain trails.
Illinois College's Alternative Spring Break program offers an approximately one-week trip during spring break each year, combining a commitment to service, the pursuit of an academic topic and engagement with the host community's culture. Past trips have taken students to places like Puerto Rico to help with hurricane recovery and Clarkston, Georgia, to learn about Civil Rights.
Bridget English, director of placements and recruitment in the Teacher Preparation Program and instructor in education, was a faculty leader on the trip. Tennessee marked her second Alternative Spring Break experience and she enjoys seeing students get to know each other and make lasting connections and friendships.
"Both trips have also helped students start to think about life after Illinois College — where they might go and what career paths they might explore," she said.
Funding from the Khalaf Al Habtoor Leadership Center endowment is used to offset the student cost for Illinois College's annual Alternative Spring Break trip. 
Visit ic.edu/activelearning to learn more about experiential learning at Illinois College and ic.edu/careerservices to learn more about the Center for Career Readiness and Experiential Learning.