Students learn about how nature meets policy during service trip
4.21.2023
Six students traveled to Cleveland, Ohio, for Illinois College's 2023 Alternative Spring Break focused on urban environmentalism and water conservation.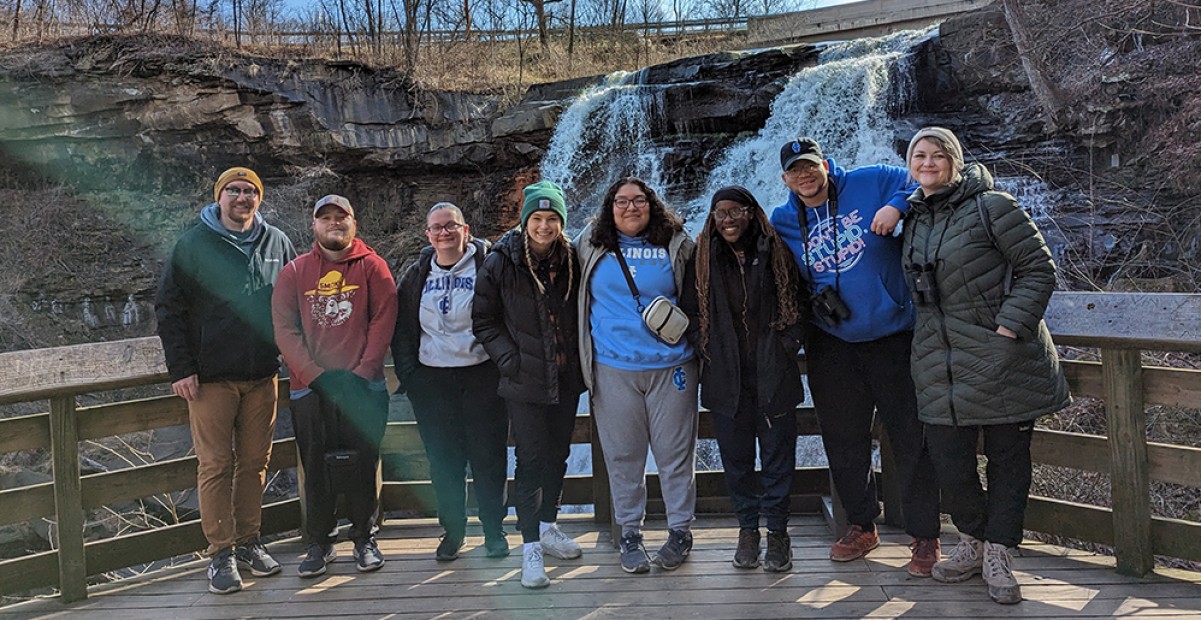 The College's alternative spring break program is an approximately one-week trip that combines a commitment to service, the pursuit of an academic topic and an interest in engaging with the host community's culture. This year's trip was led by Ryan Flynn '15, director of civic engagement and public service pathways, and Elora Agsten, research services librarian and assistant professor of library science.
"These trips provide students with an opportunity to learn about a new community, learn through service and get outside their comfort zones," Flynn said. "We treat this as a transformational experience for students, giving them an opportunity to take learning outside the classroom and into the community."
During the trip, students devoted volunteer hours with Cleveland Metro Parks and the Nature Center at Shaker Lakes. 
For the Cleveland Metro Parks, students engaged in the hard work of removing invasive grapevines growing in a local park. At Shaker Lakes, students helped start the construction on a new archery range – building a bench to support archery targets and the poles for netting that will be strung up behind the targets. 
In addition to work on service projects, students learned about the rejuvenation of the Cuyahoga River and ongoing restoration projects, the city's history, and the intersection of environmentalism and LGBTQ+ activism.
"This trip really helped me learn about how interconnected economic, political, and environmental issues are in policy making and advocacy," Miranda Araujo '25 shared. "Plus, it was so much fun getting to know everyone and discovering new places."
Flynn and Agsten prepared students for the trip with weekly discussions on Cleveland history, especially environmental history. Discussion topics included pollution in Lake Erie, the fires on the Cuyahoga River, and how this helped provide momentum for a national environmental movement that would spur the creation of the Environmental Protection Agency, Earth Day and major federal legislation.
"The Cleveland Alternative Spring Break trip has been one of my favorite experiences at Illinois College so far," Payton Radcliffe '24 said. "We learned so much about the city and its history, as well as how the environment is impacted by things such as politics or the economy. I had so much fun making memories with such a great group of people."
Funding from the Khalaf Al Habtoor Leadership Center endowment is used to offset the student cost for Illinois College's annual Alternative Spring Break trip. 
Visit ic.edu/activelearning to learn more about experiential learning at Illinois College and ic.edu/careerservices to learn more about the Center for Career Readiness and Experiential Learning.