Alumni return to Sibert Theatre with touring performance April 13
4.10.2023
Drew Stroud '16 will perform the one-man show Exhausted Paint: The Death of Van Gogh on April 13 at 7 p.m.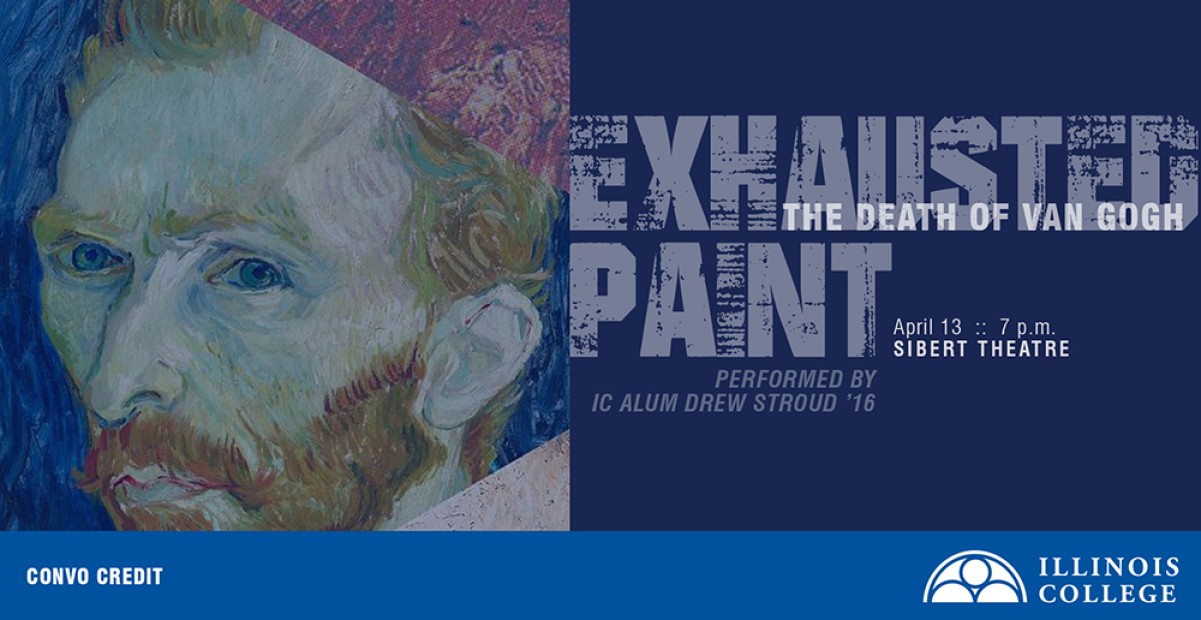 Also returning to the Hilltop is the show's tour director, Carly Holmes Stroud '13.
The performance explores the life of painter Vincent Van Gogh through a "chaotic one-act built around ideas of disorientation and struggle," according to the show's website.
The show is largely based on Van Gogh's letters and was written by Justin Maxwell, an associate professor teaching playwriting in the Master of Fine Arts program at the University of New Orleans. The original production of the show was directed by R'Myni Watson.
Drew and Carly studied theatre at Illinois College, where they met, and co-founded the Springfield-based improv troupe, Capital City Improv. They were both involved and held leadership roles in many theatre performances and activities, including the LSD improv troupe, which Carly founded.
Today, Drew is based in New Orleans, where he is an MFA candidate at the University of New Orleans. In addition to Exhausted Paint, some of Drew's roles have included Richard III (Richard III), Mr. Blake (Mud, River, Stone), Azdak (The Caucasian Chalk Circle) and Paul (Barefoot in the Park). 
Carly has directing credits that include Literary Cannon Fodder, The Complete Works of William Shakespeare [abridged], Good 'n' Plenty and Bonnie & Clyde. She is currently pursuing an MBA from the University of Wisconsin-Whitewater.
Learn more about the show at exhaustedpaint.com. Visit ic.edu/theatre to learn more about the theatre program at Illinois College.