Student-faculty research recognized nationally
3.19.2018
Illinois College psychology students are receiving national recognition by the American Psychological Association for their work on student-faculty research projects.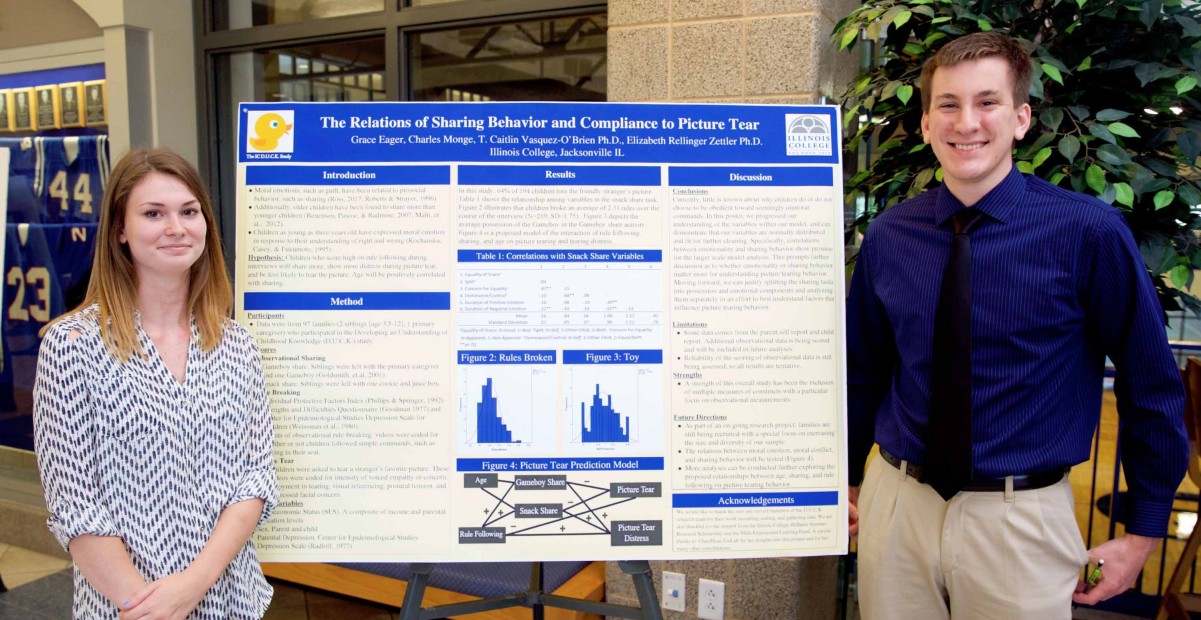 Emily Benca '20, Grace Eager '20, Samantha McFarland '19 and Chas Monge '19 each worked on projects that were recently accepted for presentation at the 2018 Annual Meeting of the American Psychological Association (APA), which will be held in San Francisco in August. 
"We identified APA as our best opportunity for these students because it is a large, well-attended conference," said Dr. Elizabeth Rellinger Zettler, professor of psychology, who worked on two of the projects. "Our students will be able to learn about all aspects of psychological research and network with many leaders in the field." 
Psychology faculty say that the opportunity to share the research that is happening at the College to this wide audience of professionals and students will be beneficial in furthering IC's reputation as a world-class research institution. The experience will also help the students participating as each plans to attend graduate school in the future. 
 
"This honor makes me a more desirable candidate for graduate programs and positions I will be applying for in the future," said Monge, a junior who worked on two of the projects. "Illinois College provided me the opportunity to work with professors, like Dr. Caitlin Vasquez-O'Brien, who have actively supported my passions and serve as a valuable resource for all students."
Vasquez-O'Brien, assistant professor of psychology, was the lead faculty researcher on all of the research projects accepted for presentation at the APA conference. 
The conference is the largest national conference in the field of psychology and considers the work of graduate students, postdoctoral fellows and Ph.D.s for presentation at its national conference, making this recognition of the undergraduate work being done at Illinois College an even more meaningful honor. 
"This research opportunity has opened many doors for me regarding my academic career, as well as my future in psychology," said McFarland, a junior who completed research through the Developing an Understanding of Childhood Knowledge Study in the summer and fall of 2017. 
"Being accepted into a national conference has helped ease my nerves while thinking about my future and I could not be more grateful to Dr. Vasquez-O'Brien and Dr. Rellinger Zettler for all of their support and guidance."  
The research projects that were accepted to the 2018 Annual Meeting of the American Psychological Association (APA) are: 
Grace Eager, Chas Monge, Caitlin Vasquez-O'Brien, and Elizabeth Rellinger Zettler. "The Relations Between Sibling Interactions and Rule Breaking on a Compliance Task."
Samantha McFarland, Emily Benca, Caitlin Vasquez-O'Brien, and Elizabeth Rellinger Zettler. "Predicting Childhood Effortful Control: A Mediational Analysis."
Chas Monge and Caitlin Vasquez-O'Brien. "Stop Tilting Me! Effects of Individual Behavior on Team Performance in League of Legend."
Samantha McFarland '19 and Emily Benca '20