Illinois College museum programs and research earn statewide recognition
2.19.2021
The Illinois Association of Museums honored Illinois College with two awards given to the Paul Findley Congressional Office Museum and the Khalaf Al Habtoor Archives during their statewide conference on Feb. 4.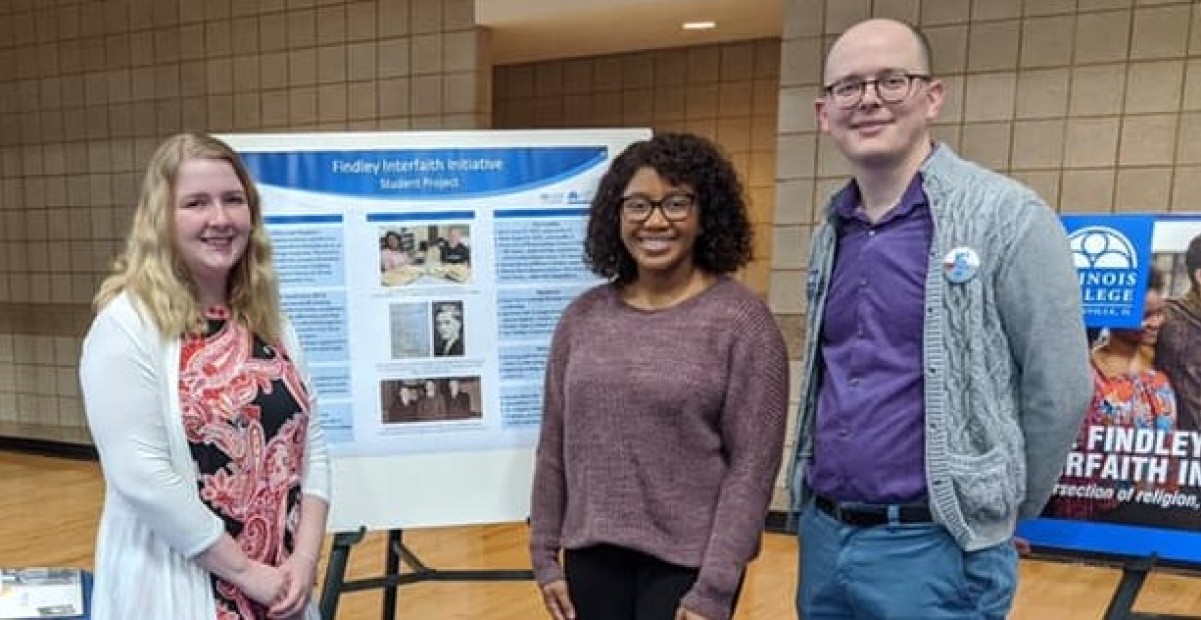 IC received the "Best Practices Award of Merit - Special Projects," for a student-led Findley Interfaith Initiative with the museum; and the award for "Best Practices Award of Excellence - Educational Programming," for work of history faculty on a program with the archives entitled "Mind the Gaps: Acknowledging and Addressing an Incomplete History"
The IAM is a network of museums across the state providing advocacy and promoting best practices to foster the exchange of ideas for Illinois's museums.
Samantha Sauer, who serves as archivist and curator of the Paul Findley Congressional Museum and assistant professor of history, says this marks the first time IC has been recognized twice in a single year for best practices. She says she was honored and humbled to accept the awards on behalf of the museum and archives. 
"The museum and archives at Illinois College support our students, enrich the curriculum, and connect researchers from around the world with unique collections," Sauer said. "The awards recognize two distinct IC projects, however both honored projects focus on increasing access to collections with creative collaborations. I am incredibly proud of our student stakeholders, and I am grateful for the many on- and off-campus partners involved."
The Findley Interfaith Initiative was developed in 2019 with support from a Campus Innovation Grant from the Interfaith Youth Core. The work was a collaboration between the Paul Findley Congressional Office Museum, the Office of Religious and Spiritual Life, and the Department of History, Philosophy, Political Science, and Religion and co-led by Dr. Timothy McGee, Chaplain and Assistant Professor of Religion and Sauer..
The work spanned three semesters beginning in September 2019. Through a competitive campus-wide interview process, Kaylee Reynolds '21 and Asia Watson '21 were chosen to lead the hands-on research. They used museum collections to explore the intersections of religion, history and global citizenship. 
Although the multifaceted project was suspended in March 2020, it was allowed to resume in August 2020 following campus guidelines and restrictions. The work concluded in November.
"Reynolds and Watson demonstrated significant skills with on-site and virtual research, collaboration, and an innovative use of technology," Sauer said. 
They lead a public convocation delivered virtually in November to share research findings titled "Becoming a Global Citizen: Paul Findley's Illinois College Experience." Watson, a business and communications and rhetorical studies major said she learned a lot and was inspired by the experience. 
"This project gave me the opportunity to grow professionally and at the same time preserve and highlight Mr. Findley's time at Illinois College," she said. "Anyone can be a global leader in whatever path they take. I hope the materials will make students curious and eager to learn more."
"Mind the Gaps: Acknowledging and Addressing an Incomplete History" was presented virtually in October 2020 as part of the annual Archives Month programming offered at Illinois College. 
Saur served as moderator for a panel that included Robert Kunath, William and Charlotte Gardner Professor of History; Jenny Barker-Devine, professor of history and Alonzo Ward, assistant professor of history.
The program featured an innovative delivery of pre-recorded and live content that explored local and global stories, some found in historical  collections at IC. The panel shared practical resources for undergraduate students to address missing materials and highlighted campus resources such as the Khalaf Al Habtoor Archives. 
On March 4 at 7 p.m., the program will be presented to alumni and the public through the Lifelong Learning Series which provides educational and inspiring programming to the alumni community for free. 
To learn more about the resources available at the Khalaf Al Habtoor Archives at Illinois College, visit www.ic.edu/about/history/khalaf-al-habtoor.