Lifelong Learning Series
Whether it has been a few months or a few decades since your days on the Hilltop, become a student with us again. 
The Lifelong Learning Series is a free lecture series exclusively for Illinois College alumni and friends — and an opportunity to connect with alumni around the world who share a dedication to personal growth and lifelong learning. Learn something new from current professors, talented staff and fellow alumni who are accomplished leaders in their fields during these unique events similar to the convocations that are an enriching part of an Illinois College education. The Lifelong Learning Series is sponsored by the Illinois College Alumni Association.
Upcoming Events | Fall 2021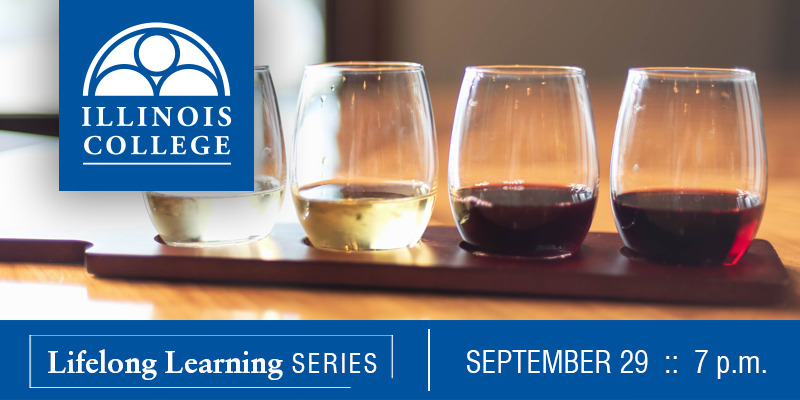 Wine Tasting at Water's Edge :: Wednesday, September 29 :: 7 p.m. Central time
Register for the event :: In-Person and Virtual
This fall, the Lifelong Learning Series is kicking off with a special hybrid event featuring an Illinois College alumnus and his new Jacksonville business. We will be joined by Water's Edge Winery & Bistro owner, Mike Hayes '82. Learn about how Mike's time on the Hilltop led him to become a business owner, while he walks us through an educational wine tasting featuring wines from his newest business.
In-person attendees may purchase the wine flight upon arrival at Water's Edge Winery & Bistro. If you plan to attend the webinar, you will receive a wine list so you can select your own wines to sample while you attend the event from home.
Illinois College continues to follow COVID-19 federal, state and local public health guidelines, and requires individuals to wear masks while indoors. All event health and safety protocols are subject to change and will be communicated when possible.
Special thanks to our program sponsor, the Illinois College Alumni Association!