Accomplished senior wins top honors for theatrical lighting design
1.27.2021
Earlier this month, senior Jordan Hall '21 was recognized at the Kennedy Center American College Theatre Festival for his excellence in leadership and theatrical lighting design.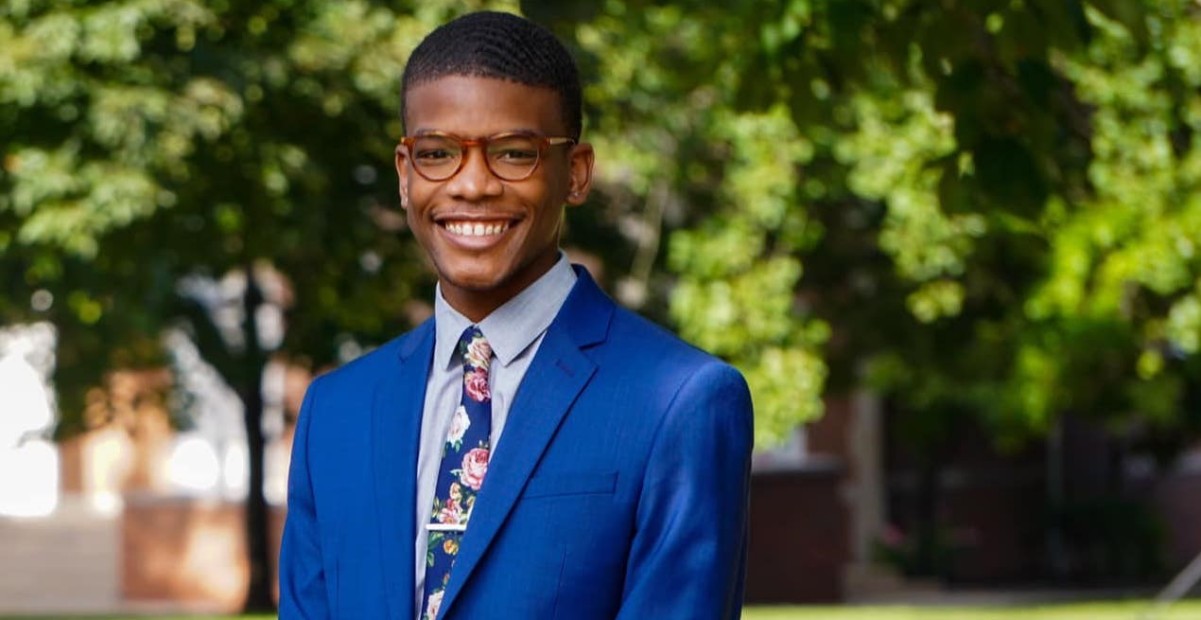 Hall attended the regional KCACTF program virtually from his hometown of Fairview Heights, Illinois, on Jan. 6-9. He was chosen as the recipient for the ASPIRE Leadership Fellowship Program after competing against students from across the Midwest. 
He will gain national recognition for the honor as he represents Illinois College at the national conference to be held virtually this spring. 
"Overwhelmed is the only word I can use to describe it," Hall says about the moment his name was announced as the winner.
"I was excited that they could see my passion for my work and what I was trying to achieve. I was absolutely thankful and filled with gratitude."
Hall was also awarded the Stagecraft Institute of Las Vegas Award for Excellence in Technology and Design. That honor came with an invitation to attend a master class in lighting design in Las Vegas in the future. 
He was chosen as runner-up for the Theatrical Excellence for Lighting Design award for his work on IC's fall production of Shakespeare's "The Tempest." The experience was memorable as work began on the play in the spring, but restrictions due to COVID-19 interrupted progress and brought uncertainty about whether the show would be completed. 
The production, directed by Aasne Daniels, assistant professor of theatre, was able to take place in the fall of 2020 in front of a small audience of only IC community members. The performance was also streamed for an online audience. 
Hall had a role on stage in the play and served as lighting designer behind the scenes. 
"My favorite thing about working on The Tempest was that it's in a completely different world, so with the light and with the set, everything that we created in this world was unique, not just a reflection of what we see in our everyday lives," he recalls of the experience. "I wanted to make this world our own, something new that we envisioned." 
The chance to be so involved in the theatre program from his first years at IC was what initially drew the theatre and business administration major to the Jacksonville campus. 
"When I came to IC, I learned how student-driven the College is, especially in theatre," he said. "The program definitely gives undergraduates many opportunities you won't find in other places. I love the close knit community." 
At IC, Hall grew as a performer and embraced a new love for the technical aspects of theatre production. He was able to be on-stage starting as a first-year student. Working in the ICEBOX Theatre, he began learning the nuances of lighting design assisting on student productions. 
During his four years on campus, Hall has designed lighting for a variety of productions. Eventually he was given more responsibility over lighting for everything held in IC's Sibert Theatre, including faculty-directed productions, convocations and dance recitals. He's had roles in several productions and has worked as a scenic painter on the set. 
This past fall he completed an internship with The Hoogland Center for the Arts in Springfield and helped bring to life a live performance of "Dracula: A Radio Play," that was streamed online, serving as lighting designer. 
The senior credits much of his success at IC to professors in the theatre program, who he says empowered him to try new skills and encouraged him to go outside of his comfort zone. Hall says without their support, he would not have found his passion for theatrical design and the confidence to take part in the KCACTF conference. 
"Nancy (Taylor Porter), Craig (Steenerson) and Aasne have been very supportive," he said. "I appreciate the opportunities that they have given me and how they have consistently encouraged me to do my best even during the times when I wanted to slack off." 
Although Hall's technical and performing skills undoubtedly blossomed at IC, his passion for theatre was planted long before. In high school, Hall recalls seeing a production of "Phantom of the Opera," and being in awe of how so many elements came together perfectly onstage. He knew he wanted to be a part of that magic.  
It seems Hall is now living his dream; he has a bright future in theatre. He will direct another show at IC in March and complete his senior capstone this spring by directing a play that he wrote titled "The Picking."  
After graduation, he plans to continue honing his technical skills at the University of Nevada, Las Vegas, where he has been accepted with a full tuition scholarship and stipend into a master's program with a focus on lighting design.
"As far as what I want to do with the MFA, I have considered becoming a professor or working at a regional theatre, or maybe both," he says. "There are a lot of options with theatre." 
To learn more about the theatre program at Illinois College, visit www.ic.edu/theatre.