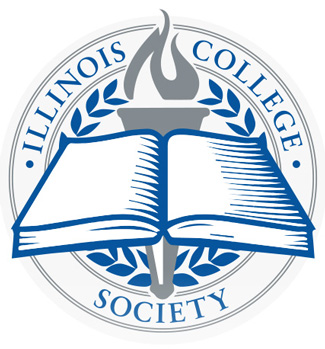 As an Illinois College Society member, you are an ambassador for the College and a key partner in supporting student success. Membership is extended to visionary donors who contribute gifts of $1,000 or more annually or whose lifetime giving exceeds $100,000. Benefits of membership include invitations to exclusive events, direct communication from College leadership, special recognition in the Annual Report, and unique tokens to recognize your generosity. More importantly, your gifts toward scholarships, experiential learning opportunities, campus initiatives, faculty excellence, and emerging programs launch students toward success by igniting leadership and learning.
How do I become an Illinois College Society member?
Gifts of $1,000 or more made during the College's fiscal year (June 1 to May 31) qualify you for annual Illinois College Society membership. Your gifts may be made with one payment or by multiple gifts within the College's fiscal year.
CLICK HERE TO JOIN THE ILLINOIS COLLEGE SOCIETY TODAY!
You can also make your gifts to Illinois College by check, credit card payments, automatic monthly bank drafts, or by transfer of securities and property.
WILL MY SPOUSE ALSO BE A MEMBER?

A couple becomes members of the Illinois College Society with a joint gift of $1,000 or more within a fiscal year.

HOW LONG WILL I BE A MEMBER OF THE ILLINOIS COLLEGE SOCIETY?

The Illinois College Society recognizes gifts made within a fiscal year (June 1 to May 31). Therefore, membership is renewable on an annual basis.

WILL MY EMPLOYER'S MATCHING GIFT COUNT TOWARD MY MEMBERSHIP?

Yes. Because the College would not have access to your employer's matching gift without your own contribution, your employer's gift will count toward your annual Illinois College Society membership.

HOW IS THE ILLINOIS COLLEGE SOCIETY DIFFERENT THAN THE FOUNDERS' CIRCLE?

The Illinois College Society is the reimagining of the Founders' Circle. The Founders' Circle laid a strong foundation for the initiation of the Illinois College Society. While the Founders' Circle was a giving level, membership in the Illinois College Society includes several benefits including regular news and updates from College leadership, special invitations and reserved seating at College events, and keepsake Society accessories.

WHO DO I CONTACT TO BECOME A MEMBER OF THE ILLINOIS COLLEGE SOCIETY?

INDIVIDUAL MEMBERSHIP

Amy Jones | Director of Annual Programs and Advancement Communication
217.245.3113 | amy.jones@ic.edu

CORPORATE MEMBERSHIP

Forrest Gross | Director of Business Development
217.245.3166 | forrest.gross@ic.edu