Faculty & Staff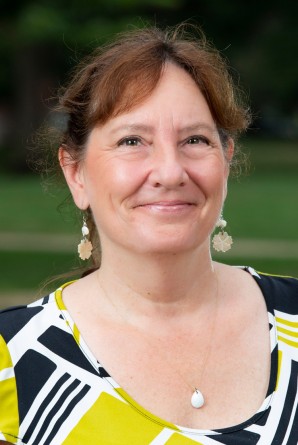 Cynthia Cochran
Associate Professor of English
Sturtevant Hall, Room 202
217.245.3456
Research Interests
writing across the curriculum, writing centers, teaching of writing, creative writing
Education
Carnegie Mellon University | Ph.D. | Rhetoric
University of Illinois at Urbana-Champaign | M.S. | Secondary Education
University of Illinois at Urbana-Champaign | A.B. | English (Rhetoric and Literature)
Illinois State Teaching License | Secondary Education (English)
Bio
I have the best job in the world: teaching writing and figuring out how writing happens. When I witness my writing students create their own writing voices in their best work to date or when a student researcher and I discover a pattern in our data, I am delighted with their creativity. And while nothing compares to helping a first-year student discover newfound confidence and power in writing, I also love hearing from alumni who have continued to write in their careers and communities.
Cynthia Cochran teaches creative and expository writing, and English Studies; runs the Campus Writing Center; coordinates the Secondary Education program in English; and conducts writing studies research. She works with Forte, the student literary and arts journal.  Her current research involves approaches to teaching writing, ESL assessment in Cuba, learning disabilities in the writing center, and the redesign of a Cuban language center based on US writing centers. Professor Cochran is on editorial boards of two open-access book publishers for the Writing Across the Curriculum Clearinghouse and on the Writing About Writing steering committee of the Conference on College Composition and Communication. Outside of academics, she helps in local pet adoption and enjoys gardening.
What Students Say
Dr. Cochran reignited my passion for writing.