IC extends October Homecoming celebration to downtown Jacksonville
9.08.2023
Illinois College will celebrate Homecoming Week 2023 on Friday-Sunday, Oct. 13-15.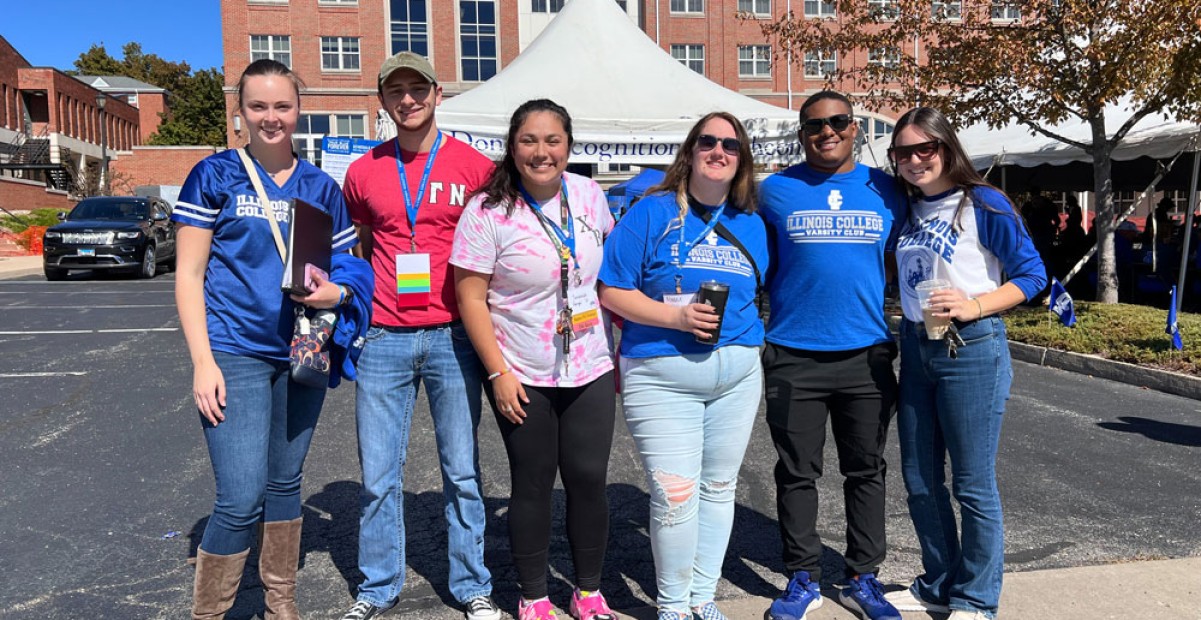 The weekend features athletic events, reunions, and the annual parade along with some new events including a football alumni gathering at KJB's, morning golf at K's Creek Golf Club and a homecoming after party downtown Jacksonville.
Katie Carls, executive director of advancement and alumni engagement, said that the College has a lot to celebrate this fall. Crispin Hall, where a major renovation was recently completed, will be open for the public to tour, Bruner Fitness and Recreation Center will celebrate its 20th anniversary, and the College is partnering with local businesses to extend the Homecoming after-party to downtown Jacksonville.  
"From strong academics to athletic excellence, this event represents all the best parts of Illinois College. It's inspiring to be reminded of why IC has persevered for nearly 200 years. The people in this community are what make it all possible, and we hope to see many alumni, students, parents and friends throughout the weekend," Carls said.   
Members of the Class of 1973 are invited to celebrate their 50th class reunion at the Jacksonville Country Club on Oct. 13 from 5:30 to 7 p.m. There will be a complimentary dinner and drinks. Later that evening, the Illinois College Alumni Association Board of Directors will host a wine and cheese reception for alumni and friends of the College from 7 to 9 p.m. at the Wine Barn (formerly at Waters Edge Winery). 
The IC Store will be open on Oct. 13 from 9 a.m. to 6 p.m. and Oct. 14 from 10 a.m. to 5 p.m. in Caine Student Center. IC spirit wear can also be purchased online.
Football alumni are invited to a pre-game football alumni gathering hosted by head coach Ray DeFrisco and the football coaching staff on Friday Oct. 13 from 6 p.m. to 8 p.m.
Homecoming festivities on Saturday morning kick off with a pre-game meal, Breakfast with the Blueboys, hosted by Conrad Noll III '65 and Bobby Noll '02 at 9 to 10 a.m. After breakfast, attendees can walk the field with head football coach, Ray DeFrisco.
The annual Homecoming Parade will begin at 10 a.m. at the corner of Church and State streets in downtown Jacksonville and end at the Homecoming Celebration Tent on the corner of Edgehill Road and Park Street. The parade route will travel east on State Street to the downtown square, moving clockwise around the square, and continue south on Main Street. The parade will then turn west on College Avenue heading toward Illinois College and turn south on Park Street. To participate in the parade, visit ic.edu/HomecomingParade to sign up.
Following the parade, the Alumni Association Board of Directors will host a Homecoming Celebration Lunch from 11 a.m. to 1 p.m. with a buffet style meal served under the Homecoming Celebration Tent. In addition to a complimentary lunch, guests will be treated to music, refreshments and a Bloody Mary bar. Family activities will be hosted throughout the afternoon including bounce houses. A variety of food trucks will be available to purchase food and drink options. 
Blueboys football will compete against Knox College in the Homecoming football game at 1 p.m. on Green Athletic Field at England Stadium. Women's and men's soccer will compete at 5:30 p.m. and 8 p.m. with a Varsity Club event featuring Twyford BBQ scheduled for 5:30 p.m. 
The Homecoming After Party in the evening moves to Downtown Jacksonville from 4 to 8 p.m. Everyone is invited to grab a bite to eat at any of the locally owned restaurants or stop by the local shops and boutiques who will be welcoming alumni. John '07 and Rachel '07 Rohn are hosting live music, drinks, axe throwing and shopping at their new downtown venue, The Plaza. 
President Barbara A. Farley will host reunions for the class years ending in 3 and 8 from 1988 and before at Alumni House from 4 to 5:30 p.m. Heavy hors d'oeuvres and refreshments set the stage for an intimate gathering and reunion photos will be taken. 
On Sunday, the IC community will host a Celebration of Life for Bill Merris '56 H'01, the longtime coach, professor and director of athletics who maintained strong ties to his alma mater throughout his life. More information is available at ic.edu/BillMerris. 
 A detailed schedule of events is available at ic.edu/homecoming/schedule. Homecoming attendance is free and the event is open to the public. Registration is requested online at ic.edu/homecoming-rsvp or by calling the Office of Advancement and Alumni Engagement at 217.245.3046.