Illinois College Homecoming Parade | Saturday, Oct. 14 | 10 a.m.
Join us at the annual Homecoming parade as it steps off the corner of Church and State Streets in downtown Jacksonville and will feature nearly 100 College and community entries.

This year's theme is Home Sweet Home (Willy Wonka and the Chocolate Factory)

The parade route will travel east on State to downtown, moving clockwise around the square and continue south on Main Street. The parade will then turn west on College Avenue heading toward Illinois College, turn south on Park Street and end at the Homecoming Celebration Tent on the corner of Edgehill Road and Park Street.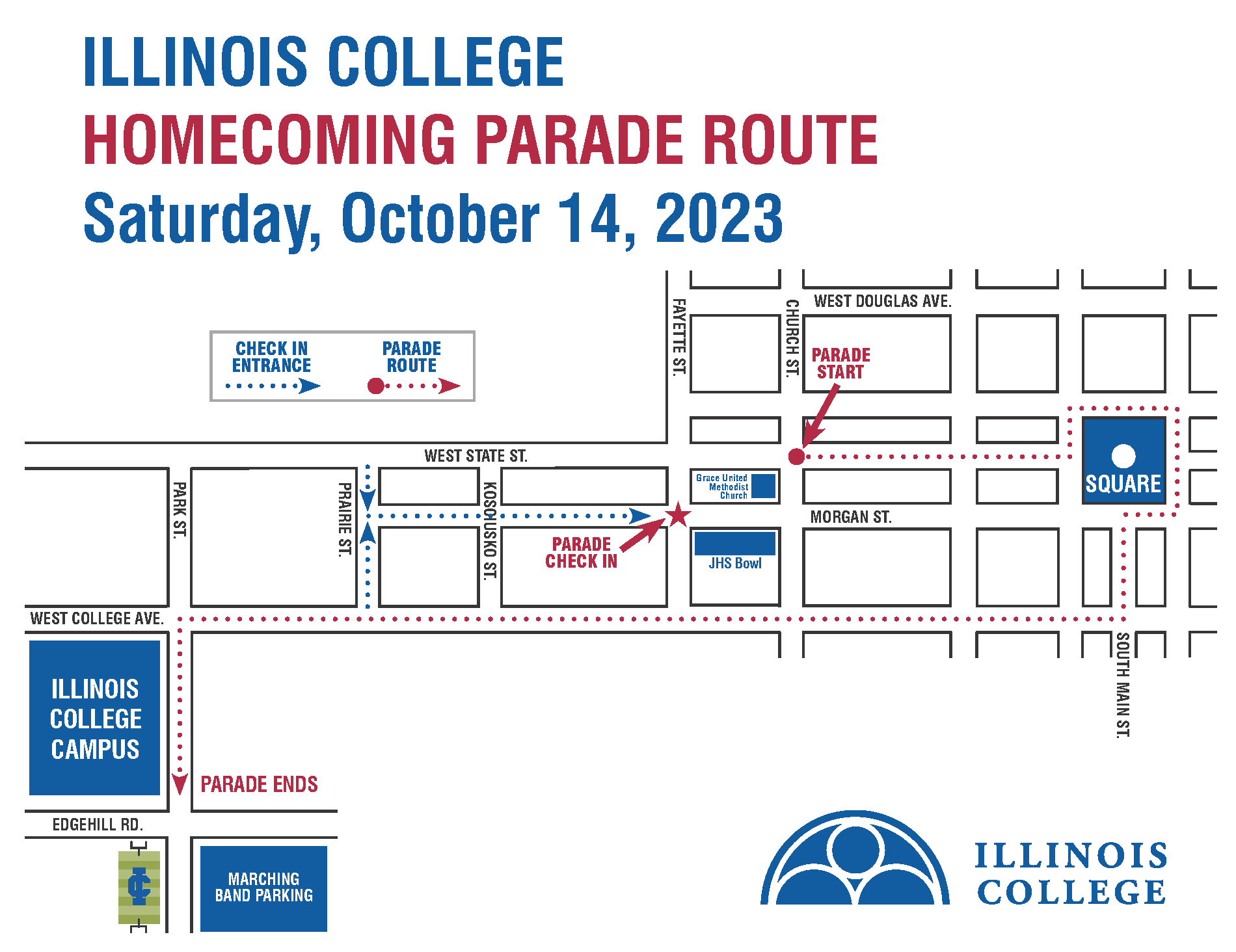 Interested in participating in the parade?
Community members who would like to place an entry in the parade are urged to REGISTER ONLINE or download a registration form and return it to the Office of Marketing and Communications/Campus Events, Jacksonville, Illinois, 62650 by Friday, Sept. 22.
Illinois College Parade Rules and Regulations
The College prohibits discrimination or harassment against any person or group because of race, sex, gender, color, religion, national origin, citizenship status, age, marital status, physical or mental disability, sexual orientation, or any other legally-protected characteristic.
Any person found under the influence of drugs or alcohol or using/consuming drugs or alcohol before or during the parade will be subject to removal from the parade. No alcoholic beverages will be allowed on or in any entry vehicle.
The Illinois College Homecoming Parade is to celebrate school spirit. Candidates for public office may request entry as a group through their registered political party. The parade is not intended as a forum for the airing of political positions and disparaging comments about another party or candidate will not be allowed. Moreover, the parade is not a venue to promote positions on political or social issues; advocacy organizations are not eligible to participate. We reserve the right to refuse parade entry to anyone who violates any of these provisions. All vehicle drivers must hold a legal driver's license and have unobstructed visibility. Riders must remain in/on the vehicle unless it is at a complete stop.
Entries that include animals are responsible for any associated clean up and for the animal's behavior.
The Parade Committee reserves the right of final decision on entries accepted for the Parade and will space all Parade entries at its sole discretion.