IC announces 2019 Homecoming events
9.24.2019
Illinois College will be celebrating Homecoming Week 2019 on October 25- 26. The weekend will be full of athletic events, reunions and the annual parade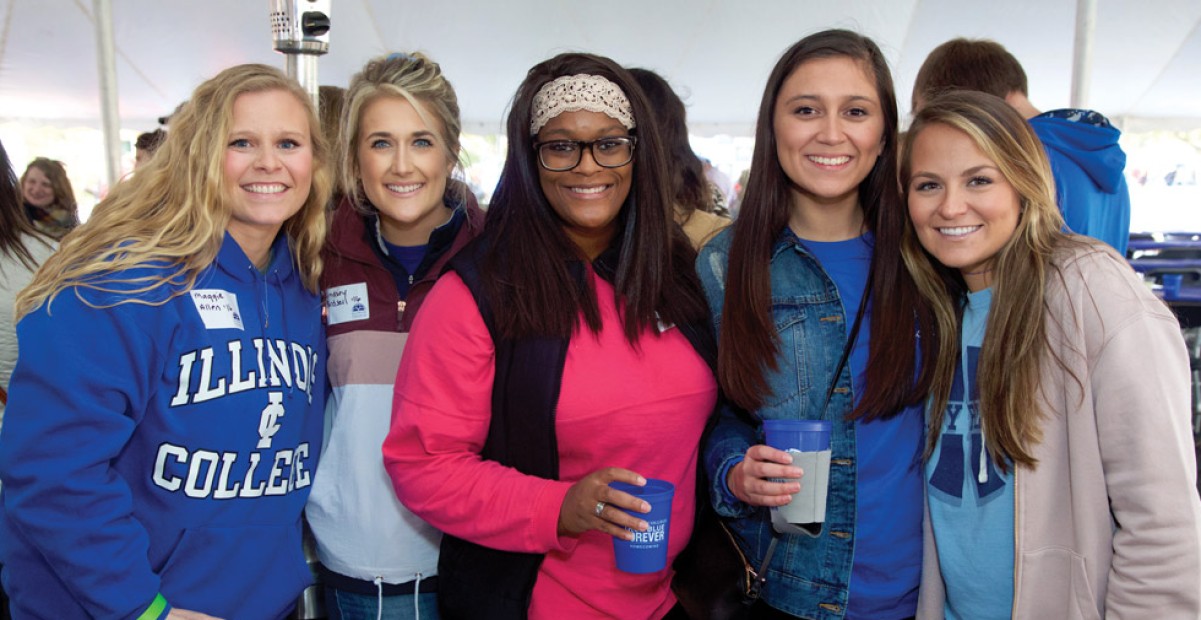 The Khalaf Al Habtoor Archives will hold an open house Friday, October 25 from 4-5:30 p.m. Guests will have the opportunity to go behind the scenes and tour IC's state-of-the-art facilities located in Schewe Library. The archives are home to many historical collections including documents, photographs, artifacts, oral histories and more. 
Community members and alumni are welcome to cheer on the Illinois College swim team as they compete against Franklin College at 5 p.m. on Friday evening in the Bruner Fitness and Recreation Center. Later in the evening, the Lady Blues volleyball team hosts the first of two matches on Homecoming weekend against Grinnell College at 7 p.m. in Sherman Gymnasium.
Friday, October 25, the Illinois College Alumni Association Board of Directors will be hosting a wine and cheese reception for alumni and friends of the College in the newly renovated Crispin Auditorium from 5:30-7:30 p.m. Hors d'oeuvres and beverages will be provided as well as live entertainment from Jeff Newman.
Members of the Class of 1969 are invited to celebrate their 50th class reunion at the Jacksonville Country Club on Friday October 25 from 4-5:30 p.m. There will be complimentary hors d'oeuvres and refreshments. 
For those who would like to purchase new IC gear for the weekend, the newly renovated IC Store will be open in its new campus location in Caine Student Center on Friday from 9 a.m. to 6 p.m. and Saturday from 9 a.m. to 5 p.m. 
Saturday, October 26, festivities will kick off with the Illinois College Homecoming 5k. From 7-8 a.m. registration will open for the 5k and the Kids' Fun Run. The Kids' Fun Run will start at 8 a.m. followed by the 5k at 8:30 a.m. at the Homecoming Celebration Tent. There will be a post-race party held in the Homecoming Celebration Tent after the race from 9-10:30 a.m. For more details and to register, visit www.ic.edu/homecoming2019/5k. 
A pre-game breakfast will be hosted Saturday morning from 9-10 a.m. by Conrad Noll III '65 and Bobby Noll '02 for the current football team as well as alumni football players. Head football coach, Ray DeFrisco, invites all alumni to join the current Blueboys on the Green Athletic Field for a group photo after breakfast.
The annual Homecoming Parade will take place Saturday, October 26 at 10 a.m. beginning at the corner of Church and State Street in downtown Jacksonville and ends at the IC Homecoming Celebration Tent on the corner of Edgehill Road and Park Street. 
This year's parade will be led by Paul and Almut Spalding. Both have dedicated their careers to working with students at Illinois College. Dr. Almut Spalding is the director of global programming and professor of world languages and cultures. She is fluent in several languages and over the course of more than 20 years has taught courses in a variety of disciplines at IC, such as German, French and Gender & Women's Studies. Dr. Paul Spalding enjoyed a 30-year career at Illinois College. He retired as Scarborough Professor of Religion in 2018. He notably founded the Faculty Research Program, which is now known as the Faculty Symposium. 
The Spaldings have led several BreakAway trips to places like England, France, Japan and Thailand to broaden their students' understanding of other cultures and expand their learning experiences beyond the classroom. They are also leaders in the IC philanthropic community as members of the Illinois College Society and were co-sponsors of the Abraham Lincoln statue, which was gifted to the College in 2009 and has become a popular campus landmark. 
Following the Homecoming Parade, all 2018-2019 and 2019-2020 Illinois College donors are invited to attend a private lunch in the Homecoming Celebration Tent located in the Lincoln Hall parking lot. In addition to a complimentary lunch, guests will be treated to music, refreshments and a Bloody Mary bar.
Blueboys football will be competing against Knox College in the Homecoming football game Saturday on Green Athletic Field at England Stadium at 1 p.m. Lady Blues volleyball with also be playing at 1 p.m. in Sherman Gymnasium at the Bruner Fitness and Recreation Center against Cornell College. 
Saturday afternoon, there will be a family-friendly Homecoming Celebration from 1-3:30 p.m. with balloon artists, face painting and a photo booth along with other activities free of charge hosted by the Alumni Association. There will also be several reunions hosted in the Homecoming Celebration Tent for the Classes of 1989, 1994, 1999, 2004, 2009 and 2014 from 2-4 p.m.
Crispin and Lincoln Halls will be open from 3-4 p.m. for those who would like to take a break from the game to see the newly renovated spaces. The Crispin Hall auditorium and foyer has been remodeled, and there will be a preview of what's in store for Phase II. Lincoln Hall has undergone several renovations on the first floor, and visitors are invited to walk through the new campus learning HUB now located there.  
Following the football game, a Post-Game Party for All will be hosted in the Homecoming Celebration Tent. Live entertainment will be provided by Deep Lunar Blue featuring J.J. Moffat '93 and Jay Bohn '92. Twyford BBQ, beer and wine will be available for purchase immediately following the game. 
The festivities continue into Saturday evening with an Alumni Mixer Reception celebrating Karen Homolka's 20th anniversary at IC from 3-5 p.m. in the Caine Student Center. Alpha Phi Omega is hosting their annual Homecoming cookout from 4-6 p.m. for their alumni at 1010 Edgehill Road. Cheer and dance alumni are invited to gather during the Post-Game Party for All at the Homecoming Celebration Tent. 
President Barbara A. Farley will be hosting reunions for the Classes of 1959, 1964, 1969, 1974, 1979, and 1984 at Barnes House on Saturday evening from 6-8 p.m. Hearty hors d'oeuvres and refreshments set the stage for an intimate gathering. 
A detailed schedule of events is available at www.ic.edu/homecoming/schedule.