IC announces 2022 Homecoming events
9.14.2022
Illinois College will be celebrating Homecoming Week 2022 on Friday, Sept. 30, and Saturday, Oct. 1. The weekend will be full of athletic events, reunions and the annual parade.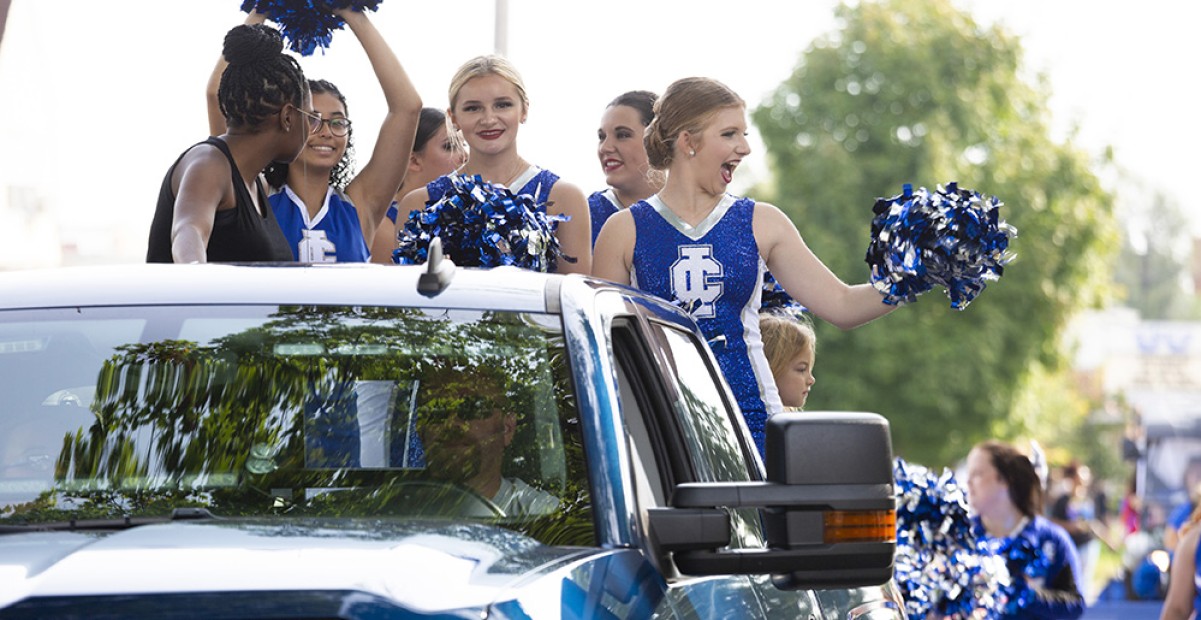 Members of the Class of 1972 are invited to celebrate their 50th class reunion at the Jacksonville Country Club on Sept. 30 from 5:30-7 p.m. There will be complimentary hors d'oeuvres and a cash bar. Also that evening, the Illinois College Alumni Association Board of Directors will host a wine and cheese reception for alumni and friends of the College from 7-9 p.m. at Water's Edge Winery & Bistro. 
The IC Store will be open for fans to purchase IC gear Sept. 30 from 9 a.m. to 4 p.m. and Oct. 1 from 10 a.m. to 5 p.m. in Caine Student Center. IC spirit wear can also be purchased online.
Homecoming festivities on Oct. 1 will kick off with a pre-game breakfast for the IC football team and football alumni from 9-10 a.m. Breakfast with the Blueboys is hosted by Conrad Noll III '65 and Bobby Noll '02. After breakfast, attendees can walk the field with head football coach Ray DeFrisco.
The annual Illinois College Homecoming Parade will begin at 10 a.m. at the corner of Church and State streets in downtown Jacksonville and end at the Homecoming Celebration Tent on the corner of Edgehill Road and Park Street. The parade route will travel east on State Street to the downtown square, moving clockwise around the square, and continue south on Main Street. The parade will then turn west on College Avenue heading toward Illinois College and turn south on Park Street. To participate in the parade, visit ic.edu/HomecomingParade to sign up by Sept. 23.
This year's parade will be led by honorary parade marshals Del '72 and Lisa Dunham. The Dunhams, who reside in Arkansas, have long been leaders in the Illinois College community. They are members of the Illinois College Varsity Club and lifetime members of the Illinois College Society, the premier annual giving circle at the College. Del has served on the Illinois College Board of Trustees for more than 15 years and is chair of Inspiring Achievement: The Campaign for Illinois College. 
The Dunhams established the Jack Mann and Fred Pilcher Physics and Mathematics Research Support Fund in October 2014 to support physics and math students and faculty in conducting research, and later established the Del '72 and Lisa Dunham Family Endowed Scholarship. 
Following the parade, all Illinois College donors since 2013 are invited to attend a private lunch in the Homecoming Celebration Tent. In addition to a complimentary lunch, guests will be treated to music, refreshments and a Bloody Mary bar.
Blueboys football will be competing against Ripon College in the Homecoming football game at 1 p.m. on Green Athletic Field at England Stadium.
Saturday afternoon, there will be a family-friendly Tent Party hosted by the Alumni Association with face painting, inflatables and other fun activities free of charge at the Homecoming Celebration Tent from 1-6 p.m. Live music from Bük will begin following the conclusion of the football game. Food and beverages will be available for purchase. 
There will also be several reunions hosted in a private lounge in the Homecoming Celebration Tent from 2-4 p.m. The classes of 1992, 1997, 2002, 2007, 2012 and 2017 are invited to reconnect and enjoy complimentary appetizers and refreshments.
Following the Tent Party, alumni are invited to join current students for live music and dancing from 7-10 p.m. Memphis-based band The Sexton Connection will play covers of favorites through the decades. Refreshments will continue to be available in the biergarten for extended hours.
President Barbara A. Farley will host reunions for the class years ending in 2 and 7 from 1987 and before at Barnes House from 6-8 p.m. Hearty hors d'oeuvres and refreshments set the stage for an intimate gathering and reunion photos will be taken.
In addition to the football game on Saturday, you can cheer on the volleyball squad and the men's and women's soccer and tennis teams during Homecoming Week:
Tuesday, September 27
Women's Soccer vs. Augustana College :: 4:30 p.m. :: Green Athletic Field, Bruner Fitness and Recreation Center
Men's Soccer vs. Augustana College :: 7 p.m. :: Green Athletic Field, Bruner Fitness and Recreation Center
Wednesday, September 28
Women's Volleyball vs. Washington University - St. Louis :: 7 p.m. :: Sherman Gymnasium, Bruner Fitness and Recreation Center
Friday, September 30
Women's Volleyball vs. Ripon College :: 7 p.m. :: Sherman Gymnasium, Bruner Fitness and Recreation Center
Saturday, October 1
Men's and Women's Tennis vs. Loras College :: 10 a.m. :: Bellatti Tennis Complex
A detailed schedule of events is available at ic.edu/Homecoming2022.