IC students among 2023 Golden Apple Scholars
6.30.2023
Five Illinois College education students were inducted into this year's class of Golden Apple Scholars of Illinois during a ceremony held earlier this month at Elmhurst University.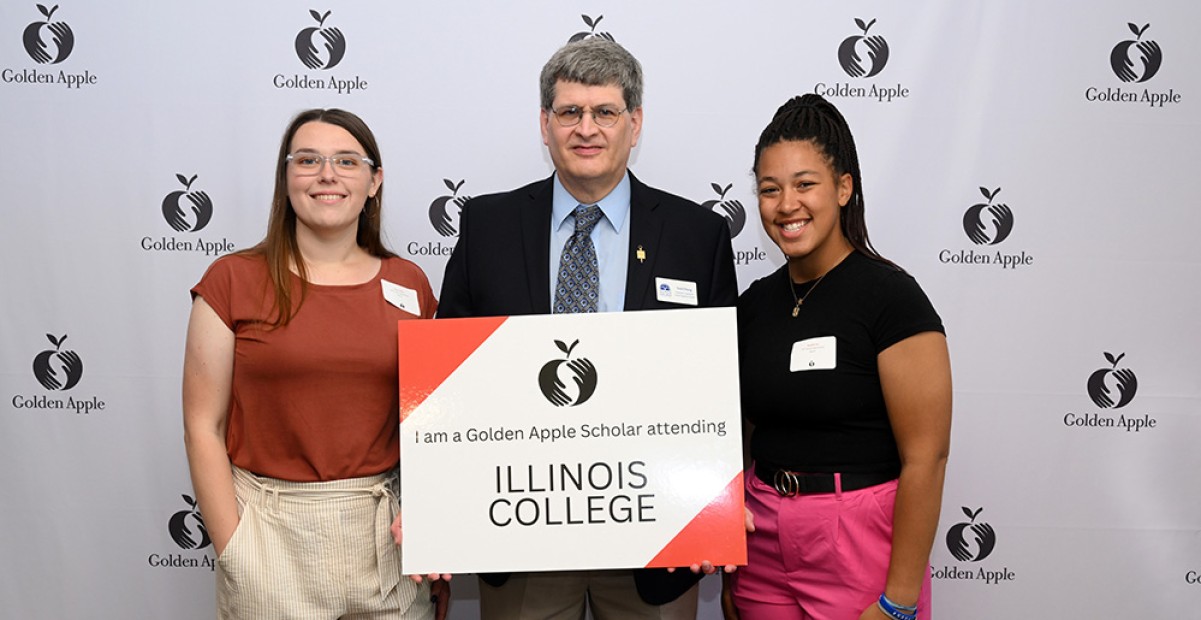 Daryk Baker '26, Greenview, Illinois
Kendall Cole '26, Lisle, Illinois
Allyson Holste '26, Dieterich, Illinois
Melissa Rufus '26, Hillsboro, Illinois
Brooklyn Stiefel '26, Ursa, Illinois
The Golden Apple Scholars of Illinois provides teacher preparation and tuition assistance for high school seniors, and first- and second-year college students. The nonprofit's mission is to "inspire, develop and support teacher and school leader excellence in Illinois, especially in schools-of-need."
According to Todd Oberg, professor of mathematics and faculty advisor for IC's Golden Apple program, students selected for the program have displayed the determination and drive needed to be excellent teachers.
"Students selected to be Golden Apple Scholars have demonstrated a commitment to enhancing and extending their understanding of the teaching profession in order to better serve the needs of all their future students," Oberg said. "By being part of the Golden Apple program, each inductee will receive special support and mentoring through a network of current educators as they grow into future teachers."
Golden Apple scholars receive tuition support of up to $23,000, extensive classroom/work experience, academic support, job placement assistance and mentoring from award-winning teachers. To complete the program, students must maintain a 2.5 GPA, earn a bachelor's degree from a partner college and commit to teaching for five years in an Illinois school-of-need within seven years of graduation. 
The program works to remove barriers to entering the teaching profession and address the critical teacher shortage, which has continued to worsen, in the state.
The addition of the College's new online education licensure program and partnership with the Golden Apple Accelerators Program also aims to help address the crisis by offering a path to licensure and support for college graduates interested in becoming teachers. Illinois College is also one of a group of colleges and universities leading a statewide effort to promote greater representation of teachers of color in public schools.
To learn more about the education program at Illinois College, visit ic.edu/education.