2020 BreakAway destinations announced
5.29.2019
For students hoping to gain real-world global learning experiences in 2020, Illinois College has announced the BreakAway trips that will be offered next spring.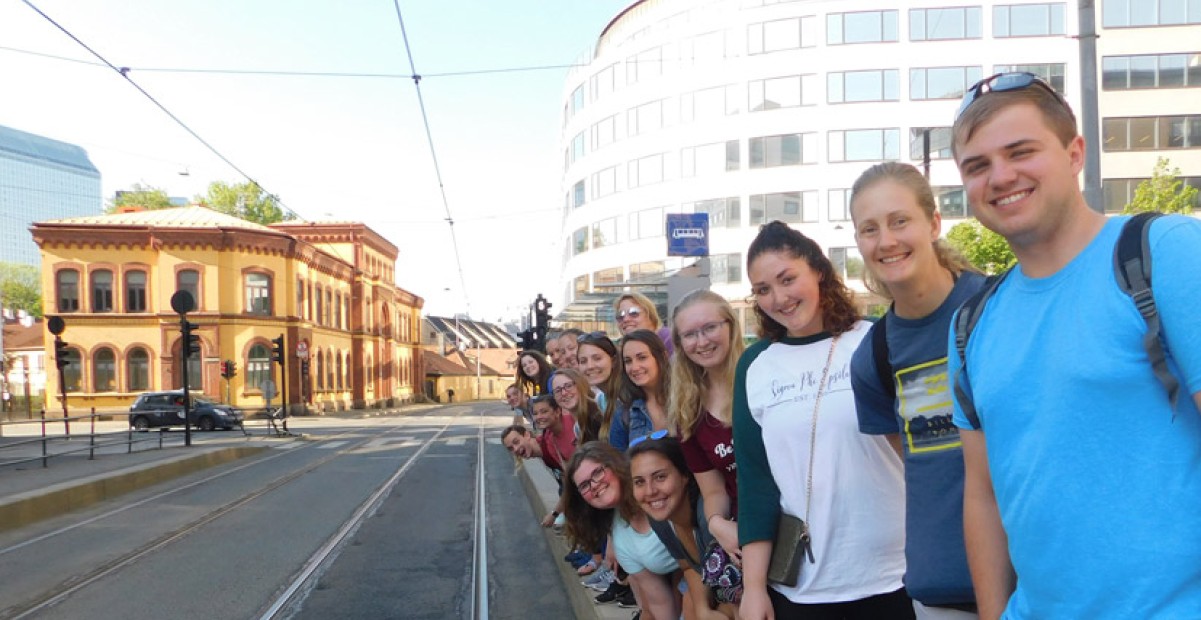 Five trips — to England, Scandinavia, Japan, the French Caribbean and Mexico, Belize, and Guatemala — have been announced as part of the program. Faculty from various disciplines collaborate to develop these unique BreakAway expeditions, each allowing students to explore the culture, history and economy of their destination in a multidisciplinary way. 
IC values experiential learning opportunities locally and abroad in preparing graduates to work in an increasingly global economy. Many students describe their experiences on BreakAways as "life-changing," shifting their world views and teaching them valuable lessons while they create unforgettable memories. 
All qualifying IC students have access to a one-time $1,000 award toward the cost of a BreakAway trip. Each BreakAway is led by IC faculty members for a determined number of credit hours, and vary from ten days to three weeks long. Trips are scheduled when classes are not in session. 
BreakAway opportunities for 2020:
Museums, Memory, & Myth:Exploring Public History in England | May 11-22, 2020, Led by Samantha Sauer, archivist and curator of the Paul Findley Congressional Museum and assistant professor of history and Dr. Jenny Barker-Devine

This BreakAway will uncover 5,000 years of British history  — from Stonehenge and ancient Roman ruins to a bustling metropolitan capital. Travel behind-the-scenes with museum curators at historic sites and visit world class museums. Explore the White Cliffs of Dover, ramble through country castles and seaside villages. Enjoy a classic English high tea, learn about WWII code cracking and see where Harry Potter's movie magic came to life at the oldest university in the English-speaking world.

Spring in Scandinavia | May 12-30, 2020 | Led by Donna Vasquez-O'Brien, instructional technology and training specialist and Caitlin Vasquez-O'Brien, assistant professor of psychology

Scandinavian countries lead the way with forest preschools, where children interact with nature in all weather, test-free schooling, and more unicorns (a startup valued at over $1 billion) than any area outside of Silicon Valley. This BreakAway will allow student to spend the spring journeying through Norway, Denmark, Sweden and Finland to learn how the descendants of Vikings are revolutionizing the way the world thinks about child development, early education and technology.

Views of Japan | May 12-27, 2020 | Led by Dr. Adam Porter, dean of faculty and professor of philosophy and religion

Students will learn about Japan's culture and society as touring majestic castles, beautiful gardens and tranquil temples. Study contemporary issues in major cities, including Tokyo, Kyoto and Hiroshima. Visit with students from Ritsumeikan and Kanazawa Universities who will serve as guides inviting students to explore their universities, cities and Japanese nightlife.

Language, Race, and Identity in the French Caribbean | May 16-31, 2020 | Led by Dr. Emily Adams, assistant professor of French, and Dr. Devin Bryson, associate professor of modern languages (French)

Explore the rich cultural history of the diverse racial and ethnic identities that coexist in Martinique, an island in the French Caribbean. Students will spend the morning learning to communicate in French, then enjoy afternoons exploring the bustling city of Fort-de-France as well as some of the more scenic corners of the "Island of Flowers," a banana museum, a museum on slavery and nature preserves. They will participate in a Creole cooking class and have opportunities to snorkel and relax on breathtaking beaches. 

Writing La Ruta Maya | May 18 – June 1, 2020 | Led by Dr. Diana Grullon-Garcia, assistant professor of Spanish, and Dr. Cynthia Cochran, associate professor of English and director of the Writing Center

This is a once-in-a-lifetime opportunity to rediscover La Ruta Maya, or the Mayan Road, in three countries: Mexico, Belize, and Guatemala. Students will explore several travel writing genres as they tour Mayan ruins, fascinating museums and natural coastal and rainforest environments once inhabited by Mayans. They will visit ancient sites; take in the modern day plazas, museums, and markets; and explore ecologically complex natural environments to appreciate the Mayan civilization. 
Students who are interested in participating in a BreakAway in 2020 are encouraged to get their passports this summer. For more information on the BreakAway procedures, deadlines and specific trip details, visit www.ic.edu/breakaways.