LIASE Grant results in innovative student work, conference presentations
5.28.2019
Four Illinois College students recently presented posters of their work at the 2019 ASIANetwork conference in San Diego, California.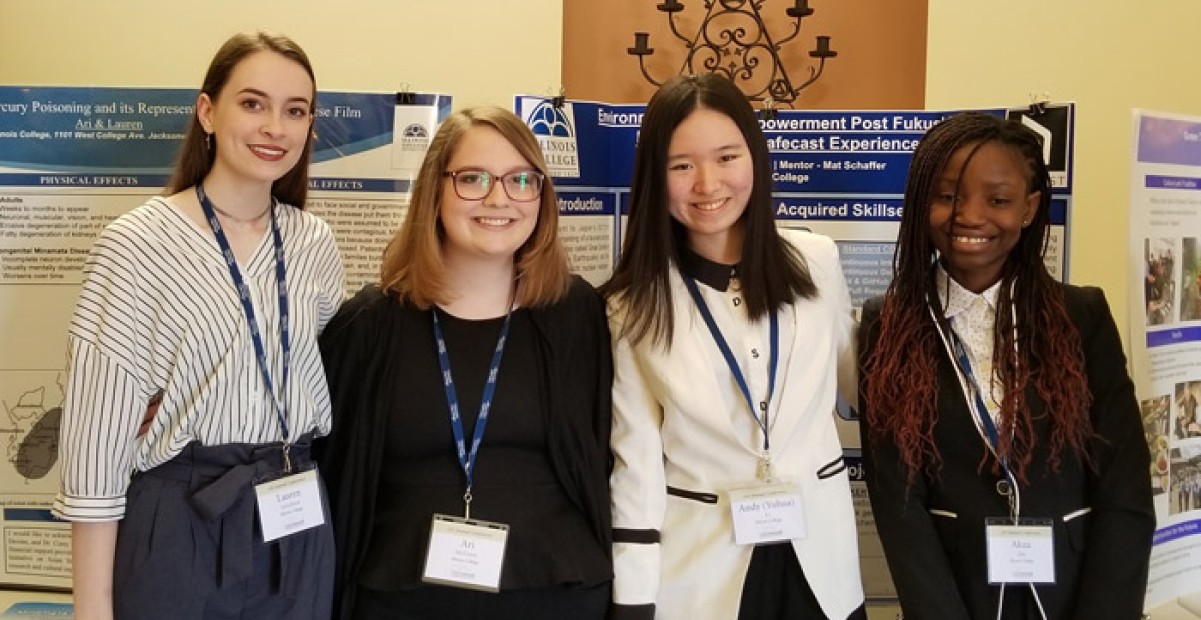 Illinois College students pictured (left to right) are: Lauren Leischner '21, Arianna McGuire '21, Yuhua (Andy) Li '19 and Akua Biaa Adu '20.  
ASIANetwork is a consortium of 170 liberal arts colleges that promotes Asian studies.
The presentations by students covered research and internships completed in the summer of 2018 and funded through a grant from the Luce Initiative on Asian Studies and the Environment (LIASE). 
Student presenters from Illinois College were Lauren Leischner '21 and Arianna McGuire '21, who completed student-faculty research in biology and international studies; Yuhua (Andy) Li '19, who participated in the Research Abroad Program working with Dr. Haruyuki Kojima at Kanazawa University; and Akua Biaa Adu '20, who studied Japanese for five weeks at Ritsumeikan University and completed an internship in Tokyo with the nonprofit Safecast.
Adu, a rising senior majoring in computer science and biology, said her experiences in Japan challenged her to step outside of her comfort zone and to expand her knowledge in many areas, including her Japanese language studies. 
"Initially taking courses in Japanese seemed impossible," she recalled. "We periodically spoke Japanese in classes at IC for practice, but at Ritsumeikan, it was 100 percent Japanese — from my textbook to asking an instructor a question." 
Adu says the experience improved her skills and allowed her to "fall more in love" with Japanese language and culture. As she learned the language, she also learned more about how Japan handles waste and recycling and gained hands-on experience at Safecast. She compared the experience to learning a new programming language during another internship — both taught her self discipline, problem-solving, intrinsic motivation and perseverance.
"Through these experiences, I developed the habit of asking questions, and this is what saw me through. No matter how broken my Japanese sounded, I still asked my professors whenever I was feeling lost," she said. 
For Adu, the conference was another learning opportunity which allowed her to network with a wide range of professionals in various fields who shared advice and inspiration for her future career. She hopes to continue her studies in Japan and apply her computer science skills there and to serve as a mentor for others as she becomes more skilled in her field. 
Lauren Leischner, a rising junior working toward a degree in biology and art, presented research in collaboration with Arianna McGuire, also a rising junior who is majoring in international studies. Their work explores the history of Minamata disease, a neurological syndrome first discovered in Japan, its representation in film and the resulting effects on society. Leischner said she also made several valuable connections at the conference and learned a lot from other presenters. 
"It was interesting to see the wide range of disciplines represented at the conference; research topics from biodiversity to museum curating and photography were presented in the poster sessions," she said. "It underlined the importance of a liberal arts education and being able to learn about many areas outside my major."
Leischner hopes to attend graduate school and complete additional research in the future as she works toward a career in conservation. She said she will draw on the lessons she learned completing student-faculty research and presenting her work to an audience. 
Two faculty members, Dr. Laura Corey, associate professor of biology, and Dr. Tomoko Wakana Kern, assistant professor of world languages and cultures (Japanese), gave oral presentations on their work related to Asian studies. Kern spoke on teaching pedagogy using Japanese popular culture and Corey on her efforts to prepare students at Illinois College for undergraduate research opportunities.
The LIASE Implementation grant was awarded to Illinois College in 2015. The grant aims to "encourage innovative approaches to Asian studies, teaching and research at the undergraduate level through the lens of the environment and sustainable development." To learn more, visit www.ic.edu/japanese-studies/LIASE.