IC Debate & Speech earns place among top competitors at national tournament
4.03.2019
The Illinois College Debate & Speech team recently traveled to Hempstead, New York, for the 2019 Pi Kappa Delta Biennial National Convention and Tournament.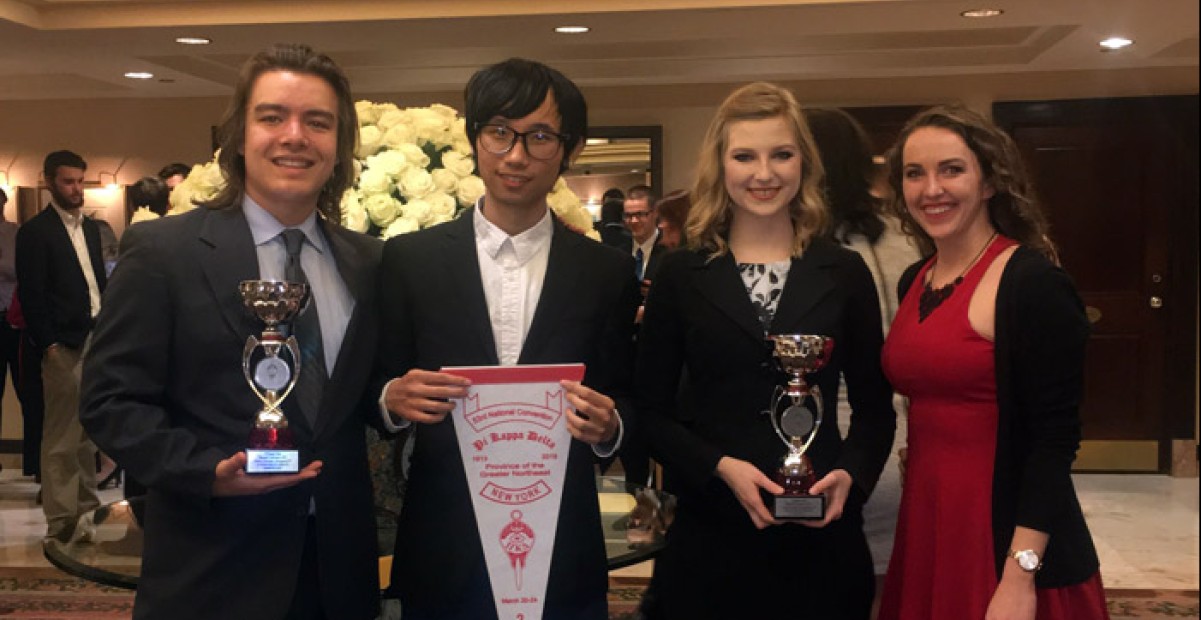 Shawna Merrill, head Debate & Speech coach, accompanied Illinois College students Greg Saiki '22,  Donna Jenkins '22 and Ye Htet '22 to the tournament. According to Merrill, there was fierce competition among the 77 schools, 1,584 entries and 28 states represented at the national conference. 
"I am humbled by our students' dedication and hard work. Donna, Greg, and Ye have worked tirelessly, received losses with grace, and committed to learning from them," she said. "The odds were against our small program going into this national tournament, but our students earned their places among the top competitors." 
Donna Jenkins '22, management and information systems major, had an impressive showing by advancing several rounds in the Novice Division of this event before ultimately being named the Novice National Champion in Lincoln-Douglas Debate. Jenkins' accomplishment is especially notable because she had never participated in debate before starting her first semester at IC in September. She said that she had to start from zero and learn the basics of Lincoln-Douglas Debate, including the complex, specific terminology used for the evidence-based event. She recalls the grueling process to prepare for the season's first tournament in October. 
"I was just grasping the general gist of debate when I was thrown into the deep end and had to continue learning while competing against people with much more experience," she said. "I consistently lost matches, but I was getting feedback from judges." 
Jenkins was able to use that feedback along with her dedication to practice and support from Coach Merrill to slowly improve. She says that when she felt like she wasn't making much progress, she was encouraged by small wins she had throughout the season. Her hard work finally paid off during the national tournament.  
 
These were really big stakes, but I felt like I had a chance to win and actually came to the final debate with a lot of confidence. I could hear my coach cheering me on in the back of my mind.
Besides winning the final round of debate to be named the Novice National Champion in Lincoln-Douglas Debate, Jenkins, who was recruited and received a scholarship for her skills in individual speech events, also earned a rating of "Excellence" in two speech events — placing in the top 30% among 47 competitors in Dramatic Interpretation and among the 46 competitors in the Prose Interpretation event. 
Greg Saiki '22, who came to IC with a background in debate, competed against debaters with more experience in the junior varsity division of the Lincoln-Douglas Debate. He advanced to quarterfinals where he won to advance again, becoming a national semifinalist. Saiki also  performed well in three challenging speech events: Communication Analysis, Extemporaneous Speaking, and Impromptu Speaking. 
Ye Htet '22, an international student with no formal competition experience prior to IC, competed in Informative Speaking, alongside 47 competitors and just missed the cutoff for an "Excellence" award. Htet said he had a great experience in Debate & Speech that allowed him to learn a lot in just one semester, and he looks forward to again working with teammates and his coach to continue to improve next season. Coach Merrill is also looking forward to the team's future. 
"Our students were given a crash course after the semester had already begun and then set out to sink or swim," said Merrill. "They triumphed beautifully, and I am so excited for what the future holds. If this is what we can do in the first year, there's no stopping us moving forward!"
For more information about IC Debate & Speech, visit www.ic.edu/debate.