IC to host discussion of African American history in central Illinois
4.10.2023
Illinois College will host Community Unity for Racial Equality: Reflections on the African American Experience in Central Illinois on April 12 at 6:30 p.m.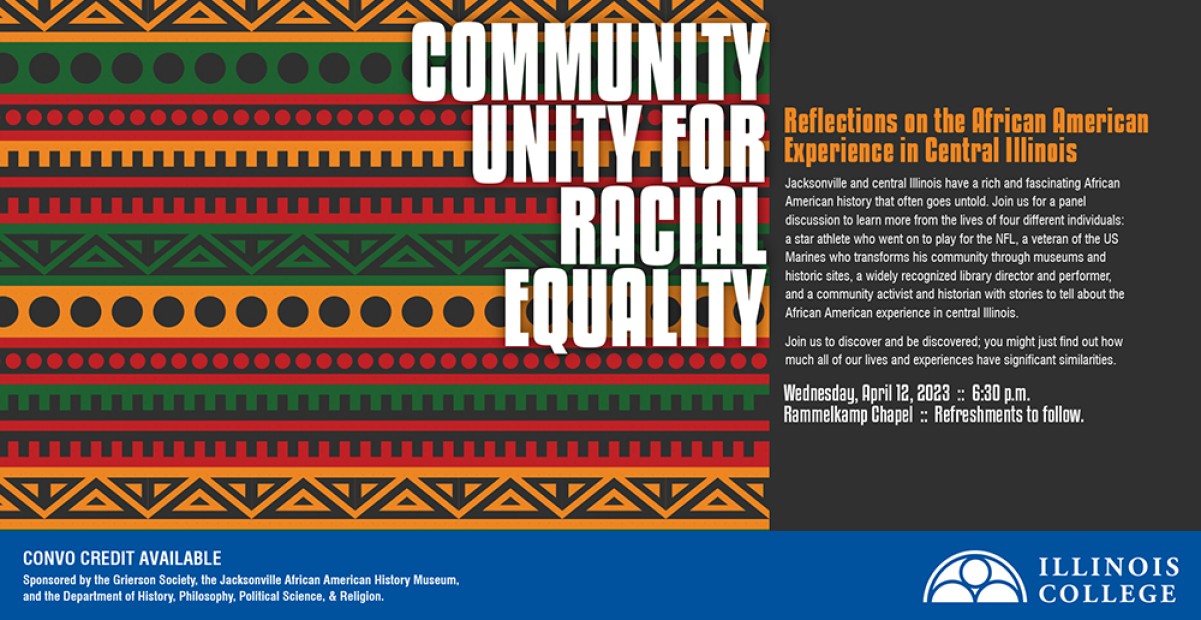 The event, which is free and open to the public, is being offered in collaboration with Grierson Days and is sponsored by the Grierson Society, the Jacksonville African American History Museum and IC's Department of History, Philosophy, Political Science and Religion.
The event will include a panel discussion of the rich and fascinating African American history of central Illinois — a history that often goes untold.
Learn from the unique perspectives of a panel that includes a star athlete who went on to play for the NFL, a veteran of the US Marines who transforms his community through museums and historic sites, a widely recognized library director and performer, and a community activist and historian with stories to tell.
Kathryn Harris :: A leading historian of African American history in Illinois, Harris served for more than 25 years as the Library Services Director at the Abraham Lincoln Presidential Library. Harris brings an extensive and impressive record of community engagement and activism, including one-woman performances of well-known African American women, such as Harriet Tubman.
Ruth Linear :: A Jacksonville resident and historian of African American history, Linear has engaged with schools, churches and the community. She says, "My life as a Black Historian began at a young age. Living the life of segregation but reaping the harvest of integration gives me much history to speak about."
Creston Whitaker :: A graduate of Jacksonville High School, Whitaker has been considered the best all-around athlete in Jacksonville history. He received All State recognition in three sports — football, basketball and baseball. He went on to play basketball for Southern Illinois University, and then football at North Texas State. Both schools have inducted him into their hall of fame. As a professional athlete, he played for Los Angeles Rams and the New Orleans Saints. Whitaker retired as a lieutenant with the Dallas Fire Department.
Art Wilson :: A graduate of Jacksonville High School, Wilson served for 11 years in the United States Marine Corps. He has extensive experience as a history researcher, lecturer and historian. He is the founding director of the Woodlawn Farm Underground Railroad site and the Jacksonville African American History Museum.
Learn more about history, philosophy, political science and religion at ic.edu/majors-programs.