Students bring new app to Jacksonville community
1.03.2018
Illinois College students recently finished a project that blends history with technology through an app called Clio.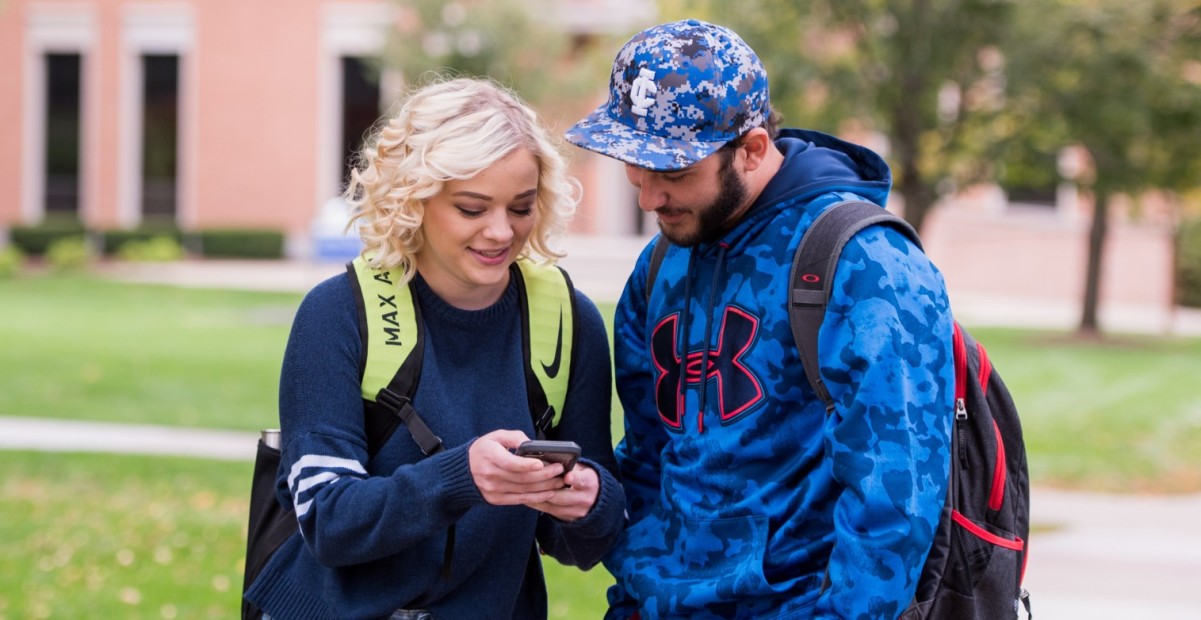 The project was part of a first-year digital history class taught by Jenny Barker-Devine, associate professor of history, to pair students with community partners to create Clio entries chronicling some of Jacksonville's most historic and notable sites.
In October, students met with Clio's creator, David Trowbridge, who describes the app as a "historic Yelp." Like the popular business reviewing app, Clio relies on crowdsourcing for content and serves as a dynamic platform for exploring cities from a cultural and historical perspective using modern technology.
My goal is to have students apply historical research to a project that benefits the community. Often we think in terms of just writing essays, but using Clio can help the students connect to Jacksonville and they have an opportunity to leave a positive mark on the community.
Students participating are members of IC Scholars honor program and applied lessons from their studies in digital history and an introductory communication course taught by Christopher Oldenburg, associate professor of communication and rhetorical studies. 
Three groups covered a range of local markers including the downtown Walldog Murals, Looking for Lincoln wayside exhibits and Illinois College campus landmarks. 
Sabrina Shivani '21, a student from Memphis, Tennessee, said not only did the project allow her to work with professionals in the marketing field to gain hands-on experience, she also learned more about her new home in Jacksonville. 
"Coming from out of state, I had little knowledge of the city. Working on this project allowed me to connect with the area that now surrounds me," said Shivani. 
Students gave a final presentation of the project on December 1 to share their work with community partners and persuade local leaders to use the app to promote and share what Jacksonville has to offer. 
Jacksonville Mayor Andy Ezard, who was among those in the audience, expressed his interest in using the app to bridge Jacksonville's past and present during a vibrant, exciting time for the city. 
The development of the Clio app for our area gives Jacksonville the opportunity to become more modern while still promoting our past. The ability to use this app to connect our community and travelers to our modern-day culture and history will give users a chance to explore and experience our nearby sites.
Evan Wilson, dean of enrollment management at Illinois College, worked with students to develop a campus tour on Clio that would highlight the rich heritage of the College along with its modern innovation. Entries included in the tour range from IC's Beecher Hall, the first college building in Illinois in 1829, to the region's premier athletic facility, Bruner Fitness and Recreation Center, built in 2003. 
"The narrative they created would be appealing to many different audiences and I look forward to utilizing it as a complement to the way our campus guests experience the College," said Wilson. "The students worked with me to create something very useful."
Other community leaders involved in the project include Judy Tighe, the executive director of Jacksonville Main Street, and Morgan County Looking for Lincoln Committee members. Students participants in the project include Nick Amodeo '21, Katie Conklin '21, Kaleigh DeNardo '21, Morgan Dixon '21, Emily Fanning '21, Sydney Himmelman '21, James Ibberson '21, Abby Isham '21, Emily Maul '21, Sergio Pena '21, Megan Price '21, Ariel Rhoades '21, Sabrina Shivani '21 and Ayden Thomas '21. 
        
Currently there are over 100 Clio entries of sites throughout Jacksonville and the surrounding areas. The website is located here and the Clio app is available on the Apple App Store and the Google Play Store.