Agribusiness student honored at national conference
1.22.2019
Katelyn Tabit '20 was among a select group of students across the country to be awarded a scholarship at the 30th Independent Professional Seed Association Annual Conference held in Indian Wells, California, this month.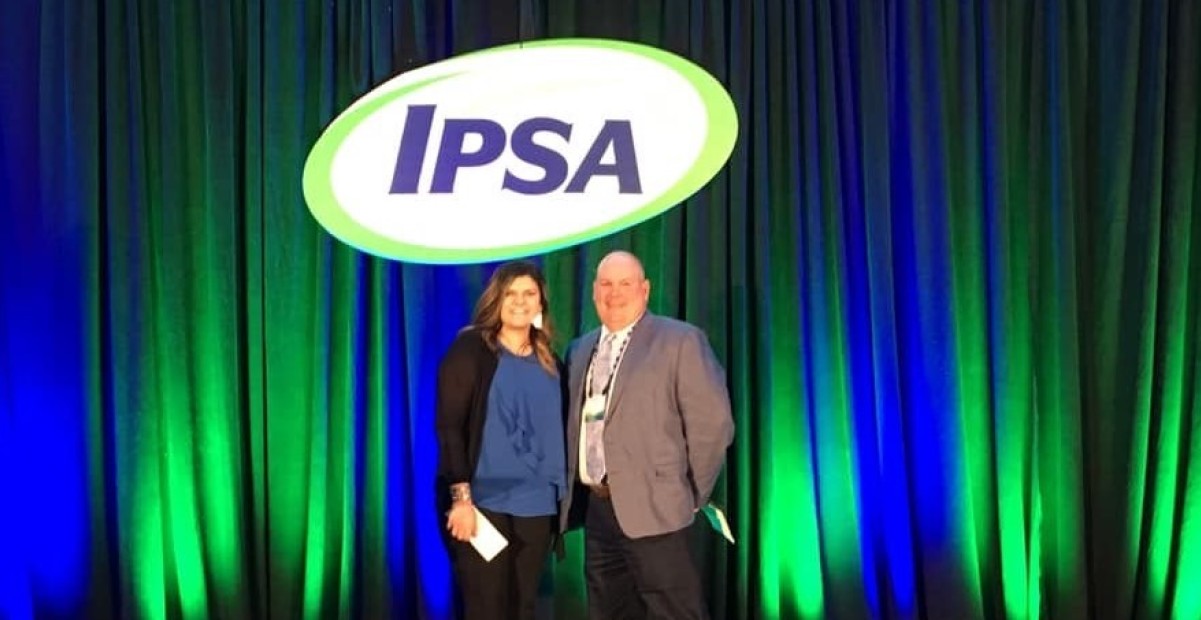 The IC sophomore, who majors in agribusiness management, said that she was "humbled and grateful" to receive the award. Eight scholarship winners from across the country were named from a pool of over 350 qualifying applicants. 
For Tabit, the honor also holds personal meaning. After the initial announcement that she had been selected to receive an IPSA scholarship, she later learned that she was being awarded the inaugural Tom Burrus Memorial Scholarship, named in honor of former IPSA President Tom Burrus '71, an IC alumnus who passed away in 2017. 
Tabit first met the Burrus family as a 13-year-old while detasseling corn for them over the summer. She said that since that time the family has been instrumental in helping her get to where she is today and being awarded a scholarship in connection to them is one of the greatest honors she can imagine. 
"The Burrus family has helped me in so many ways, I will forever be indebted to them in regards to everything they have done for me," said Tabit. 
Burrus graduated from IC with a degree in business and economics and worked for his family business, Burrus Bros. & Assoc. Growers, throughout his life. He was serving as president of the company at the time of his passing. He met his wife, Marcy Bramley Burrus '71, while they were both students at IC and the family has given back to the College in many ways, including an investment in the renovation of IC's Joe Brooks Baseball Field, where the Burrus Seed scoreboard is located. 
Tabit's interest in agriculture started shortly after she met the Burrus family, through her exposure to the county fair system where many of her friends showed farm animals. Her interest in the field grew when she enrolled in an ag course and joined FFA in high school, earning the honor of "Star Greenhand" for her early dedication to the program. 
Tabit is now on track to become one of the first graduates of Illinois College's growing agribusiness management program. Michael Woods, agribusiness coordinator and assistant professor of business, has worked with Tabit during her time at IC. He said that her personal strengths are as impressive as her agricultural accomplishments.
"She's an active, outgoing presence in the new agribusiness management program with a wealth of insight into the agricultural industry," he said. "Katelyn is a perceptive, sharp, quick individual with a high aptitude for fundamental business principles needed within the agribusiness sector."
While attending the national IPSA conference, Tabit was able to continue to build on what she has learned in the classroom by networking with 450 industry leaders and meeting people from around the world. 
During the conference, Tabit was featured on a podcast by Seed World during which she spoke about her passion for agriculture and how she is making a difference in the local community through her internship at the U.S. Department of Agriculture's Rural Development office in Jacksonville.  
As she looks toward graduation, Tabit is keeping her options open and exploring the best career and academic opportunities for her future. 
"I am definitely interested in the seed industry — but no matter where I end up, I know I want to help farmers," she said. 
Read more coverage at:
http://wlds.com/news/ic-agribusiness-student-wins-first-ever-ipsa-tom-burrus-memorial-scholarship/
About IPSA
IPSA was formed in 1989 by a group of seed producers who recognized the need for an organization to represent the unique needs of independent seed companies. Six seedsmen funded a mailing to identify interest in forming an association dedicated to promoting the interests and capabilities of family-owned companies. In 1989, a founder's meeting was held with 80 charter members. Today, IPSA represents nearly 100 seed companies from more than 25 states, Canada and Mexico, who produce corn, soybeans, small grain and forage seeds. The Association also has over 100 associate and affiliate members, representing all facets of the seed industry.