IC chemistry students among top presenters at regional conference
12.04.2019
Illinois College students Akua Biaa Adu '19, Sirikarn Phuangthong '21 and Sunday Bobori '21 presented their student-faculty research at the fourth annual East Central Illinois American Chemical Society Undergraduate Research Conference in November.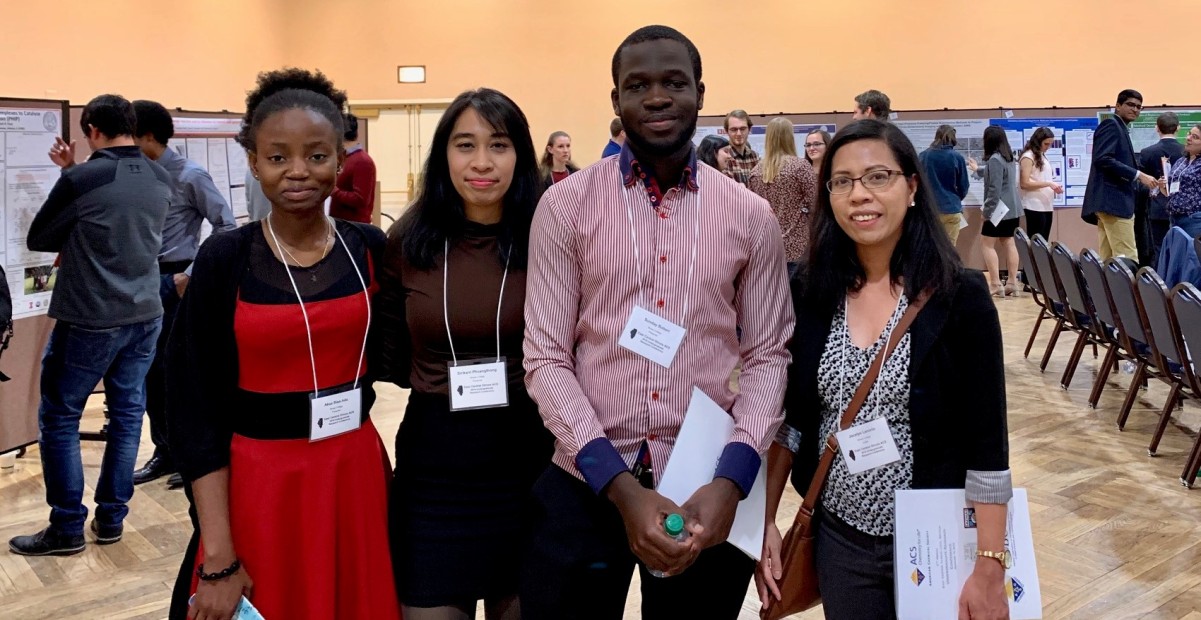 Illinois College was among 15 participating institutions presenting more than 70 posters during the one-day conference held at the University of Illinois Urbana-Champaign. Each IC student worked with Jocelyn Lanorio, assistant professor of chemistry, to complete their work during the summer.
Adu says exploring anti-cancer agents with Lanorio and collaborating with fellow students was a rewarding experience. She was surprised to learn her work had been awarded the Women Chemists Committee Outstanding Poster Award.
"I almost couldn't believe it. The award meant so much to me," Adu said. "Mostly, it's a reflection of all the hard work and effort Dr. Lanorio put into teaching and guiding me throughout the entire research process."
Adu's lab research allowed her to apply classroom concepts and expand her understanding of her majors in computer science, biology and chemistry. She is looking forward to using the skills she developed at Illinois College as she embarks on her next challenge — a position as a systems analyst at the State Farm Corporate Headquarters in Bloomington. She hopes one day to pursue a Ph.D. 
Bobori was also recognized with an Outstanding Poster Award from the National Organization for the Professional Advancement of Black Chemists and Chemical Engineers. His research focused on synthesizing an affordable nickel catalyst to replace toxic and expensive palladium catalysts used in the production of antipsychotic and anti-leukemia medications. 
"Being the first conference I have ever attended — and participated in — receiving this award meant a lot to me," he said. "I am highly motivated to keep doing research and improving my education."
The biochemistry major is thankful for the friendly, professional guidance that Lanorio provided. He described the research as eye-opening and adds that it improved his technical skills in the lab and will help him stand out as he begins applying to medical school.
"I will carry these skills with me into the very demanding field of medicine where I will be required to make efficient and critical decisions while being flexible enough to adapt to new situations," he said. 
Phuangthong, who presented similar work focused on environmentally-friendly compounds,  said she gained confidence and skills she plans to use in the future. 
"Because I plan to pursue a Ph.D. in chemistry after graduation, the skills that I have learned will surely be beneficial for me," she said. "Being independent in the lab is one of the most important skills for a chemist."
The chemistry and physics major enjoyed networking with scholars who shared her interests at the conference. She said many of them were impressed to hear about the lab techniques she had learned as an undergraduate at IC. Phuangthong is excited to see what she can accomplish next. 
"Doing green chemistry research under Dr. Lanorio showed me that there are many things that you can do in the field of chemistry," she said. "I am passionate about pursuing a career path that will be beneficial to the world."
To learn more about student-faculty research at Illinois College, visit www.ic.edu/research.