Museum continues to produce award-winning public programming
11.25.2019
Paul Findley Congressional Office Museum's Conversation with a Curator series has been recognized with an Illinois Association of Museums best practices award.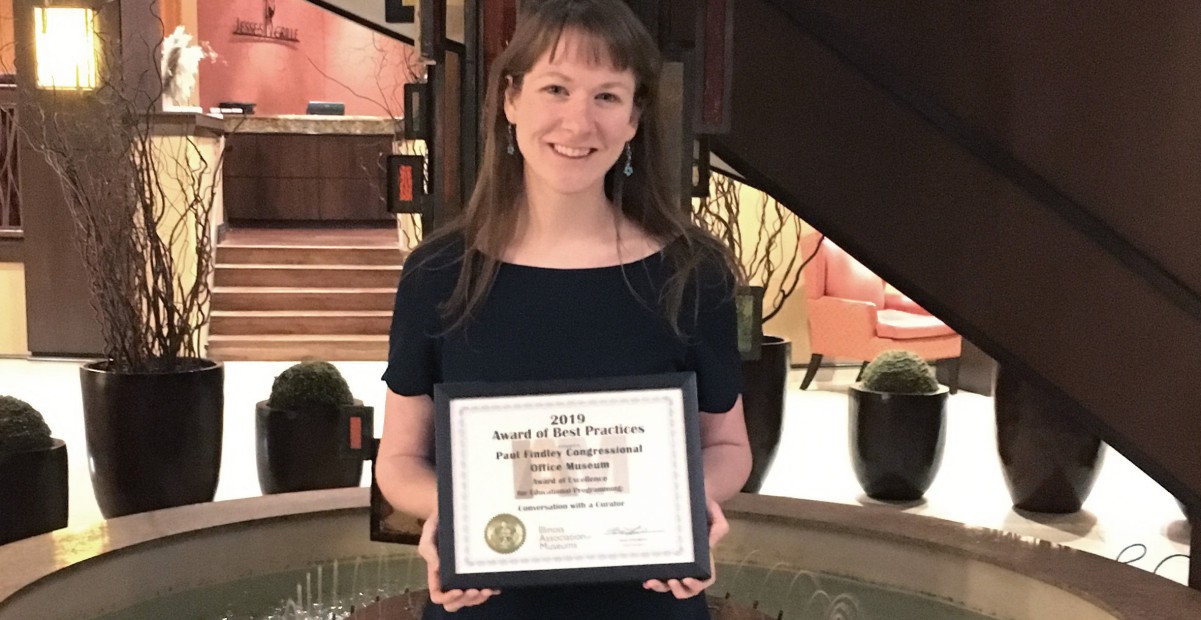 Samantha Sauer, Illinois College archivist, curator and assistant professor of history, accepted the award of excellence at the state museum organization's annual conference, held Nov. 18-20 in Bloomington-Normal.
The award is the first for the series, which has brought a public-history professional to campus each semester since the fall of 2018 to speak about their work in the field. Sauer said it is not the museum's first award-winning public program. In 2017, the museum and Khalaf Al Habtoor Archives won a best practices award of excellence in educational programming for the October 2016 program Haunted Hilltop: Legends, Lore, and More from the Archives.
"It's very exciting to be recognized for our work in public and educational programming. The museum and the archives are here at Illinois College to enrich the classroom and be accessible resources for our campus and community," Sauer said. "To be recognized for our efforts in connecting our resources with our students and visitors by the state museum association is humbling and an honor."
The Illinois Association of Museums is a network of museums across the state. The organization provides advocacy, promotes best practices and fosters the exchange of ideas for Illinois' museums. Annually, the organization presents awards honoring the best museums in the state, the service of volunteers and board members, and best practices in a variety of categories.
Conversation with a Curator is hosted by the museum and the Department of History, Philosophy, Political Science and Religion. Sauer said one of the primary learning objectives of the series is to introduce IC students and others to the range of careers and work in the field.
"The goal is to invite different active public-history professionals to our campus and share their experiences and  their own stories with students," she said.
For the first event in the series, the museum invited Claire Jerry, curator of the Findley museum from 2011-2014 and now a lead curator at the National Museum of American History in Washington D.C. In the spring, curators from the Detroit Historical Society spoke about public memory, oral histories, and community engagement. Pedro M.P. Raposo, who oversees astronomical instruments, prints, and rare books at Adler Planetarium, visited IC earlier this month for the third installment in the series.
To learn more about the museum, visit www.ic.edu/findleymuseum.