Prolific playwright Bradbury inspired the best in others
11.20.2018
Ken Bradbury '71 H'98, the talented playwright, musician, and educator known for his humor, wit, and an extensive body of work that has captured the imaginations of adults and children for the past several decades, died on Sunday, November 18, at the age of 69.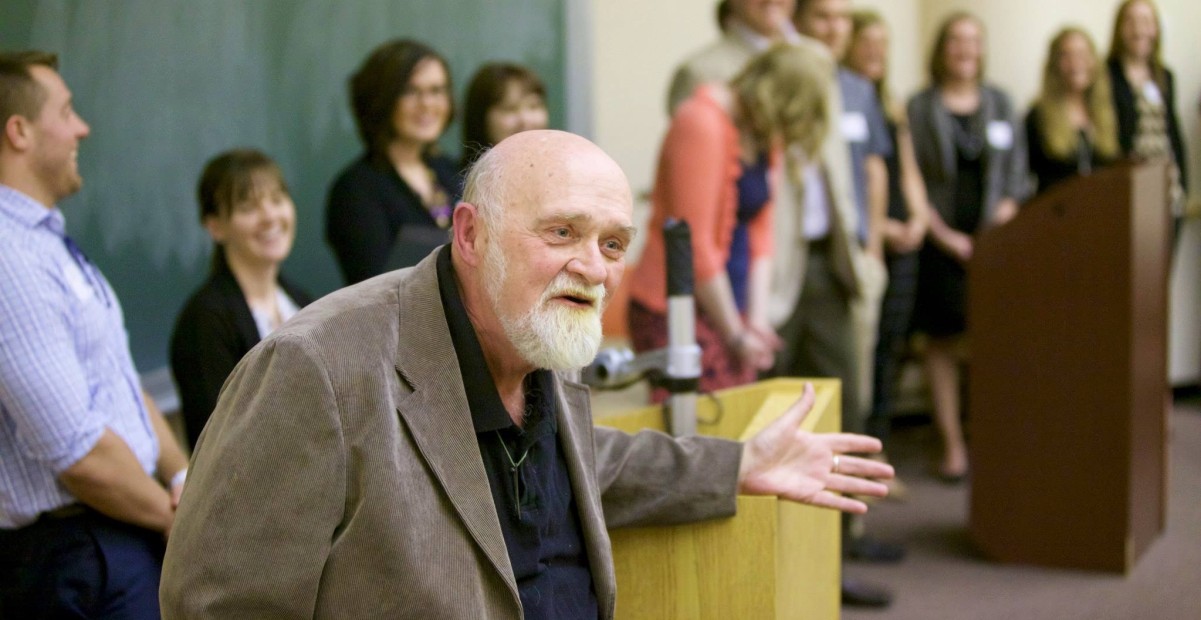 Bradbury was born and raised in the small town of Perry, Illinois, where he dreamed of one day becoming an undertaker. After graduating from Illinois College in 1971, he took a job as an English teacher at Triopia High School, originally as a way to fund his future plans of mortuary school. It was there that Bradbury first directed a play. 
"I was just thrown into it," he said in an interview with Illinois College earlier this year. "The only reason I started writing plays was because my first year of teaching, I didn't know where to find them. I was embarrassed to be the theatre teacher and go to somebody and say, 'Where do you find plays?' Well, they would have found me out immediately." 
Bradbury never became a mortician; instead he taught at the school for 35 years and published over 300 plays. He was often working on multiple projects, not only writing plays, but also penning the newspaper column "Coonridge Digest" for 25 years, directing and appearing in hundreds of community theatre productions throughout the region, donating his time to perform on his piano at fundraisers, and working on countless creative projects that connected him to the local community. 
Over the years, his name became synonymous with sold-out shows and his plays have long served as an introduction to theatre for the elementary students across the county who perform them in school literary competitions each year. He was passionate about his work at the Green Pastures Camp for the Performing Arts which gave him the opportunity to teach young people the Christian principles that were so important to him as they participated in theatre workshops. His recent summers were spent entertaining crowds on a riverboat in Peoria, often with a student by his side. 
Bradbury accumulated many honors and awards throughout his life — for his art, service to the community and excellence in teaching. Illinois College has awarded him the Young Alumnus of the Year award, Friends of the Arts award, a McGaw Citation for Excellence in the Arts and an honorary Doctor of Letters in 1998. He was elected and served on the Illinois College Alumni Association Board in the 1980s.
Bradbury remained a loyal supporter of his alma mater throughout his life. He credited Illinois College for preparing him to be adaptable for the theatre, despite his never actually taking a theatre class. He said that his liberal arts education gave him the advantage of being well-rounded and exposed him to new ideas and subjects that he may not have encountered at a larger university.  
As a student at IC, Bradbury was a member of the Illinois College band, the choir, the Student Activities Board and a member of Pi Pi Rho literary society, through which he participated in monthly productions on campus. While he was not involved in the theatre program at IC as a student, he later worked with the program as a playwright. Bradbury often encouraged his students to attend Illinois College for the experiences they could have in theatre. He mentored John Love '16 throughout his life, starting from the time Love was in elementary school. The pair co-wrote "The Boys from Nantucket," a musical comedy that was performed at Jacksonville's Playhouse on the Square and the Hoogland Center for the Arts during Love's senior year at IC in 2016. 
Bradbury was humble about his overwhelming success. He enjoyed sharing his deep faith in God, which guided his life and helped him through difficult periods. He was a world traveler, but preferred to live in small towns like Arenzville and Jacksonville. His work often depicted and celebrated small-town life. Bradbury said his proudest moments were in witnessing the achievements of his students. After retiring as a teacher at Triopia, he continued teaching as an adjunct theatre professor at Lincoln Land Community College. Bradbury said that he always thought of himself as an educator first. 
"I don't consider myself to be a writer. I consider myself to be a teacher who writes," he said. "I'm just a teacher at heart. I get a lot more joy watching my students succeed than for me to be published somewhere."
After being diagnosed with esophageal cancer in 2017, Bradbury began writing a blog that chronicled his health battle. Hundreds of people, including former students, friends and fans left comments on his posts about the impact that his work had on their lives. They also expressed gratitude for his willingness to openly write about his struggles with cancer. 
Bradbury spoke to Illinois College's graduating class in a commencement address he gave in 1999. In it, the kind-hearted teacher leaves behind these words of wisdom: "You gotta have fire in your belly. An enthusiasm for what you are doing right here, right now. A burning desire to live life to the fullest," he said. 
"Be a father with a passion for loving your children, be a teacher with a passion for making the world a better place by inspiring those who will live in it, be an administrator with a passion for bringing out the best in people — Have fire in your belly."
He certainly lived his life by those words, and he will be missed by many, including the entire Illinois College community. 
Bradbury is survived by his brother and sister-in-law,  Keith '73 and Nancy Utter Bradbury '75 and his father Elmer Bradbury. Funeral services will be held at 10:00 am, Saturday, November 24, 2018, at the First Presbyterian Church in Jacksonville with the Rev. Dr. S. John Roth officiating. Committal services will be held at 2:30 pm, Saturday, November 24, 2018, at the McCord Cemetery in Perry, Illinois. The family will receive friends from 4:00 to 8:00 pm, on Friday, November 23, at the Buchanan & Cody Funeral Home in Jacksonville.