The mission of the Illinois College Alumni Association shall be to further the interests of Illinois College through support of the College's mission, vision and strategic plan, to strengthen the connections between members of this organization and their alma mater, and to foster a spirit of fellowship and goodwill among the members of the organization.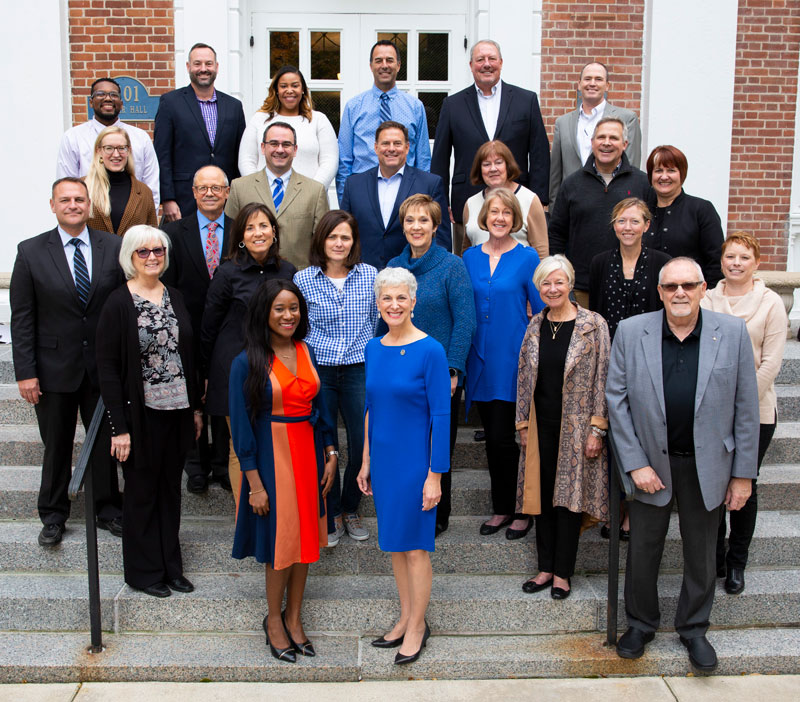 2020 - 2021 Board of Directors
Keith Bradbury '73, President
Board Chair and President
Franklin Bank
Jacksonville, Ill.
Marcy Bramley Burrus  '71, President Elect
Burrus Seed
Arenzville, Ill.
Nick Bustos '10
Vice President of Marketing
Calmer Corn Heads Inc.
Moline, Ill.
Dan Carie '82
Principal
Meredosia-Chambersburg Junior/Senior High School
Jacksonville, Ill.
Alban Haxhinasto '02
Operation Services Manager
The Farmers State Bank and Trust Company
Jacksonville, Ill.
Randal Musch '72
Retired Adjunct Instructor
Lincoln Land Community College
Springfield, Ill.
Sally Stuber Smith '82
Life/Health Projects Coordinator
COUNTRY Financial
Bloomington, Ill.
Susan Nickel Gibbs '73
Retired Financial Services Professional
Springfield, Ill.
Melanie Berg '86 
Team Leader; 
U.S. District Court
St. Louis, Mo.
Jeff Boss '78 
Executive Vice President;
Morton Community Bank
Morton, Ill.
Brenda Schone Dean '80 
Retired Educator
Astoria School District
Astoria, Ill.
Jeremy Flynn '99 
Chief of Staff
Illinois Department of Agriculture
Springfield, Ill.
Rachel Macon '11 
Senior Analyst
Federal Reserve Bank of St. Louis
Mascoutah, Ill.
Jessica Dermody Higgs '99, M.D.
Director of Health Services and Team Physician
Bradley University
Princeville, Ill.  
Kevin Lister '81
Retired Annual Giving Officer
St. Louis College of Pharmacy
Carbondale, Ill.   
Suzanne Hartman Verticchio '67
Retired Educator
Jacksonville High School
Jacksonville, Ill.
Cory Washington '13
Program Coordinator
St. Louis University
St. Louis, Mo.
Clare Zimmerman '11, M.D.
Pediatric Hematology and Oncology Fellow
St. Louis Children's Hospital
St. Louis, Mo.
Michelle LaFayette  '95
Attorney and Partner
Ganan & Shapiro, P.C.
Chicago, Ill.
Adam Mefford  '97
Chief of Police
City of Jacksonville
Jacksonville, Ill. 
Ann Burford Merchlewitz  '80
General Counsel and University Secretary
Saint Mary's University of Minnesota
Winona, Minn.
Joséphine Oshiafi  '14 
Attorney
Cleary Gottliebb
Brooklyn, N.Y.
David Ringhausen   '83 
Contract Performance Manager/Customer Service Leader
GE Power
Coppell, Texas
Rita Mueller Schultz '80
Retired, Horace Mann Insurance Company
Sherman, Ill.
Reg Ankrom '71
Retired, Owner of Simec Illinois
Quincy, Ill. 
Willie Barefield '13
Assistant Director of Undergraduate Admissions
DePaul University
Chicago, Ill.
Judith Luckenbach Nelson '81
Retired Educator
Jacksonville School District #117
Jacksonville, Ill.
Tony Lucca '10
Physician Assistant
Memorial Weight Loss and Wellness Center
Springfield, Ill.