IC education students selected for Golden Apple Scholarship Program
10.14.2019
Six Illinois College education students were inducted into this year's class of Golden Apple Scholars of Illinois during a ceremony held in Oakbrook Terrace, Illinois.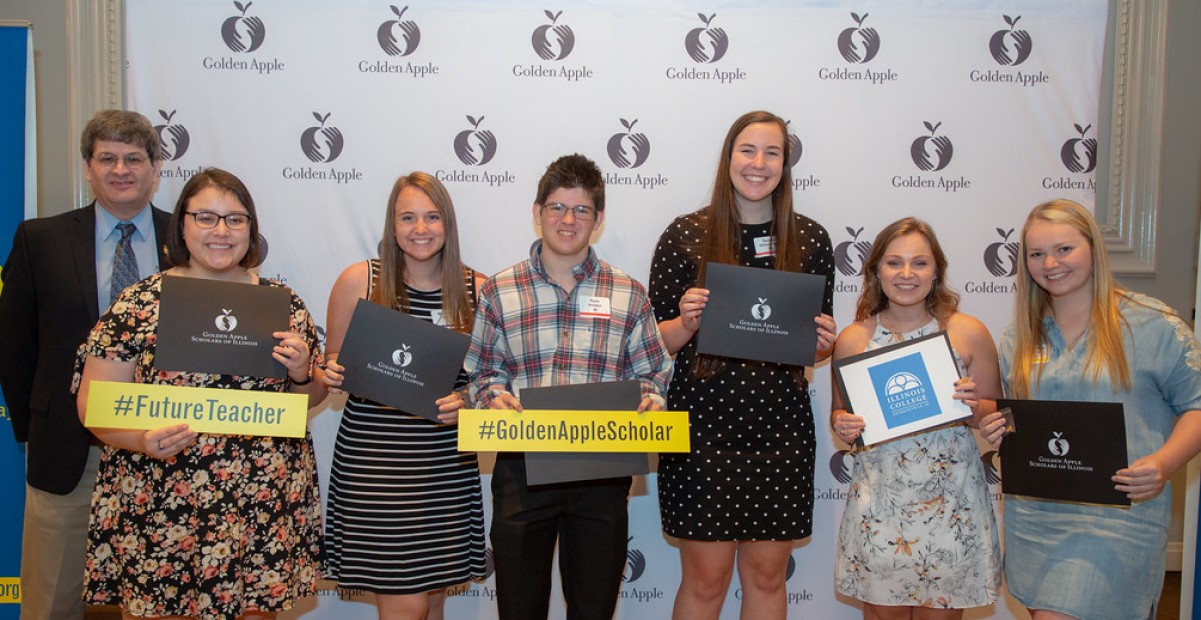 IC Golden Apple Scholars for 2019 (listed with hometowns) include:
Sydney Himmelman '21, Geneseo, Illinois 
Lauren Hemmerle '22, Auburn, Illinois
Ryan Holden '23, Manteno, Illinois
Mallory Martin '22, Jacksonville, Illinois   
Mackenzy Payne '23, Riverton, Illinois
Madison Ruiz '22, Rushville, Illinois
The Golden Apple Scholars of Illinois provides teacher preparation and tuition assistance for high school seniors, and first- and second-year college students. The nonprofit's mission is to "inspire, develop and support teacher and school leader excellence in Illinois, especially in schools-of-need."
According to Dr. Todd Oberg, director of the teacher preparation program at IC, students selected for the program have displayed the determination and drive needed to be excellent teachers.
"The Golden Apple Scholars Program is a way for high-achieving students pursuing teaching to gain high-quality experiences working with diverse group of students and learning the newest techniques for impacting student learning," said Oberg. 
Golden Apple scholars receive tuition support of up to $23,000, extensive classroom/work experience, academic support, job placement assistance and mentoring from award-winning teachers. To complete the program, students must maintain a 2.5 GPA, earn a bachelor's degree from a partner college and commit to teaching for five years in an Illinois school-of-need within seven years of graduation. 
In a press release, Golden Apple said that this year's cohort of 263 students is the group's largest to date. The organization works to overcome the critical shortage of high-quality educators statewide. Illinois had more than 1,000 unfilled teaching positions in 2018, and colleges of education in Illinois universities have experienced a 50% decline in enrollment in the past 10 years. 
To learn more about the education program at Illinois College, visit www.ic.edu/education.
Pictured from left to right is Dr. Oberg, Madison Ruiz, Mackenzy Payne, Ryan Holden, Sydney Himmelman, Lauren Hemmerle, and Mallory Martin.