IC leadership team welcomes back talented former staff member
8.19.2022
Illinois College welcomed Katie Carls as executive director of development and alumni engagement this month.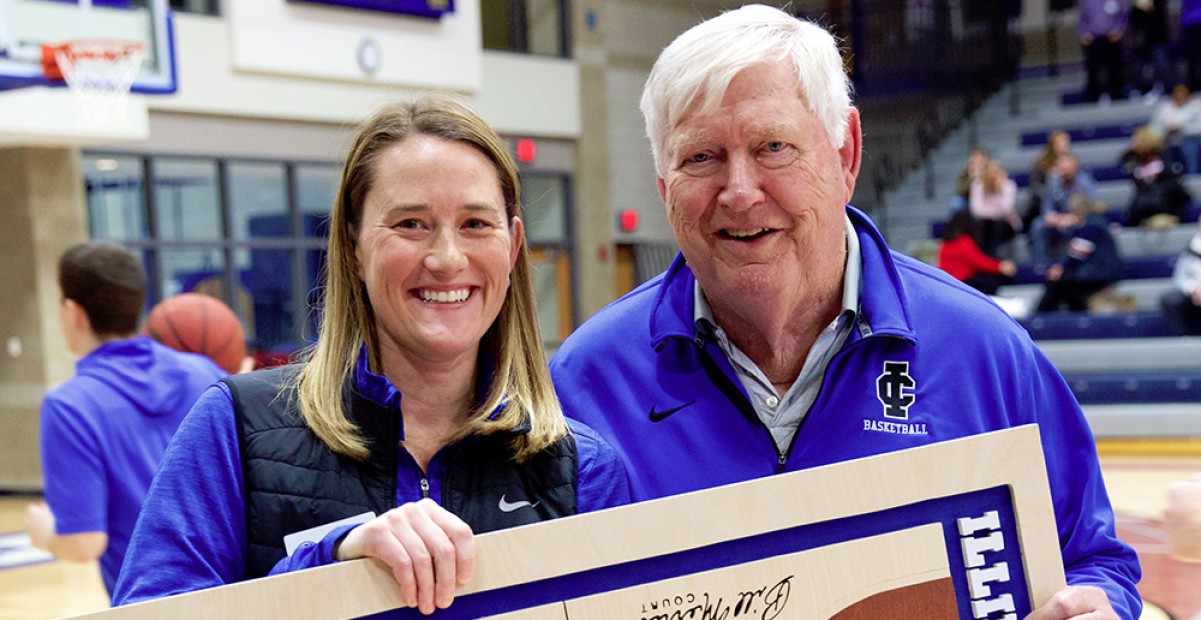 Carls left IC in 2021 after serving nearly seven years as director of business development and campus events. In her new role, she will lead alumni and family engagement, as well as annual support and stewardship efforts. Carls and her team will work with IC senior leadership to shape advancement strategy and work with donors to meet the College's goals to support student success, realize strategic growth and achieve sustainable foundations.
Carls expressed excitement to be returning to Illinois College in a new capacity.
"I look forward to reconnecting with the many Illinois College alumni I have gotten to know over the years and I am excited for the opportunity to continue to meet alumni, students and their families, and the many friends of the College," she said. "Illinois College is a special place and it's a privilege to do this work that advances the College's tradition of academic excellence and empowers students to make a difference in the world."
Illinois College is a special place and it's a privilege to do this work that advances the College's tradition of academic excellence and empowers students to make a difference in the world.
Alumni Association Board of Directors President Marcy Bramley Burrus '71 said Carls has a proven commitment to Illinois College and has demonstrated her dedication to serving the College's students, faculty, staff, alumni and community. Burrus added that, in addition to knowing and working with Carls professionally, she has known Carls personally for many years from their local community and family ties to agriculture.
"I am thrilled to welcome Katie as the new executive director of development and alumni engagement," she said. "As president of the Alumni Association, I am looking forward to partnering with Katie as we work together in support of the College's mission, vision and strategic plan. Katie is a valued member of the Illinois College and Jacksonville communities and will serve us well in her new role. I've always been impressed with her vision and focus to better Illinois College and I am looking forward to building on the rich traditions that make Illinois College so great."
A native of Arenzville, Carls grew up attending basketball camps at Illinois College. She holds a Bachelor of Science degree from MacMurray College and a Master of Science degree from Western Illinois University.
She has previously worked for the PGA Tour on The Players Championship and the Senior Players Championship, and worked in branding and fan experience for the NCAA in the championships department. At NCAA she worked on multiple NCAA championships, including the Men's and Women's Final Fours, Division I Women's Volleyball Championship, Women's College World Series, and the Men's Lacrosse Championships.
In her previous role at IC, Carls managed annual events like Homecoming, Commencement and summer camps, as well as important, singular events that included former President Jimmy Carter's visit to campus and Mike Matheny's speaking event. She most recently worked for Indianapolis-based advertising agency, Bradley and Montgomery, that serves national corporate clients like Chase, Microsoft, XBOX and Apple. 
IC Varsity Club ambassador and longtime IC athletic director, coach and professor Bill Merris '56 welcomed Carls and said her strengths will suit her new role.
"I worked at IC for a long time and one of the most important things I've learned is to recruit the right people to your team and I'm happy to see that Katie was recruited back to Illinois College," he said. "I've known Katie since she started at IC, but also remember watching her play in college against our women's basketball team. She was a great player and I think her hard work, dedication and teamwork will make her a great fit for this role."
To learn more about the Office of Development and Alumni Relations at Illinois College, visit ic.edu/alumni.