Illinois College celebrates 184th commencement
5.10.2018
Approximately 220 bachelor's degrees will be awarded to members of the Class of 2018. Commencement exercises are scheduled to take place in the Bruner Fitness and Recreation Center at 1:00 p.m.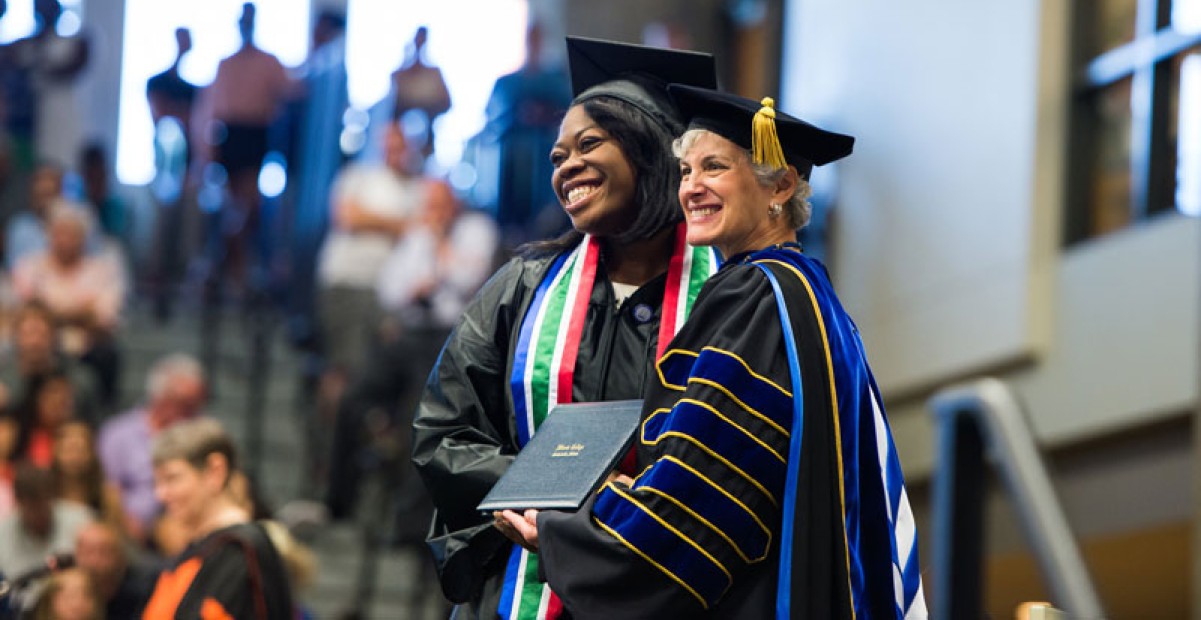 On Sunday, May 13 Illinois College celebrates its 184th commencement. Approximately 220 bachelor's degrees will be awarded to members of the Class of 2018. Commencement exercises are scheduled to take place in the Bruner Fitness and Recreation Center at 1:00 p.m. The ceremony marks the historic anniversary of the first commencement in the state of Illinois, and will be available via livestream. 
Dr. Kallia Wright, associate professor of communication and rhetorical studies, will deliver the keynote address. Wright has taught a variety of courses at Illinois College, including speech fundamentals, intercultural communication, health communication, public relations, and the senior seminar in communication. She has been involved in several experiential learning initiatives, including organizing the department's annual Public Speaking Showcase competition and leading BreakAway trips to her native Jamaica. Wright was the co-recipient of the Harry Joy Dunbaugh Distinguished Professor Award in 2017. The prize is considered the greatest honor bestowed upon an Illinois College faculty member.
Professor T.J. Devine, who shared the Dunbaugh Award with Wright, will speak at the Baccalaureate Service, at 10:00 a.m. Sunday morning in Rammelkamp Chapel.  The service will feature the IC music department. Devine teaches economics and encourages his students to apply economic principles to real-world problems.  
During the commencement ceremony, Illinois College will confer an honorary Doctor of Humane Letters degree on Robert B. Thomson, III H'09. Thomson has been part of the Illinois College community throughout his life. His great-grandfather, William A. Fay 1911, and grandfather, William L. Fay '35, were both graduates, and his mother, Emily Fay Osburn, is a passionate supporter of education in the Jacksonville community, working with several local literary societies and the Jacksonville Ladies Education Society, which provides scholarships to young women from the community.
Thomson was elected to the Illinois College Board of Trustees in 2003 and served until May 2017. While on the Board, he served as Chairman of the Investment Subcommittee, which had responsibility for overseeing the Illinois College Endowment Fund. He  was awarded an honorary bachelor's degree in 2009. He currently heads U.S. government relations for Visa Inc., and is responsible for advancing Visa's legislative and public priorities, engaging key stakeholder groups in government and the private sector, and providing leadership over all federal and state lobbying activities for Visa in the United States. Thomson earned his bachelor's degree from DePauw University and an MBA from George Washington University, where he graduated with honors.
In tribute to his grandfather, who was passionate about education and devoted throughout his life to nature and conservation, Thomson joined with his family to establish the William L. Fay Memorial Scholarship at Illinois College in 2008. The endowed scholarship is awarded annually to a qualifying junior or senior biology major or debate team member who expresses a commitment to ecological consciousness and awareness.  
The College will host several additional events during commencement weekend. The Illinois College chapter of Phi Beta Kappa, the nation's first and most distinguished academic honor society, will conduct installation ceremonies for new members at 6:45 p.m. on Thursday, May 10, in Tanner Hall. Afterward, a banquet honoring the inductees will be held in Cummings Dining Hall. 
The popular Osage Orange Festival is scheduled from Saturday, May 12 from 5 to 7:30 p.m. in the Lincoln Hall parking lot. Along with a new time and location for the event, Illinois College will be providing free admission and entertainment — including live music from The Rowdy Jones Band, inflatables, face painting, games and fun activities for all ages — for all attendees. A variety of the area's favorite food trucks including Field of Sweets, Luau Grill, Twyford BBQ and Chartwells catering will provide festive food and drink options, including beer and wine, for purchase.
For more information about commencement weekend or a particular event, please visit the 2018 commencement schedule here.