IC biochemistry student awarded at regional conference
1.27.2022
Illinois College student Ethan Leitschuh '22 received the Outstanding Presentation Award at the sixth annual East Central Illinois American Chemical Society Undergraduate Research Conference held virtually in November, using this hands-on learning experience to confirm their future goals.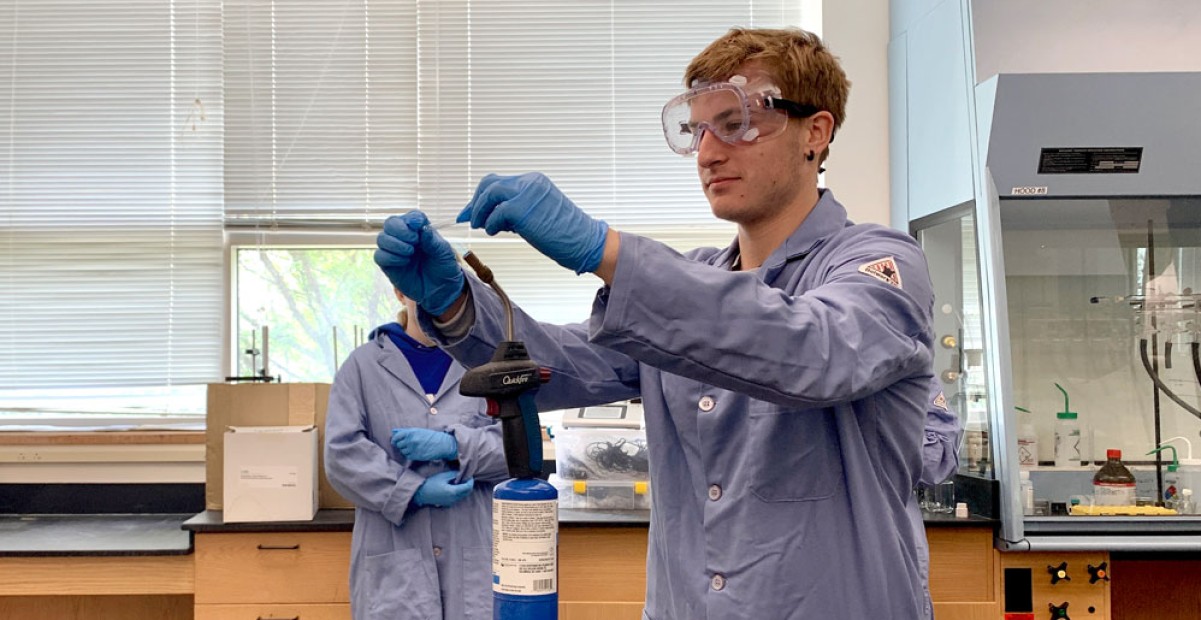 Illinois College was among 12 participating institutions that presented at the one-day conference hosted by the University of Illinois Urbana-Champaign in the fall of 2021. Along with Leitschuh, Alexis Paskach '22, Maggie Cockerill '22 and Emma Green '24 also presented their student-faculty research at the conference. Each IC student worked with Jocelyn Lanorio, assistant professor of chemistry, during an intense 10-week summer research program sponsored by a grant from the Billhartz Experiential Learning Fund.
The students gained a unique hands-on learning experience which allowed them to practice the many skills they acquired in their lab courses.
For Leitschuh, the opportunity to work on bioconjugation and green organic synthetic reactions alongside a faculty member was a chance to discover whether they wanted to continue doing research in their future career.
"My experience with Dr. Lanorio revealed to me how much I appreciated the different aspects of research, such as literature searches, scheme development and conclusive analysis of the collected data."
Likewise, presenting and winning the Outstanding Presentation Award at the conference reassured Leitschuh of their ability to comfortably communicate their scientific findings to a wide audience, securing their plans to obtain an M.D./Ph.D.
"My appearance at the American Chemical Society Research Conference educated me with the skills required to communicate scientific findings to individuals that may not have the specific background in a given topic, akin to presenting research data to members of the scientific community and medical findings to patients."
The biochemistry major graduated in December 2021 with a summa cum laude distinction. They recently applied for a post baccalaureate research program at Mayo Clinic Graduate School of Science and Medicine and hope to attend medical school to earn their M.D./Ph.D. in a field caring for children and infants, such as pediatric surgery or obstetrics and gynecology.
According to Lanorio, research projects and conferences are essential professional, active-learning experiences that help students Graduate READY. 
"It is a hands-on experience of how research is conducted and communicated. Students learn more in research compared to the typical classroom setting because they get to apply the scientific method," Lanorio said. "From asking the right questions, to looking at the literature/published work, to experimentation, to getting conclusions from their data analysis, students learn to be lifelong learners by asking, 'Now that I know these, what's next?'" 
Students also gain skills in time management, oral and written communication, and data organization, as well as collaborative and independent work. 
"Most importantly, it helps them figure out if they want to be in a research setting, attend graduate school or apply their degree in another area of interest," Lanorio noted. "It is such a reward for my students to get recognition for their outstanding research work and presentation skills."
To learn more about student-faculty research at Illinois College, visit www.ic.edu/research.