Schools streamlining joint degree program to prepare more grads for nursing careers
12.30.2018
One of the nation's fastest-growing professions is expected to create more than 1 million new job openings in the next few years, and a new educational partnership in central Illinois aims to prepare more graduates for this in-demand career.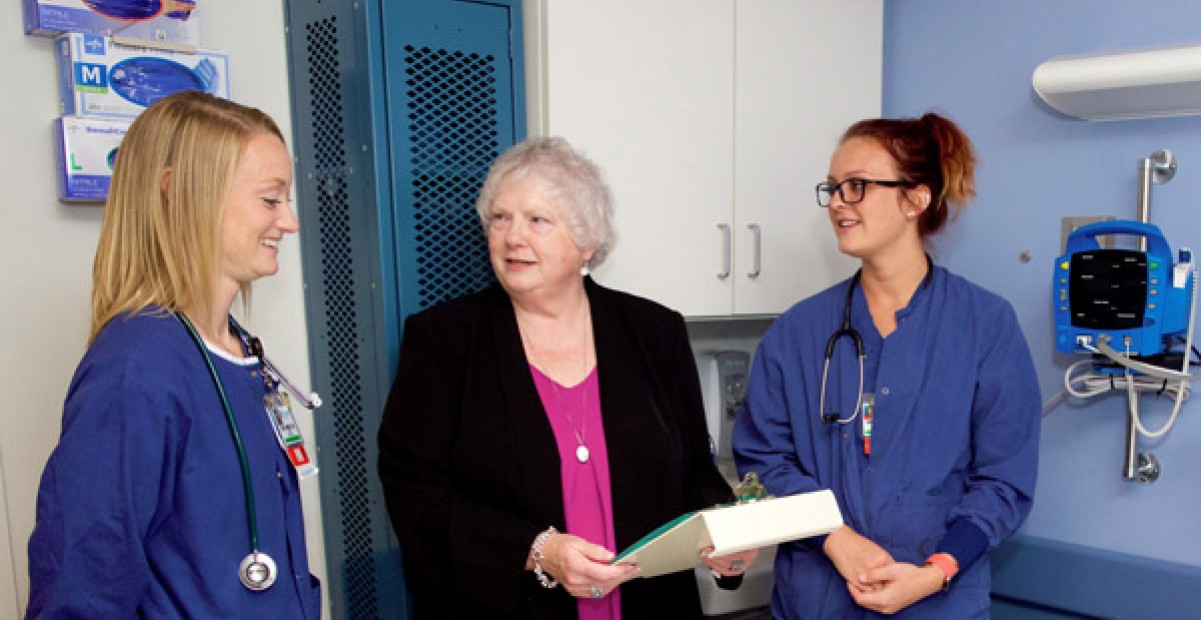 Coming from Illinois College, I had skills such as communication and critical reasoning that gave me a step up compared to other nursing students.
From an article by David Blanchette for the State Journal Register
Illinois College in Jacksonville and St. John's College of Nursing in Springfield are streamlining a joint degree program, reducing its length from five years to four. Students spend their first two years at Illinois College and last two at St. John's, and receive a bachelor's degree in nursing from St. John's and a bachelor's in health sciences from Illinois College when they graduate. The program is aimed at incoming freshmen.
Illinois College also offers a program aimed at registered nurses who have an associate's or nursing diploma, and want to earn a bachelor's degree in nursing.
The Bureau of Labor Statistics estimates the total number of new job openings for nurses will rise to 1.09 million by 2024. Pam Brown, the nursing program director at Illinois College, said the aging population and a trend to keep people out of hospitals as much as possible mean this new training program for nurses couldn't have come at a better time.
"They treat patients at home or in the community, so there is a large demand for nurses now in other settings," said Brown, who noted there are usually about 40 students on campus every year who are interested in a nursing career. She expects the new nursing degree pathway at Illinois College will increase that number by approximately 50 percent in a few years.
The demand for nurses means there is a need for more education programs like the Illinois College and St. John's partnership, according to HSHS St. John's Chief Nursing Officer Allison Paul.
"We have not had to turn away potential students at this time, but that is a factor across the nation," Paul said. "Bachelor's degree and higher-level nurse education programs will be a continuing need."
St. John's School of Nursing has 120 students registered in its degree programs for the spring 2019 semester. Programs include a regular and accelerated bachelor's degree program, RN to BSN, and master's level family nurse practitioner and nursing administration and leadership degrees. Paul said they actively recruit current students for the 3,470 nursing jobs in the HSHS St. John's system in Illinois and Wisconsin, and uses social media and regional high school and college campus visits to recruit as well.
Katheryn Speaks of New Berlin had a job lined up at HSHS St. John's six months before she graduated from the existing, five-year Illinois College-St. John's BSN program on Dec. 14.
"I'll be working in the intensive care unit at St. John's, and that was my top choice," Speaks said. "After my clinical experience in the ICU that I had this past summer I knew that's where I wanted to be."
Speaks was recruited by St. John's, Memorial Medical Center and looked at hospitals in northern Illinois before making her job decision. She would have taken advantage of the new four-year degree program through Illinois College and St. John's had it been available when she was a student, but Speaks said she's still grateful for the education she received through both institutions.
"Coming from Illinois College, I had skills such as communication and critical reasoning that gave me a step up compared to other nursing students," Speaks said.