Lauren Sgambelluri recognized as a top student with statewide honor
12.03.2021
Lauren Sgambelluri '22 was humbled to learn she had been chosen to represent Illinois College as a 2021 Student Laureate of The Lincoln Academy of Illinois.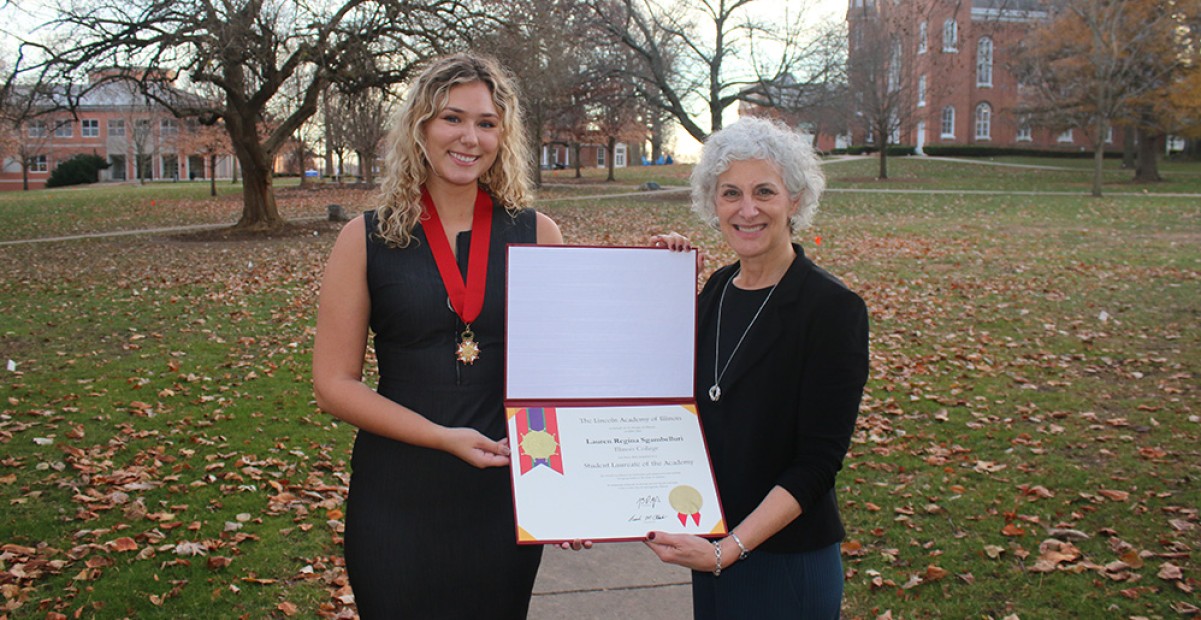 Annually, The Lincoln Academy of Illinois recognizes one senior from each of Illinois' four-year degree-granting colleges and universities and one senior from the community colleges with the Abraham Lincoln Civic Engagement Award. The Student Laureates are selected based on their leadership, service and excellence in academics and extracurricular activities.
Originally from Springfield, Sgambelluri is a senior majoring in biology, with a concentration in ecology, and chemistry. She will also earn a minor in art when she graduates in May with the Class of 2022. 
During her time at Illinois College, Sgambelluri discovered her passions, what it takes to get things done and that it's not always easy to make a difference.
"You go into college thinking you can do anything, but it depends on a lot of other people," she said. "So, you do the best you can and you try to work with people as much as possible – and educate those who haven't had that opportunity yet."
Sgambelluri's experiences conducting research and being an active leader in Environmentalists of Illinois College taught her how to navigate bumps in the road, problem solve, compromise and educate others if she hoped to accomplish something. And when she learned she had been nominated to join the 47th cohort of Student Laureates, she began researching Lincoln and his response to the challenges of his day.
"His message was to bring people together, to compromise, to put aside our differences and to love each other. That's where I want to take myself and where I want to take my research: finding those compromises with other people and communicating and understanding that, if someone doesn't care about climate change, there's probably a reason for that. It probably means that their livelihood depends on them not caring about it," she said. "It made me look into him as a person and it made me become very inspired to apply his actions to my own life and what I hope to accomplish."
In addition to her activism and research, Sgambelluri is in the IC Scholars Honors Program and is vice president of Sigma Phi Epsilon literary society. She will be participating in two upcoming BreakAway trips and traveling to the Florida Keys for a marine biology course for a second time this spring, this time as a teaching assistant. The course helped her to discover the field she hopes to continue to study after finishing her degree at Illinois College.
Sgambelluri plans to pursue advanced degrees in marine biology – and to take Lincoln's wisdom with her.
"It was very, very humbling. And it did make me reflect on Lincoln as a person," she said. "It was really special to be recognized in his name."
The Lincoln Academy Student Laureate Zoom production included a congratulatory statement by Gov. J. B. Pritzker, the president of the Lincoln Academy. The ceremony can be viewed online at www.thelincolnacademyofillinois.org.