Class of 2020 inductees announced as part of the IC Sports Hall of Fame
11.13.2019
Eleven will be inducted into the Illinois College Sports Hall of Fame on February 7, 2020.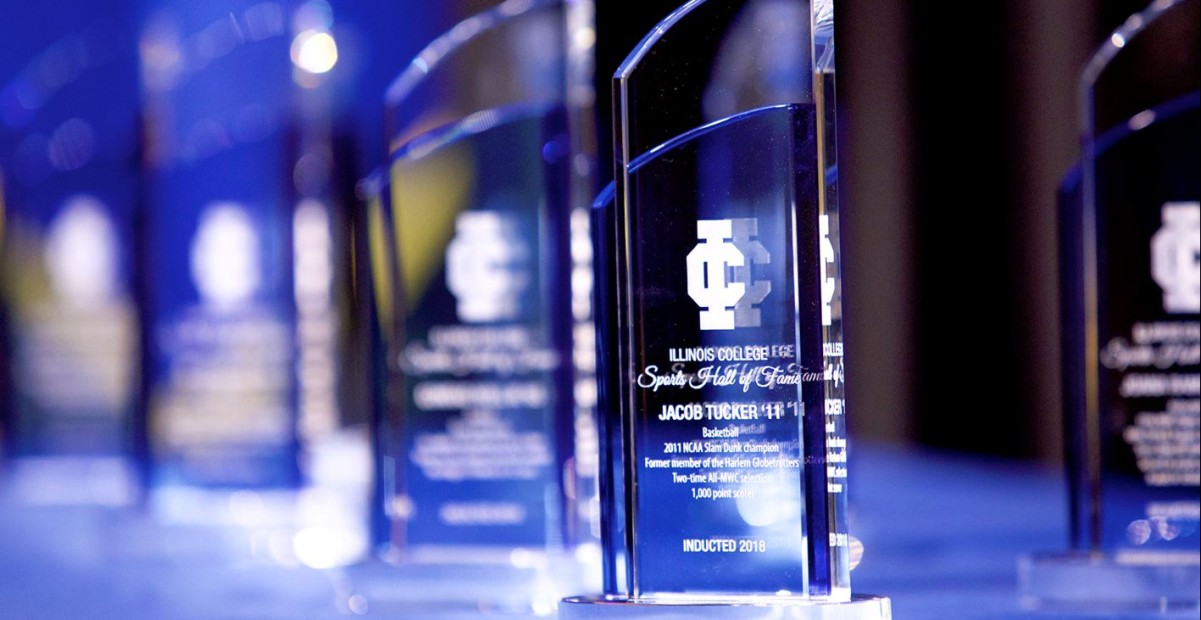 Illinois College is proud to announce its Class of 2020 for the Sports Hall of Fame. Eleven individuals will be enshrined at the Sports Hall of Fame Induction Ceremony on Friday, February 7, 2020 at the Cummings Dining Hall.
The 11 members of the Illinois College Athletic Hall of Fame Class of 2020 are: 
Michael Bates '15
The quarterback at the helm of IC football's best four-year stretch in program history, Michael Bates had a record of 30-8 as a starter and led the Blueboys to its only Division III playoff appearance as a freshman in 2011. He would be named All-MWC in his final three seasons and as a senior was both a finalist for the 2014 Gagliardi Trophy and the Capital One Academic All-American of the Year for Division III football. He holds or is tied for five single-game, season on career records at Illinois College, including most career completions (836), most career passing yards (10,787) and most career passing touchdowns (107).
Cecil Brimmage '14
The Midwest Conference Offensive Player of the Year in 2013 and the William J. Downer Award winner in 2014 as top Illinois College male athlete for the year, Cecil Brimmage graduated from the football program as one of the best running backs in school history. Twice a First Team All-MWC selection in his career, he set school records for single-game rushing (341 yards in a 2012 win over Hanover College) and single-season rushing (1,574 yards in 2013), while finishing second all-time in career rushing yards (4,020) and rushing touchdowns (39). Teamed with Michael Bates for three seasons, Brimmage helped form the most high-powered backfield the Blueboys have ever had.
Jody Collins '84
The greatest pitcher of her era at Illinois College, Jody Collins was a four-year starting pitcher and two-time team MVP for IC softball. An all-conference selection prior to when IC joined the Midwest Conference, she recorded the first no-hitter in school history in 1984 against Grinnell College when the Lady Blues were newcomers to the MWC, striking out 17 hitters in that game, the third-most in conference history. She appears all over the school record book with the third-most strikeouts in a season (105 in 1983) and the fourth-best ERA in a single season (1.77 in 1981). Though records from that time are incomplete, Collins would likely rank second all-time in career strikeouts and among the top five in career victories for the Lady Blues.
Dominick Dalfonso '15
A two-time All-Midwest Conference selection, Dominick Dalfonso graduated as one of the most decorated baseball players in Illinois College history. He wrapped up his four-year career with the Blueboys as the program's all-time leader in runs (124), walks (76) and triples (8), as well as both the school's and the Midwest Conference's all-time leader in stolen bases (97). In addition to his many walks, he also was second all-time in program history in hits (146), leading to an on-base percentage of nearly .450 for his career.
Rodney Flowers '95
A four-year letterwinner in baseball and football, Rodney Flowers was the 1994 Downer Award winner as IC's top male student-athlete. As a football player, he earned All-MWC honors in three seasons and graduated as the top tackler in program history. While he has since dropped to third in that category, he to this day is still the all-time leader in fumbles recovered for the Blueboys. As a baseball player, he was once again a three-time All-MWC award winner and is tied for seventh all-time in school history with 13 career home runs. After graduation, he has coached for 25 years with stops at IC, Jacksonville High School and Carrollton High School.
Dan Keller '94
A four-year starter in both men's soccer and baseball, Dan Keller earned All-MWC honors in both sports twice in his career. As a two-time All-MWC midfielder, Keller was part of the MWC championship men's soccer team in 1990. On the diamond, he was a two-time All-MWC second baseman and utility infielder. He also captained both teams in his senior season. After graduation, he would go on to serve as the long-time head coach of boys' soccer at Jacksonville High School and is currently an assistant coach with the IC men's soccer program.
Hannah McGinnis Wallace '15
A two-time Midwest Conference Player of the Year, Hannah McGinnis Wallace graduated as perhaps the best women's basketball player in Illinois College history. Nearly unstoppable in the low post, she ended her career with the Lady Blues ranked second in career points (1,390) and first in career rebounds (1,008). She is the only player in the history of MWC women's basketball to reach 1,000 points and 1,000 rebounds in their career. In her senior season, McGinnis Wallace was Illinois College's Doris B. Hopper Award winner, the MWC Woman of the Year, a Jostens Trophy finalist as top Division III women's basketball player, and a Capital One Academic All-American.
Dr. Don Mundinger
A past president of Illinois College, Dr. Don Mundinger oversaw countless improvements to the College during his tenure from 1973 to 1993. Among his achievements in the realm of athletics was spearheading the move from NAIA to NCAA Division III and then moving IC Athletics from the now-defunct College Athletic Conference into its current affiliation with the Midwest Conference. He also was leading the charge to support an up-and-coming women's athletic program at Illinois College. Additionally, he oversaw improvements to numerous athletic facilities, some of which can still be seen today. In 1983, he and a group of campus leaders established the Illinois College Sports Hall of Fame. 
Melissa Norville '13
While it is nearly impossible to list all the accomplishments of Melissa Norville during her four years at Illinois College, one thing is clear; she has been and likely will be the most decorated track & field athlete in school history. Norville was a nine-time national champion at the NCAA Division III level and was also a 19-time All-American. During her storied college career, she led the Lady Blues to a national runner-up finish at the NCAA Division III Indoor Track & Field Championships in 2013 while becoming one of three women all-time in Division III history to win three or more national titles at the same meet. She was a three-time winner of the Hopper Award at Illinois College and earned 29 All-MWC honors. She to this day holds seven Illinois College and MWC Championship records. One of those records, the indoor long jump, ranked 41st in the world in 2013. In addition to her track & field career, she was also a four-year member and two-year captain of the volleyball team and spent one year on the women's basketball team.
Kathy Roberts Rohrer '91
A three-time Midwest Conference champion and two-time national qualifier in the discus, Kathy Roberts Rohrer set an Illinois College school record in the discus (138-1) in 1989, a mark that still stands 30 years later. Roberts Rohrer won discus titles in the MWC in 1988, 1989 and 1990 and qualified for the NCAA Division III Championships in 1988 and 1989. At the 1989 national championships she finished 10th in the event. The 1990 winner of the Doris B. Hopper Award, Roberts Rohrer was also a four-year letterwinner for the Lady Blues in women's basketball.
Dr. Megan Stringer Gyrion '13
The Illinois College women's recordholder in both the pentathlon and heptathlon, Dr. Megan Stringer Gyrion earned All-MWC honors eight times in her track & field career and was a four-time qualifier for the NCAA Division III Track & Field Championships. After undergoing Tommy John surgery in 2011, Stringer Gyrion learned how to throw the javelin and shot put left-handed and was still able to qualify for NCAA Outdoor Championships. Twice an All-American, Stringer Gyrion finished seventh nationally in the pentathlon and third nationally in the heptathlon in her senior season. She has gone on to earn her Ph.D. in Addiction Neuroscience from IUPUI.
The Hall of Fame banquet will begin with a social gathering at 5:30 p.m. on February 7, with the dinner to be served at 6 p.m. Former athletic director and men's basketball coach Bill Merris '56 will reprise his role as master of ceremonies at the event. The following day, Illinois College track & field hosts the Jim Green Invite while the men's and women's basketball teams host a doubleheader against St. Norbert College. Invitations and a link to register to attend will be available soon.